Dublin Airport is eerily empty these days but some of the bustle is expected to be back when international travel officially resumes on 19 July.
But as many of us have not stepped foot in an airport in at least 16 months, airlines like Aer Lingus say passengers need to be aware of how air travel has changed.
Gary Cooley, Head of Dublin Airport Operations Aer Lingus, said there will be longer queues getting through the airport because of the additional documents and checks now required on people leaving and arriving into the country.
He said well before departure people need to check the entry requirements for the country they are travelling to on the Department of Foreign Affairs website.
They should then have the sufficient documents and, where required, testing completed before they arrive at the airport.
While he does not believe there will be waits of up to ten hours in airports as had been suggested, Mr Cooley advised passengers to arrive in plenty of time for their flight.
He said: "We're saying, come to the airport prepared. Check yourself in at home, make sure that you understand that the requirements for the country that you're travelling to. So that means that you have the right documents when it comes to Dublin Airport.
"When you arrive here, processing will be a little bit slower, you know there's going to be queues, but we'll have people here to manage that situation.
"We will be advising people to come to the airport at least two hours before for your European flights and three hours for your transatlantic flights. When people haven't been travelling, a big reminder would be check the date on your passport."
Ahead of the resumption of international travel on 19 July, passengers are being told to make themselves aware of how air travel has changed due to Covid-19 restrictions. pic.twitter.com/tbXkGXzXJv

— RTÉ News (@rtenews) July 3, 2021
For Aer Lingus customers, one of the main changes will be to the rules around carry-on baggage.
While a small number of passengers will be able to pay in advance to take a carry-on bag onboard most people will have to check it in free of charge.
However, if people arrive to the gate with a carry-on that has not been pre-booked they will face a penalty of €35.
Mr Cooley said the measure was designed to make moving through the airport a lot quicker for passengers.
The departure gate will also look different with detailed document checks.
Passengers will have to produce their boarding pass, passport and other relevant travel documents and briefly remove their masks to verify their identity.
Priority boarding is suspended for now, with people instead being let onto the plane in small socially distant groups in accordance with the rows their sitting in.
Although in August, Aer Lingus will be running 60% fewer services than this time in 2019, planes will be operating at full capacity.
But Mary Montgomery, Director of In-flight Services for Aer Lingus, said additional measures are in place to ensure people's safety.
Everyone on board has to wear a mask at all times, except for when they are eating, when they can be "briefly" removed.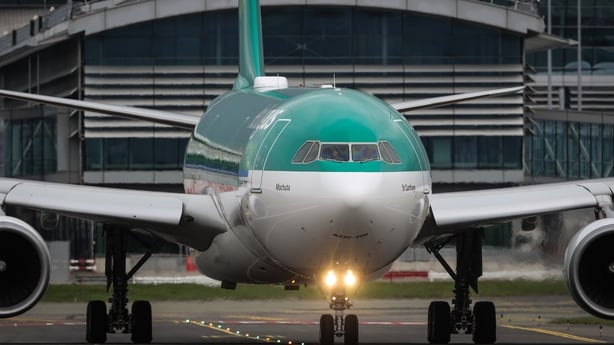 Ms Montgomery said if passengers want to move around the plane for things such as going to the toilet, they will have to alert cabin crew so that movement can be controlled to avoid queues building.
Food and drink will be available, except on Aer Lingus regional services, but they will be served at the same time to limit the duration of time that crews are in the body of the cabin.
All payment on board will be cashless and contactless.
Ms Montgomery said: "There's still a nervousness with people, however, we would like to assure people that our cabin crew are trained, and they're there to ensure that everybody on board the aircraft has a safe and a pleasant journey."
The only people on board who will not be wearing masks are the pilots.
The first and second officers are exempt from wearing masks while operating the aircraft for communications reasons.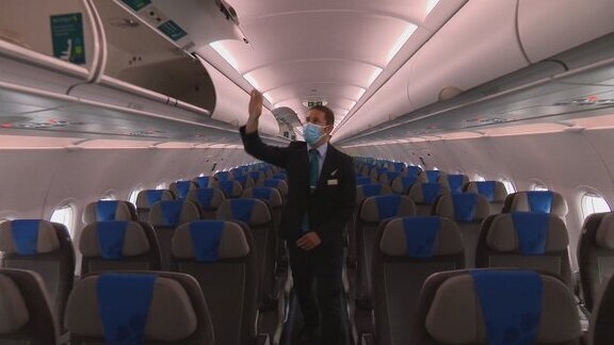 But Niamh Power, First Officer with Aer Lingus, said she was not worried about this because of air filtration system on board the aircraft.
She said: "We have state-of-the-art Hepa air filters on board and these aircraft filter out 99.7% of small particles, which will include viruses and bacteria. The way the air is circulated in the aircraft is from ceiling to floor, so all the airflow is vertical.
"It's not going forward and back in the cabin so the actual mixing of air among passengers is kept to a minimum. For an indoor environment, the airplane cabin is one of the safest indoor environments."
Ms Power, who qualified as a doctor before becoming a pilot, is looking forward to returning to the skies after a difficult year for the aviation industry.
In her free time, she has established a Covid testing company and had also been working a volunteer vaccinator in the Helix and Croke Park.
She captained some of the flights that took PPE from China to Ireland at the start of the pandemic, but since then has had so little flight time that she, like many of her colleagues, will have to renew her training before she resumes flying.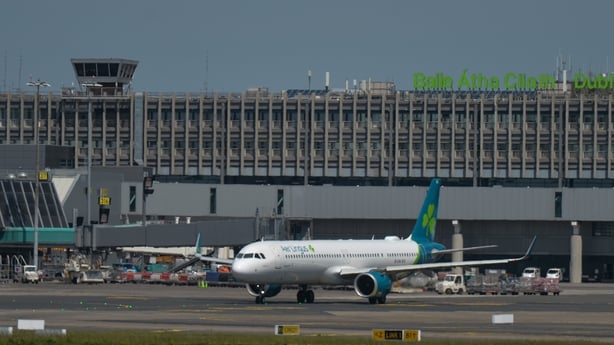 However, she assured passengers that she and her colleagues will be back up to speed before July 19th comes around.
She said: "We've worked really hard to keep our professional standards to above minimum levels.
"We need to do three take-off and landings every 90 days to remain current. We also go to the simulator twice a year.
"We've been doing a lot of web-based classroom training that's extra to our usual requirements. Once we get out of the simulator with our licences re-validated, we do line training on the aircraft as well.
"So, absolutely to reassure, it's like riding a bike, we're all very capable of flying our airplanes now."
Key points for resumption of international travel
Check the entry requirements for the country you are travelling to on dfa.ie
Have all documents and, where required, testing completed before you arrive in the airport
Arrive at least two hours before short-haul flights
Arrive at least three hours before transatlantic flights
Check the date on your passport to ensure it is valid
Aircraft turnaround will take longer as additional cleaning and sanitation is required
A small number will be allowed purchase an option to bring a carry-on bag onboard
Most people will have to check-in their carry-on luggage but this will be free of charge
If they take carry-on to the gate without pre-booking there will be a penalty of €35
Priority boarding is suspended and passengers will be seated in small socially distant groups
Masks must be worn at all times on board the plane
Masks can be remove briefly for eating and drinking
Food and drink will be served, but all payment is cashless and contactless
Moving around the cabin for things such as toilet visits will be managed by cabin crews