A public health expert has said some Covid-19 variants are becoming more infectious and are slowly, but steadily, increasing their ability to "dodge" vaccines.
Dr Gabriel Scally said the global population will "live more cautiously" for at least another two years, due to Covid-19 and the possible emergence of other variants.
Speaking on RTÉ's Today with Damien O'Reilly, the President of Epidemiology and Public Health, Royal Society of Medicine London, urged people who are registered for a two-dose Covid-19 vaccine to get their second vaccine as it is more effective than just one shot.
Dr Scally said the data emanating from the spread of the Delta variant in the UK shows that the UK is "not yet ready to lift restrictions" and the increase in cases, hospital admissions and deaths is "worrying".
He said the UK "scored an own" goal by not restricting travel from India sooner.
We need your consent to load this rte-player contentWe use rte-player to manage extra content that can set cookies on your device and collect data about your activity. Please review their details and accept them to load the content.Manage Preferences
---
---
Earlier, Professor of Immunology at Maynooth University Paul Moynagh said 140 cases of the Delta variant, which was first detected in India, have so far been detected in the Republic, but said this number is likely to rise.
He said there is a greater role for rapid antigen testing in screening for the virus, in particular for aviation, travel and quarantine systems.
Prof Moynagh said there is also the potential of using daily rapid antigen testing to reduce hotel quarantine times.
Professor Adrian Hill, Director of The Jenner Institute and co-director at the Oxford Martin Programme on Vaccines has said results released by Public Health England this evening found that in relation to the Delta variant, for those who've received two does of either the Pfizer/BioNtech or the AstraZeenca vaccine "the efficacy is about 92-96% against hospitalisation".
The Dublin-born Professor told RTÉ's Drivetime that it's very good news for protecting hospitals and it may be be the case that Ireland gets a "bad wave" of clinical infection but mortality doesn't rise very substantially due to this variant.
He said in the longer term, it's likely this virus will appear every winter in the same way as flu, but it won't have a huge impact on mortality.
He said the vulnerable will continue to be vaccinated every winter for some years to come, but most people including the young will not need to be vaccinated in the long term.
He added that he was amazed and pleasantly surprised by the announcement that he's to receive an honorary knighthood in Britain's Queen Elizabeth's 'Birthday Honours list' for his key role in the development of the AstraZeneca vaccine.
Concern over rise in Delta variant cases
A GP in Co Armagh has warned a "third wave is coming" amid concerns over the rising Covid-19 infections due to the Delta variant in Northern Ireland.
Dr Frances O'Hagan, who is also deputy chair of the British Medical Association in Northern Ireland, said vaccination is key to reducing the impact of a third wave.
She said one person who is infected with the Delta variant can infect up to six other people.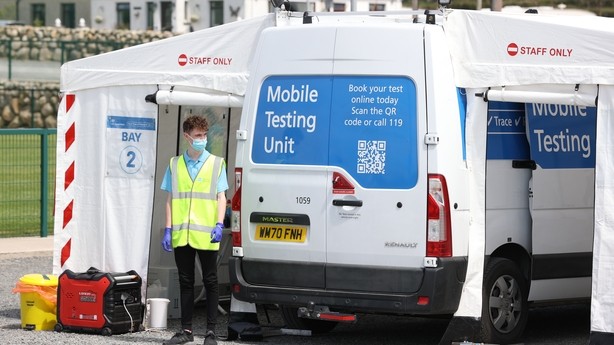 Speaking on RTÉ's Morning Ireland, she said the threat posed by the variant is greatest for younger people who are not yet vaccinated.
Dr O'Hagan said that all over 40s in Northern Ireland have now been offered the AstraZeneca vaccine and large centres are now set to vaccinate the under 40s with the Pfizer-BioNTech jab.
Meanwhile, People Before Profit TD Richard Boyd Barrett said the spread of the Delta variant in the UK is "alarming", as he said mandatory hotel quarantine should apply to those travelling to Ireland from the UK.
Speaking on RTÉ's Drivetime, Mr Boyd Barrett said "every opportunity should be given" to allow the vaccination programme to progress.
He said: "We need to do all we can to prevent the further importation of the Delta variant."
Mr Boyd Barrett said all unnecessary travel from the UK should be "discouraged".
"It would be an absolute disaster if we were plunged into another wave, and if all our progress was undone," he said.
He added that mandatory hotel quarantine applying to UK travellers would give the vaccination programme the "necessary breathing space" to proceed.
Earlier today, Northern Ireland's Department of Health reported 87 new cases, and no further deaths due to Covid-19 during past 24 hours.
There are 15 patients with Covid-19 in hospital. There are no patients in ICU with the virus.
Yesterday, Northern Ireland Health Minister Robin Swann said current modelling suggests that if the Delta variant becomes dominant in Northern Ireland, there is the potential for a surge in hospitalisations by late summer.
But he insisted this was "not inevitable" and that the actions of people now could still have a crucial bearing on the direction of the pandemic over the summer.
The variant is proving to be 60% more transmissible than the previously dominant Alpha (Kent) strain.
The Public Health Agency said last week that 111 probable and confirmed cases of the Delta variant have been detected throughout all 11 local council areas, 28 of them in Kilkeel, Co Down.
Meanwhile, a further 242 new cases of Covid-19 were reported today by the Department of Health.