There have been 242 new cases of Covid-19 reported today by the Department of Health.
The number of people with the virus in hospital is 67, of whom 23 are in ICU. This is one more than yesterday.
Daily case numbers may change due to future data review, validation and update.
Northern Ireland's Department of Health has reported 87 new cases, and no further deaths due to Covid-19 during past 24 hours.
Also today, the Health Service Executive published its Antigen Testing Working Group report.
It concluded that antigen tests may have applications in specific contexts, due to their suitability for deployment in different settings, faster turnaround times and because there is a clinical preference for a test that only detects the virus when it is present in high levels.
However, the report says that PCR testing is the gold standard for detecting Covid-19, as it is the most sensitive technology for detecting virus components, even at a low level.
It found that the current available antigen tests require higher levels of virus components in the samples to generate a positive test compared to PCR.
Systems that detect the virus at the lowest possible level are generally preferred, the group says.
As a result, it does not recommend using a single, stand-alone antigen test for screening people who have no symptoms, as a "significant proportion of people who are infected, and infectious to others, will not be identified".
It supports the use of antigen tests as an adjunct to PCR in symptomatic people in certain circumstances.
It found that when tested in real world settings, validation of antigen tests highlighted significant differences from manufacturers' claimed test performance.
We need your consent to load this rte-player contentWe use rte-player to manage extra content that can set cookies on your device and collect data about your activity. Please review their details and accept them to load the content.Manage Preferences
Earlier today, a public health expert warned that some Covid-19 variants are becoming more infectious and are slowly, but steadily, increasing their ability to "dodge" vaccines.
It comes as the latest data from the European Centre for Disease Prevention and Control (ECDC) shows 22.9% of the Irish population have been fully vaccinated while over half (56.6%) have had at least one Covid-19 vaccine dose.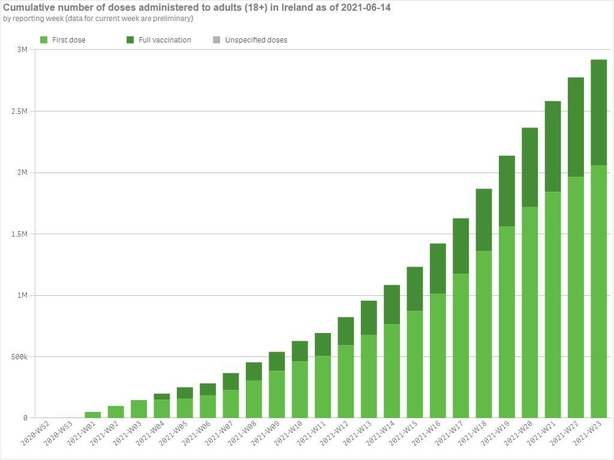 Minister for Health, Stephen Donnelly, hailed what he called "the astounding results in vaccine uptake in our vaccinated groups in Ireland".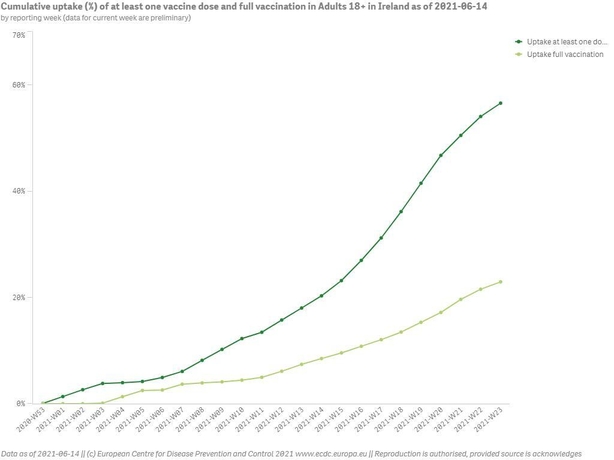 Meanwhile, the roll-out of the Covid-19 vaccination programme enters a new phase, with around 1,000 community pharmacists set to administer vaccine dose.
Pharmacists will begin receiving deliveries of the Janssen single-dose vaccine from today.
---
---
Initially, 60,000 doses of the vaccine will be distributed to participating pharmacies across the country.
Pharmacists will administer the vaccines to people aged 50 and over, who have not yet been vaccinated.
There is no need to register online for the service, but people will need to book an appointment with their pharmacist.
The Irish Pharmacy Union said there were around 140,000 people over the age of 50 who have not yet received a Covid-19 vaccine.
Vaccinations will take place in a separate consultation room within a pharmacy. People will have to wait for 15 minutes after receiving their jab so that they can be monitored for any side effects.
A list of participating pharmacies is available on the HSE website.
Cathy Maher from Haven Pharmacy in Duleek, Co Meath said she has seen healthy uptake of appointments so far.
Speaking on RTÉ's News at One, she said people who have already registered do not need to re-register for vaccination.
Ms Maher said doses will be administered in pharmacy consultation rooms, adhering to all Covid-19 precautions, and the patient will be supervised for 15 minutes after receiving the jab.
She said pharmacists will receive mRNA vaccines before the end of the month, when they will begin administering those also.
Meanwhile, four universities will begin a trial of rapid testing to support a return to campuses.
NUI Galway, Trinity College Dublin, University College Dublin, and University College Cork will conduct "a large-scale comparative analysis" of rapid testing technology.
Minister for Further and Higher Education Simon Harris said he will bring a memo to Government confirming a "significant increase in on-site college activity" from September.
"Rapid antigen testing may potentially be an element of this system. If proven through piloting and feasibility, the benefits of rapid testing could be a significant additional tool in our fight against Covid-19," he said.
Minister Harris said it does not replace the public health advice and thousands of students are expected to take part in the optional 'UniCoV' study.
Additional reporting: Fergal Bowers, Aengus Cox