It is just before 3pm and the childcare workers at Our Lady's Nursery in Ballymun have finished up for the day.
They have gathered in the canteen, masked and two metres apart, for a question and answer session with Dr Iain Morrison, a local GP.
Samantha has been nominated to ask the questions on behalf of her colleagues. The page she holds is covered front and back, all questions about the Covid-19 vaccines.
She gets straight to the point, reading her first question: "Is there any research into fertility issues and effects on fertility?"
Dr Morrison begins by saying the vaccines are "really new so there isn't long term research on this".
He adds: "But there is no evidence that there is any interaction with the vaccines and young people's fertility, or the hormones involved with fertility.
"Covid does have a real risk in pregnancy, if you get it.
"But in terms of miscarriage, there has been no evidence to show that vaccines bring about miscarriage."
All but two of the staff at the nursery are women, the majority of whom are aged in their 40s and younger.
The latest public opinion tracking research carried out on behalf of the Department of Health, shows that nearly half (49%) of people under 45 years of age have concerns about getting the Covid-19 vaccine.
Vaccine registration for this age group is expected to begin shortly.
Vaccine hesitancy does not mean that a person will not take a vaccine. However, it does mean that they have some questions that have not been answered.
Nursery manager Bernie Kelly who has received a Covid-19 vaccine, says there is concern among young people that "not enough research was done and they came up with the vaccines very early".
Dr Morrison agrees that it is "remarkable" how quickly the vaccines were produced.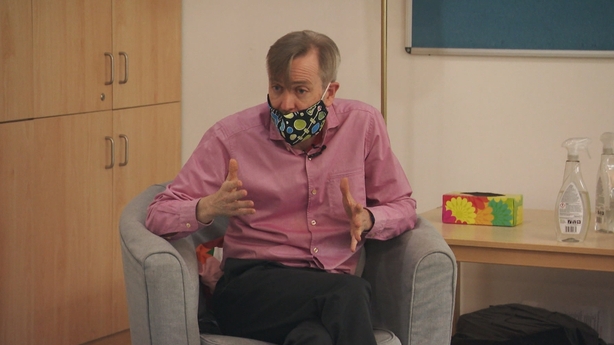 "But they've gone through a lot of testing," he said. "And there has been a lot of scrutiny on whether they are safe.
"What we do know is how bad Covid can be, and vaccinations have made a massive difference. As soon as we started vaccinating nursing homes residents and healthcare staff the rate of people getting sick or contracting the virus dropped like a stone."
Some of the women want to know what will happen if some people are vaccinated and others are not, and should they hold out for a particular vaccine.
"At the end of the day we're not going to force people to get vaccinated," replies Dr Morrison.
"We should try and be understanding of those who are completely anti-it, perhaps gently persuade and try not exclude them."
The Q&A lasts an hour, with questions ranging from the risks of a clot ("you've more risk from taking the pill") to side effects ("a lot of people get fever, aches and pains within 24 and 48 hours of getting the vaccine").
As the session winds up the women are nodding, seemingly satisfied with the opportunity to have their concerns addressed.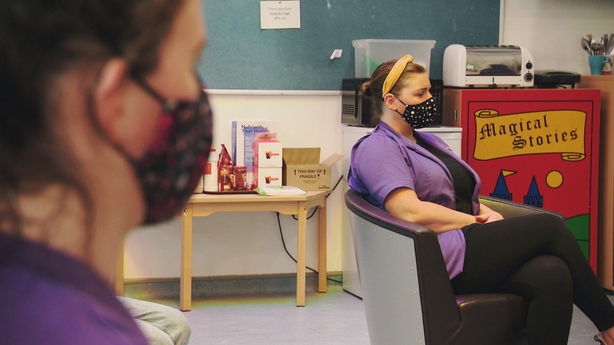 Vaccine hesitancy was the subject of a joint Irish-UK project, carried out by NUI Galway and University of Huddersfield.
It found that young women are the least likely group to say to 'yes' to a Covid-19 vaccine, while one in five women aged under 30 indicated a high level of uncertainty about taking the vaccine.
The findings from the research have been presented to the Behavioural Change Subgroup that advises the Government's National Public Health Emergency Team (NPHET).
"It is possible that one of the reasons behind young women's reluctance is related to issues around fertility and this warrants further investigation," said Dr Jane Walsh, Senior Lecturer in Psychology and Director of the Mobile Technology and Health Research group at NUI Galway.
The survey found that peer influences are strongly associated with young women's intentions on vaccination.
"Messages that are channeled through relevant social influencers may have a significant impact on vaccine uptake," said Dr Walsh.
"But what is clear, in general, is that there is still a high level of uncertainty around Covid-19 vaccination."
Trust in authorities and satisfaction with the Government response to the pandemic also played a part.
"Public health experts and governments should consider strategies to address this. Personalised messaging needs to be targeted at young people, and women in particular, to address their concerns. And it needs to be made a priority," said Dr Susie Kola-Palmer, University of Huddersfield.
The #ForUsAll campaign by the HSE was launched this month, and features an ad with "younger faces".
The emphasis is on digital media, with ads running on TikTok, Snapchat and Instagram.
As for hesitancy around the Covid-19 vaccines, the HSE points to the latest Amárach Public Opinion Survey, which "has shown an increase in people interested in taking the vaccine, with 69% definitely interested in taking it and 18% probably".
That leaves 5% of people who say they will not get the vaccine, 5% who do not know if they will, and 3% who say they probably will not. That is around one in ten people who are highly uncertain or against vaccination.
The World Health Organization says that Covid-19 vaccines must go through rigorous testing in clinical trials before receiving validation.
It says that there are strict protections in place to help ensure the safety of all Covid-19 vaccines, and that they are continuously monitored.
---