The Health Service Executive has said there is "substantial cancellations across all outpatient services with widespread cancellation of radiology services" following a ransomware attack on its IT systems.
The HSE has said it will take a number of days before its systems, which were shut down early yesterday morning, are restored.
Most healthcare appointments will go ahead as planned, the HSE has said, but x-ray appointments are severely affected.
People should expect delays while hospitals move to manual, offline processes.
Hospitals continue to provide chemotherapy and dialysis services and all Emergency Departments are open.
Covid-19 vaccinations are continuing, as are scheduled coronavirus tests.
Further information on the impact on individual hospitals is available on the HSE website.
Speaking on RTÉ's Saturday with Katie Hannon programme, the Chief Executive of the HSE, said he wanted to reassure patients that all mitigation actions are being taken really seriously.
"It is a difficult phase," Paul Reid said, adding that some disruption to services will continue into next week.
He said the priorities outlined for the next week is to continue urgent and time dependent care.
He acknowledged that it is difficult as some complex oncology diagnostics have been compromised because of no access to the imagery system.
"So even in some cases we can take diagnostics of today but can't compare to previous information."
His advice for people with appointments is to visit the HSE website, which is being updated regularly.
Regarding Covid-19 testing, Mr Reid said the automated referral from GPs is not functioning but people can go to any of the HSE Covid-19 test sites.
He said close contacts will still be contacted by someone from the contact tracing team and people will get their results as standard.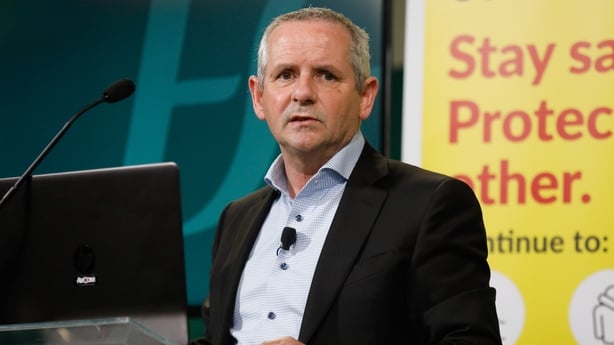 Mr Reid said the HSE does not know yet what level of data might have been encrypted through the ransomware attack.
He said the HSE is currently assessing what amount of data was accessed before they move to the recovery stage.
He said expert teams have been working throughout the night with "steady and safe progress" made.
"We have our back-up systems. What we can't fully establish is if there is an impact on some of the data yet.
"We know we can bring them up. We want to bring them back up safely and protected."
He said after that first part of the process, it is about rebuilding back up the infrastructure to support putting the other systems back in operation.
Mr Reid said the HSE is also in the process of identifying the "specific detailed nature" of the attack and some of the impacts.
He said it is about aligning all of that with protections being put in place to address those attacks.
"We have a team to look at what systems could we bring back in a safe manner, build them up one by one in a national, regional and local level."
---
'We will not be paying any ransom' over cyber attack - Taoiseach
Latest coronavirus stories
---
He also said they are trying to manage against risks. "We know what these attacks set out to do, to attack core data," he said.
He said this type of "high impact threat" was organised by a very sophisticated international criminal group.
From a HSE perspective, Mr Reid said, it has advised the National Cyber Security Centre who is being supported by gardaí and others as they assess the threat.
"No State wants to leave its national infrastructure exposed to ransoms and that is what these organisations set out to do."
He added there is no indication that any files encrypted will be released.
The Health Service Executive has said there is "substantial cancellations across all outpatient services with widespread cancellation of radiology services" following a ransomware attack on its IT systems. | Read more: https://t.co/nQzmladHRb pic.twitter.com/Kb1V9A3uFp

— RTÉ News (@rtenews) May 15, 2021
He said these organisations try to lead a double extortion, by gaining access to data and seeking a ransom to give it back, and then threatening to publish data if they do not receive the ransom.
"That is why we are treating it with the highest level of security and intelligence forces are engaged in this," he said.
Mr Reid said the national security process is a key process and the HSE has the right people looking through this.
He said the HSE is concentrated on getting the network and data recovered safely and managing patient services through this process.
He said the HSE has invested significantly in protecting their IT systems from cyber attacks with protections at all points of their networks.
"We have had strong layers of protections across our network, services and access points."
However, he admitted that there is always learning to be done.
"That is the reality. You do have to stay apace with what is happening in the world."
Due to the current disruption of the HSE IT systems daily #COVID19 figures are not available. Backdated figures will be published when possible.

— Department of Health (@roinnslainte) May 15, 2021
Separately, the daily update of Covid-19 figures will not be available today, the Department Health has said.
Meanwhile, Minister for the Environment, Climate and Communications Eamon Ryan and Minister of State Ossian Smyth have held an update briefing with the National Cyber Security Centre (NCSC).
In a statement, Mr Ryan's department said: "The NCSC's full resources have been committed to supporting the HSE in its response to the cyber attack, and the NCSC is liaising with international partners and third-party contractors.
"This work will continue throughout the weekend with the focus on supporting the HSE's recovery process in order to minimise disruption to services."
High-tech drug prescriptions are being affected
The Irish Pharmacy Union says high-tech drug prescriptions are being affected by the cyber attack on the HSE.
High-tech drugs are expensive often new medicines which can be prescribed only by hospital consultants.
The normal process is the consultant does this through the HSE High Tech Hub which is an online system.
The pharmacist then orders the drugs for the patient through the hub.
Since yesterday consultants now must issue the prescription on paper and this has to be physically brought to the pharmacy.
The pharmacist must then telephone the drug manufacturer to order the drug.
Obviously this has slowed down the system but so far patients are still getting their drugs in time. But there are fears this might cause delays if the disruption continues into next week.
Patients on high tech drugs include people with immune disorder conditions such as Crohn's disease, Colitis, Arthritis and also transplant patients.
Additional reporting Colman O'Sullivan