Medical devices, masks and vaccines are among products that companies in Ireland have been encouraged to make to help fight Covid-19, with up to €200 million in State support announced last year.
An average of €1 million has been granted to individual companies, who were able to answer the call.
"We were facing closing or short time working, so we started making reusable face masks".
Apparel Supply is a company that up until last year was busy making GAA jerseys and industrial workwear.
In Spring 2020, the machines went quiet because of lockdown and the family-run business decided to adapt production to something that was needed but in short supply - face masks.
"At that time we were giving them out free to nursing homes, charities and local services," explained John Molloy, the owner of the Waterford-based company.
Soon afterwards funding was announced for indigenous companies to make products that would help in the fight against Covid-19.
Today, at a new manufacturing plant in Waterford city the machines are humming. 20,000 surgical masks roll off the production line every day, for clients like the Health Service Executive.
Logo embellished reusable masks are displayed on a table in front of sewing machines. They are made to order for a range of companies, from ESB to the Chester Beatty library.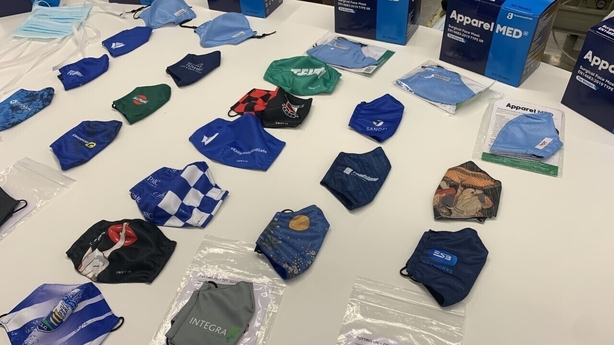 "We've 20 new staff in this new facility, we have two production lines running, and another two planned," said John Molloy.
"By the end of the year we will have nearly doubled our workforce, with this completely new business."
Apparel Supply sees face masks being a "requirement for the foreseeable future" and having secured certification as a medical device manufacturer it is now involved in research "new concept face mask" with the University of Ulster.
The company is one of 23 that secured funding under the Covid-19 Products Scheme.
The purpose of the grants was to facilitate the upscaling of testing and fast tracking production of Covid-19 relevant products.
Firms researching or manufacturing PPE, sanitisers, tests, equipment or other medicinal products were eligible for funding of up to 50% of their capital costs.
"The reality is that when your products are made for an Irish market, with the standards required, these are the type of products that can travel globally aswell."
In another industrial park, in Sandyford in Dublin, HiberGene Diagnostics has just taken over a new premises.
When Covid-19 hit, the company was already making tests for a range of diseases, such as meningitis and sexually transmitted infections.
"At that point we became aware there was going to be significant demand for Covid testing, and we started development at the Sandyford base of molecular diagnostic test using LAMP technology," said the company's Chief Technology Officer Dr Gary Keating.
It took just over three months from research to production, a process that would usually up to a year.
The rapid test for Covid-19 gives results within an hour and is being used by both private laboratories and hospitals.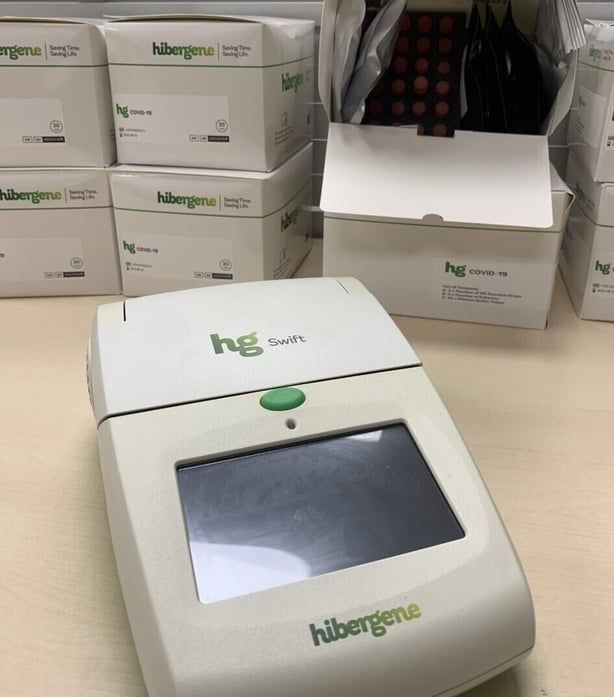 "Also quite a large proportion of our product is going to outside of Ireland to European, Asian and South American hospital labs," said Dr Keating.
Making products that will have an international market is important for Irish-based companies.
"It's very important to have a healthcare system that purchases from Irish companies but also that (those companies) look to an overseas market," said Tom Kelly, divisional manager for innovation and competitiveness at Enterprise Ireland.
"The reality is that when your products are made for an Irish market, with the standards required, these are the type of products that can travel globally as well."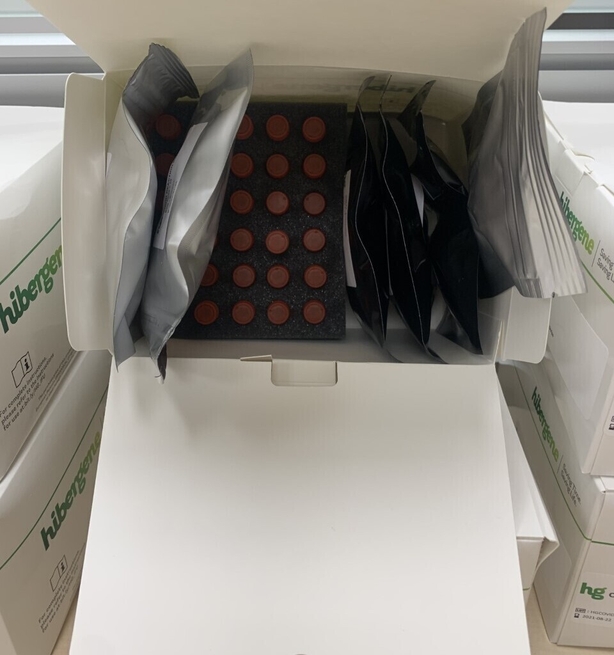 The Covid-19 Products Scheme, run by Enterprise Ireland and IDA, has so far granted €26 million to 23 companies.
Under EU State aid rules up to €200 million can be made available to companies manufacturing Covid-19 specific products.
The Department of Enterprise, Trade and Employment has said "as with all our schemes to support business, the Government will keep any further extension of the scheme under review".