France will lengthen the period between the first and second shots of Covid-19 vaccines to six weeks from four weeks as of 14 April to accelerate the inoculation campaign, the country's health minister has said.
Although France's top health authority advised a six-week period between the two shots in January in order to stretch supplies, the government at the time said there was insufficient data on how well the vaccines performed with a longer interval.
France could safely do so now because it was vaccinating a younger age group, Olivier Veran said.
"(It) will allow us to vaccinate more quickly without reducing protection," the minister said in a newspaper interview.
France has approved use of the Pfizer/BioNTech and Moderna mRNA vaccines.
Mr Veran also said that from tomorrow the AstraZeneca vaccine would be made available to all over-55s and not just those with serious pre-existing conditions.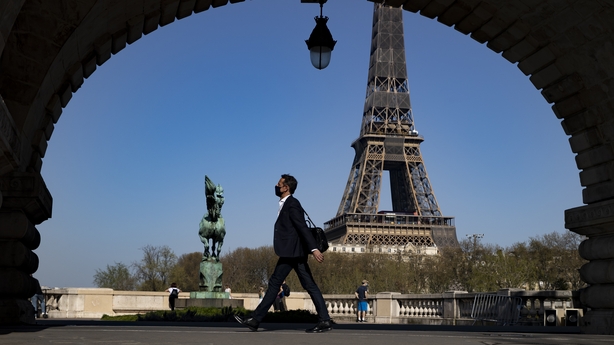 After a glacial start, France's vaccine roll-out is hitting its stride, reaching a target of ten million first doses a week ahead of a mid-April target.
The government aims to deliver another ten million first shots by mid-May.
Johnson & Johnson would deliver its first 200,000 doses destined for France tomorrow, a week early, Veran Mr said.
President Emmanuel Macron, who was forced by a spiralling infection rate and overloaded healthcare system to impose a third nationwide lockdown, is counting on an accelerated vaccine roll-out to allow a gradual reopening of the country from the middle of next month.
---
---
The number of patients in intensive care continue to rise and France will almost certainly cross the 100,000 deaths threshold this week.
It reported over 43,000 new Covid-19 cases yesterday and said there were now 5,769 patients receiving critical care.
However, Mr Veran said there were signs that a new lockdown was beginning to slow the infection rate.
"It remains very high," Mr Veran told the newspaper said.
"We can expect that after a period of stabilisation comes the fall. But for that, we must keep going."
Sicilians refuse AZ vaccine: president
Up to 80% of people offered the AstraZeneca Covid-19 vaccine in Sicily refuse it out of fears over its safety, according to the southern Italian region's president Nello Musumeci.
Public confidence in the Anglo-Swedish jab has been badly shaken by reports linking it to rare, but potentially fatal, blood clots, and by conflicting recommendations on its use.
"In Sicily, there is an 80% refusal rate of the AstraZeneca vaccine. Every 100 people, 80 say no," Mr Musumeci said in Catania, according to multiple media reports.
He added: "It is natural" for people to be particularly concerned, "but we have a duty to believe scientists when they say it is more dangerous not to get vaccinated than to get vaccinated".
The president actually meant to say "up to 80%," his spokeswoman Michela Giuffrida said today, adding, as an example, that in the town of Syracuse the refusal rate was "30%".
A large-scale boycott of the AstraZeneca jab would put Italy's vaccination plan, already struggling with supply shortages and botched priorities, under further stress.