German Chancellor Angela Merkel has appealed to citizens to stay at home over Easter and meet fewer people to help curb a third wave of the coronavirus pandemic, as the capital Berlin announced a night-time ban on gatherings from tomorrow.
"It should be a quiet Easter, with those closest to you,with very reduced contact. I urge you to refrain from all non-essential travel," Mrs Merkel said in a video message, adding this was the only way to help health workers fight the virus.
The German leader was accused of losing her grip on the Covid-19 crisis last week after she ditched plans for an extended Easter holiday agreed two days earlier with governors of the country's 16 states.
Mrs Merkel has since tried to shift the blame for the third wave of the pandemic onto state premiers, accusing them of failing to stick to earlier agreements to reimpose restrictions if infections rose.
Today, the city government of Berlin said it would impose a night-time ban on gatherings from tomorrow and only allow children of essential workers to attend nursery from next week.
As the weather has become warmer in recent days, Berliners have been flocking to public spaces. About a hundred youngsters threw bottles and stones at police in one park yesterday when they tried to break up the party, the Berliner Zeitung newspaper reported.
Mrs Merkel said it was no longer the elderly who were fighting for their lives in the pandemic, but the middle-aged and even younger patients who were ending up on ventilators in hospital.
She held out hope, however, that the sluggish distribution of vaccinations would speed up after Easter, when family doctors will start giving shots.
The Berlin city government said people would only be allowed to be outside on their own or with one other person from 9pm until 5am, though children under 14 are exempted.
This will be the first limited curfew imposed in the capital since the pandemic began a year ago.
The city of Hamburg already announced that it would restrict night-time gatherings from tomorrow, with supermarkets and takeaways shut from 9pm.
The number of confirmed coronavirus cases in Germany, Europe's most populous country and largest economy, rose 24,300 to 2.833 million yesterday, the biggest daily increase since 14 January.
The reported death toll rose by 201 to 76,543.
France reports 50,659 new Covid-19 cases over 24 hours
France reported 50,659 new coronavirus cases today, according to data from the health ministry.
Yesterday 59,038 infections were reported - the same day the government widened restrictions, including the closure of schools.
Last Thursday, 45,641 new cases were confirmed.
Alcohol will be banned in French parks and other outdoor public spaces as part of the new nationwide lockdown, Prime Minister Jean Castex has announced.
Addressing the National Assembly, Mr Castex also said authorities would be quick to disperse groups of more than six people on riverbanks or in squares.
He said he "unreservedly" condemned people who had not been respecting the rules, after images of alcohol-drinking crowds on sunny riverbanks in cities including Paris and Lyon.
Meanwhile, prosecutors should "systematically" investigate organisers of clandestine parties for putting the lives of others in danger, Mr Castex added.
New monthly record in Brazil with over 66,000 deaths
Brazil's coronavirus death toll soared in March, its deadliest month yet in the pandemic, with 66,573 people killed by Covid-19, more than double the previous record. 
The South American country, whose hospitals have been pushed dangerously close to collapse by a new surge of severe cases, has now recorded a total of 321,515 deaths from Covid-19, the health ministry said - a toll second only to that of the United States. 
The health ministry recorded more than twice as many fatalities in March as Brazil's second-deadliest month of the pandemic, July 2020, when there were 32,881 deaths. 
"Never in Brazilian history have we seen a single event kill so many people" in one month, said doctor Miguel Nicolelis, former coordinator of the pandemic response team for Brazil's impoverished northeast. 
With the southern hemisphere winter now approaching and the virus spreading fast, Brazil is facing "a perfect storm," he said. 
"That's a threat not just for Brazil but for the entire world." 
Brazil's average daily death toll has more than quadrupled since the start of the year, to 2,976 this week, the highest by far worldwide.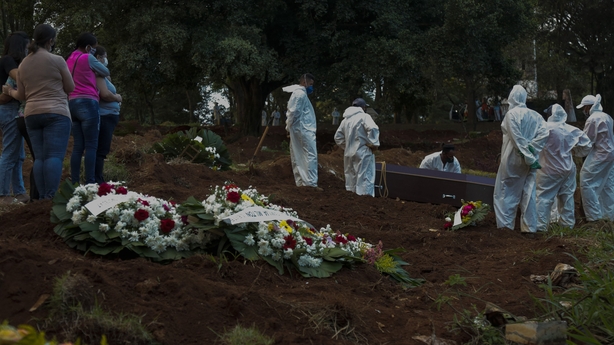 The 24-hour death toll reported by the health ministry yesterday also set a new record of 3,869. 
Health experts say the recent surge of cases is partly driven by a local variant of the virus known as P1.
Believed to be more contagious, P1 can reinfect people who have had the original strain of the virus, and has spread to more than two dozen countries, including the United States, Britain and Japan.
As long as the pandemic continues to rage unchecked in Brazil, there is a risk that more variants could emerge in the country, researchers say.
---
---
Meanwhile, Brazilian President Jair Bolsonaro faces mounting criticism for his handling of the pandemic. 
The far-right leader's resistance to lockdowns, face masks and vaccines has caused a firestorm of controversy while the pandemic has raged. 
Under pressure from allies in Congress and the business world, Mr Bolsonaro installed his fourth health minister of the pandemic last week, replacing Eduardo Pazuello - an army general with no medical experience - with cardiologist Marcelo Queiroga. 
The president sought to show he was taking the pandemic seriously, launching a crisis committee. 
However, he reverted to his anti-lockdown message at the committee's first meeting yesterday. 
"We're not going to solve the problem by staying at home," he said - contradicting his new health minister, who had just urged Brazilians to "respect social distancing". 
Mr Bolsonaro argues the economic damage of lockdowns is worse than the virus itself, a stance that has left state and local governments to implement a messy patchwork of pandemic policies. 
Japan announces emergency measures in Osaka 
Japan's government said it will impose emergency measures, such as shorte rbusiness hours and asking people to work from home and refrain from activities like karaoke, in the western region of Osaka to halt a rebound in Covid-19 cases. 
Osaka governor Hirofumi Yoshimura said Olympic torch events in the prefecture's main city should be cancelled, a day after he raised alarm about an emerging fourth wave of infections. 
The infection control measures will cover the prefectures of Osaka, Hyogo, and Miyagi and will last from 5 April until 5 May, said Economy Minister Yasutoshi Nishimura, who also heads the nation's Covid-19 response. 
A final decision on enacting the measures will be made at a task force meeting headed by Prime Minister Yoshihide Suga this afternoon. 
New infections in Osaka have exceeded those of the much larger metropolis of Tokyo in recent days. 
Osaka prefecture reported 599 new cases yesterday, close to the record of 654 in early January when the nation was gripped in its third and most deadly wave of the pandemic.
Tokyo reported 475 new infections today (1 April ), the most since 10 February. 
The new measures are based on a revised infection control law and can be applied to a narrower area than a state of emergency, which Mr Suga declared for most of the country in early January.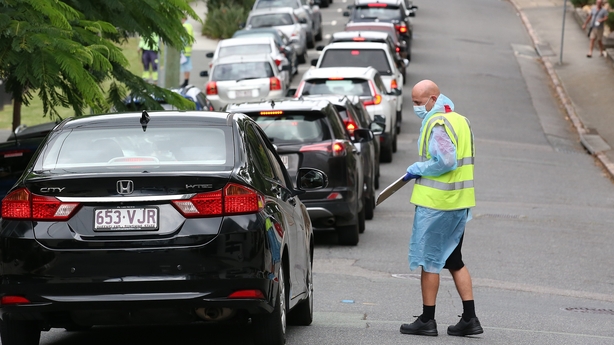 Australia's Brisbane lifts snap virus lockdown ahead of Easter 
Stay-at-home orders for more than two million people in Australia's third-biggest city Brisbane were lifted today, ending a snap coronavirus lockdown just ahead of the traditionally busy Easter holidays. 
The three-day lockdown ordered on Monday saw schools, restaurants and bars forced to close after an outbreak in Brisbane, with health officials saying it was necessary to stop the virus spreading and bolster contact tracing. 
It was the latest in a series of mini lockdowns in Australian cities this year, which authorities say have quickly brought virus outbreaks under control and avoided more onerous measures. 
Just one new case was detected in Brisbane today, taking the number of cases to 14, allowing restrictions to be eased. 
Masks will be mandatory in public spaces while restrictions on gatherings and dancing will also remain in place. 
"We're not out of the woods yet so... for the next two weeks if we all do the right thing, we can get through this together," state Premier Annastacia Palaszczuk said. 
Australia has been relatively successful in curbing the spread of coronavirus, with only one nationwide lockdown during the pandemic so far and most regions now enjoying few restrictions.
The country has reported around 30,000 Covid-19 cases and fewer than 1,000 deaths in total out of a population of 25 million, including those detected in quarantine for overseas travellers. 
But it is one of the few wealthier nations to have an extremely limited vaccination rollout, with the roughly 700,000 doses administered to date falling far short of an initial plan to jab four million people by the end of March.