The Department of Health has been notified of three more Covid-19 related deaths and 606 cases of the virus.
Of the deaths reported today, 2 occurred in March and 1 in February.
There has been a total of 4,631 Covid-19 related deaths and 232,758 confirmed cases of the virus in Ireland.
As of 8am there were 312 people with Covid-19 in hospital, with 24 additional hospitalisations in the past 24 hours.
There are 75 in ICU, down one on yesterday.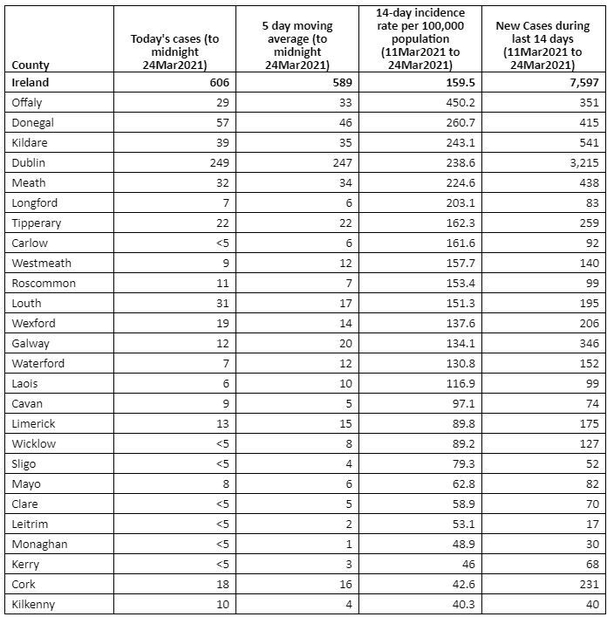 Chair of NPHET's Epidemiological Modelling Advisory Group Professor Philip Nolan said when all of the virus data is taken into account the situation is either at a very static position or one that's increasing slowly.
He said the reproduction number is between 1 and 1.3 and he said that the situation with cases is "volatile" and remains "at high risk".
He said the seven-day average up to yesterday was 564. Today's case count is 606 while on 10 March there were 487 cases which was the lowest count for six weeks.
Prof Nolan said this was a definitive trend upwards but indicates the situation is stable or increasing.
Mother's Day, St Patrick's Day and play dates have been identified as reasons for possible asymptomatic spread of covid-19.
"What we are seeing in the main is that a lot of children are being identified as close contacts of their parents, or other adults in the community, and are tested appropriately because of that," public health specialist with the HSE Dr Miriam Owens said.
If they test positive, contact tracing looks at other children in the classroom and other people are tested.
"We are picking up some cases but we're not picking up significant transmission in the schools," she said.
"Children are reflecting what's in the community. What seems to be happening in the community is that people are getting tired, people feel that it's time to relax. But it isn't the time to relax.
"Moving between play dates, Patrick's Day parties, Mother's Day parties, things like that, more and more people have been coming together, perhaps not appreciating the risk that that has for the onward transmission of perhaps asymptomatic infections that are there."
This is why they opened testing facilities today to identify asymptomatic people who have the virus, she said. "We're trying to pick people up early."
We need your consent to load this rte-player contentWe use rte-player to manage extra content that can set cookies on your device and collect data about your activity. Please review their details and accept them to load the content.Manage Preferences
---
---
Dr Owens said parents are meeting up outside schools and creches, "more so than they would have been," and more so now that children are back in school as parents are not home-schooling and have the opportunity during the day to meet others.
One example is a group of workers meeting up in people's houses to play cards, she said, and then meeting others who may be working in a caring profession. "One case there goes back into a number of workplaces and then a sort of knock-on effect on people who are working with other vulnerable people."
Some months ago people were not doing that but there is "a bit of complacency" now, she said. "Not trying to be a killjoy, but it isn't safe. It's no safer now than it was back then. If people just hang in there and stick with the rules, we will come out the other end."
Professor Philip Nolan said there had been an almost constant number of new admissions to hospital per day, between 20 and 25, since late February.
He said this was an indicator of the level of disease in the population. He said: "for me this is the strongest indicator that we are in a static or disimproving situation".
He said over the last two to three weeks, the number of deaths "indicator" has stabilised, following a decline, reinforcing an overall picture of at least a static position for the last two to four weeks.
Unfortunately, the number of deaths per week in the last three weeks is almost constant, in the region of 50-60, he said. The number of deaths in the community, he said, has increased slightly.
He said there has been two phases in the last eight weeks or so. The phase where the number of people in ICU declined very rapidly and in the last two weeks, declined less rapidly.
He said the near-disappearance of cases in residential care settings was being watched with interest, adding that it was clearly the impact of the vaccination programme in those settings. He said this was good news for the future of the vaccination programme.
Prof Nolan said an increase of 40-60% had been detected in children aged 0-12. He said this was a smaller increase in comparison to the number of children being referred for testing.
He said it was important to note that in the case of children between five and 18 years of age, fewer than 10% of cases are detected in the context of schools.
It is more common to find in these outbreaks that the disease has been brought in from outside the school, and detected in school, he said.
Root causes of the plateau in case numbers of possible slight increase, include the fact that there is an increase in people going to their workplace, he said.
There has been an increase in workplace attendance and social contacts, starting in late February, Professor Philip Nolan has said.

He said the reproduction number is uncertain but is estimated to be 'somewhere between 1 and 1.3' | Follow live updates: https://t.co/PCK4VdKHAU pic.twitter.com/XXNEuv1tEC

— RTÉ News (@rtenews) March 25, 2021
From mid-February we increased our level of social contacts from 2.1 per 48 hours to 2.6 per 48 hours.
"Those two things [workplace attendance and social contacts] point to the root cause of the position we are in," he said.
"It's a very small number of cases," he said, adding that it remains smaller than the numbers seen in October to December.
Deputy Chief Medical Officer Dr Ronan Glynn said data from the Social Activity Measure showed that five percent of people in January reported that they had visited another household for social reasons.
However, in the week ending 14 March this figure had doubled.
"The key message is that 90% of people are still not visiting other households," he said.
"It is just small slippages like that, the slow return to work that we've seen in the data. It is all of those gradual, slight increases in contact that add up to the situation where we are seeing a stasis," he said.
The decline in incidence of Covid-19 among 18-24 year olds represents 'really steady progress', Dr Ronan Glynn said.

He added that NPHET 'know the vast majority of people are doing all they can' to tackle the spread of the virus | Follow live updates: https://t.co/PCK4VdKHAU pic.twitter.com/T16iYTTS1D

— RTÉ News (@rtenews) March 25, 2021
Dr Ronan Glynn said it will be "a very significant challenge" to get cases numbers lower than where they are currently.
"We have to continue to try," he said. "It is a difficult thing to keep a disease like this at any number without it rising. The challenge is not alone to get it down but to keep it to 500-600 cases a day."
It's "hard to see" how we can do better than 500 cases a day, Professor Philip Nolan has said, but we have proven that we can do this.
He said it is important to emphasise that we have a higher prevalence of the B117 strain than other countries.
Asked about the difficulty of getting numbers below 500 new cases a day, he said: "Despite the fact that we have a bigger challenge than most of our European partners, we've battled the disease down to 500. It is hard to see how we can get it below that, except we've proven in a way that we can do better. We did better three or four weeks ago, when we managed to keep our contacts a bit lower."
Often missed, Dr Glynn said, is that we have opened up "a very significant component" of our society in the last number of weeks, with hundreds of thousands of children going back to school.
"We want to see all our children going back after Easter. They have suffered disproportionately," he said, with international reports showing the negative effects of this.
Dr Glynn said NPHET will provide updated guidance to Government on Monday on people who have received full protection from two doses of vaccines.
He said it will still take a "number of weeks" before people are fully protected.
He said GPs are seeing examples of people assuming they have protection just days after receiving their first dose.
"That is a wrong assumption. People should assume they are not protected until two weeks after their second dose," he said.
Dr Glynn said when more people are fully vaccinated, but it will give society more options in terms of what can be done more safely.
Dr Miriam Owens said data will be published on the number of people attending walk-in testing centres and positivity rates.
She said the health service wanted people who assumed they were well and healthy to show up too.
Asked if this foreshadowed mass testing in the population, Dr Ronan Glynn said there might be more walk-in centres in different places.
He said there might also be use of antigen testing.
"These are added layers, added interventions that assist us in controlling the disease," he said.
The Chief Executive of the Health Products Regulatory Authority said it has had 5,500 reports of side effects among 675,000 doses.
Dr Lorraine Nolan said 3,000 of these relate to mRNA vaccines, 2,500 relate to the AstraZeneca and a small number which can not be attributed to any vaccine
Speaking at a briefing from the Department of Health, Dr Nolan said it is very clear that the safety profile of the vaccines remains "very good".
She said events being reported are fully in line with side effects listed in the product information.
At a briefing today, the Health Service Executive said disease levels in the community were not decreasing despite restrictions.
Earlier, Tánaiste Leo Varadkar told the Dáil that getting daily Covid-19 cases to the low numbers achieved last year is "not a prospect" due to the B117 variant.
He said it was "very hard to see" how it was possible to secure a rate lower than 500 cases per day, despite "the enormous efforts of the Irish people".
In Northern Ireland, there have been no further coronavirus-related deaths recorded for a second consecutive day. The official Department of Health toll remains at 2,107.
It is the first time in nearly six months that no deaths have been recorded on consecutive days.
There were 183 new cases recorded.