Tánaiste Leo Varadkar has told the Dáil that getting daily Covid-19 cases to the low numbers achieved last year is "not a prospect" due to the B117 variant.
He said it was "very hard to see" how it was possible to secure a rate lower than 500 cases per day, despite "the enormous efforts of the Irish people".
Mr Varadkar said the death toll from the virus is approaching 4,700. He said as many people died so far this year as all of 2020, which was an "extraordinary statistic".
He also said that "a lot more countries" would be added to the Government's list that demands that incoming passengers would be required to stay in mandatory hotel quarantine.
Mr Varadkar predicted that Ireland would have received 1 million vaccines by the end of March, and 800,000 doses "in people's arms".
He was responding to the Social Democrats co-leader Róisín Shortall, who said that despite 12 weeks of severe lockdown, infection numbers remained "stubbornly high" and this was because the Government "has not played its part and not done what it promised to do".
She contended it "beggared belief" that a comprehensive tracing system was not already in place, and that "inexplicably" incoming passengers were no longer being asked what reason they were travelling for.
Ms Shortall said the "vast majority people have severely restricted their movements, and lives, in a national effort".
She said the Government would "have to do much better" in tackling Covid-19 as otherwise it would lose the public support.
We need your consent to load this rte-player contentWe use rte-player to manage extra content that can set cookies on your device and collect data about your activity. Please review their details and accept them to load the content.Manage Preferences
.@DonnellyStephen says if pharmaceutical companies deliver to their agreed amounts in the coming months, then "four in every five adults in Ireland can be offered one, or two, vaccine doses by the end of June" | More: https://t.co/dSnGMd10VP pic.twitter.com/MvocMfdyxm

— RTÉ News (@rtenews) March 25, 2021
The Tánaiste also told the Dáil that the risk profile of Covid-19 will change as more and more people are vaccinated.
Mr Varadkar said that around 40 to 50% of people will need to receive their first dose before it would have a meaningful impact on the "R" number.
He told TDs that approximately 10% of the population have now received a first or second jab so far.
This morning several TDs appealed for the Government to consider easing lockdowns on a regional basis. 
However, Mr Varadkar said that "we are not in a position yet to treat different counties differently" adding that "there is no county in Ireland at the moment where the incidence is low enough".
The Tánaiste also told the Dáil that during a summit of the European People's Party this morning, European Commission President Ursula von der Leyen reiterated that she is confident that between 300 to 360 million doses of vaccines will be delivered to the European Union by the end of the second quarter of the year.
These delivery schedules would facilitate Ireland's target of delivering one million vaccine doses per month for April, May, and June.
Earlier, Minister for Health Stephen Donnelly told the Dáil that there would be a "step change" in the vaccine roll-out from April.
He told Sinn Féin's health spokesperson David Cullinane that Ireland remains on track to have received 1.1 million vaccine doses by the end of this month, which would also mark the end of the first quarter.
The minister cautioned, however, that this was assuming deliveries arrive on time.
Ireland is expecting in excess of one million vaccine doses per month for April, May and June.
However, Ms Shortall pointed out that 680,000 vaccines had been provided by the first three weeks of March.
Ms Shortall said there is "a huge gap to make up there if we're to reach that target" and that she could not see how it could be achieved.
Taoiseach Micheál Martin has previously said that the Government was hoping to administer 1.1 million vaccine doses by the end of the first quarter.
Mr Cullinane said the country is entering a very critical stage in the vaccine roll-out.
He told the Dáil that people had played their part, but in return, they are expecting an efficient administration of vaccines.
The Waterford TD also appealed for a strengthening in testing and tracing, telling the minister that he never believed Ireland got it fully right.
He said "deep retrospective" contact tracing was required.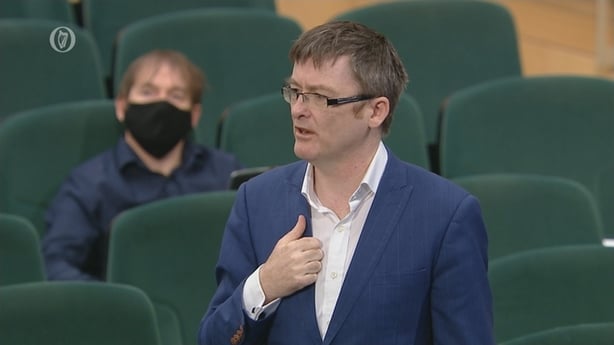 ---
---
Labour leader Alan Kelly said he could not understand why many people, who were willing to administer vaccines, were finding themselves coming up against obstacles when it came to signing up.
Mr Kelly said many retired GPs, nurses, and other professionals in the health service were finding it difficult to sign up.
He said this was also the case for medical students who were nearing the end of their studies.
"I have no clue why we need birth certs, Juniors Certs or any of these things", he said.
Mr Kelly said it would be "criminal" if Ireland found itself in a position where there was not enough vaccinators.
.@rtenews Last Sunday, under the national vaccination programme, 6 second doses were administered to people. pic.twitter.com/YuhJueN9vy

— Fergal Bowers (@FergalBowers) March 25, 2021
Mr Donnelly said he has heard about this issue and that after following up with the HSE, a lot of what he heard turned out "not to be the case".
He said medical students are already administering vaccines, as is the case for retired people. However, he said that if the process was overly complicated, he would seek to correct this.
More than 10,000 vaccinators have been recruited, the minister said, and that continues to grow.
"We are not going to have enough vaccinators the way things are going"@alankellylabour asks @DonnellyStephen why the criteria for recruitment cannot be widened, adding that it would be "criminal" not to have enough vaccinators | More: https://t.co/dSnGMd10VP pic.twitter.com/dGLswk4jy4

— RTÉ News (@rtenews) March 25, 2021
Ms Shortall echoed those concerns, telling Mr Donnelly that there are "huge problems there, we're all getting complaints about it".
She said the application form is 14 pages long, with no phone number on it for people to ring.
Ms Shortall also told the minister that people had complained about their details being lost, and that applicants were asked "repeatedly the same questions and for the same information".
She asked Mr Donnelly to "sort them out, we can't afford any more problems in this area".
Fianna Fáil TD John McGuinness said the ten-person limit on funerals was "ridiculous" and many people were questioning the logic behind such guidelines.
Additional reporting Tommy Meskill