The European Commission and British government have issued a joint statement on the vaccine controversy, saying both sides were taking "specific steps" to create a "win-win situation and expand vaccine supply for all our citizens".
The surprise statement comes amid ongoing discussions between the Commission, the UK government, and AstraZeneca, which has been widely criticised by the EU for failing to meet vaccine delivery targets.
It also comes ahead of a virtual summit of EU leaders tomorrow, which will be dominated by the Covid situation in Europe, and the supply problems that have hit the EU vaccine rollout.
The statement said: "Given our interdependencies, we are working on specific steps we can take - in the short, medium - and long term - to create a win-win situation and expand vaccine supply for all our citizens."
"In the end, openness and global cooperation of all countries will be key to finally overcome this pandemic and ensure better preparation for meeting future challenges.
"We will continue our discussions."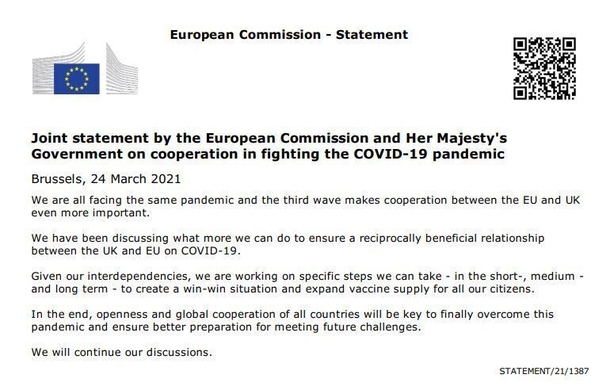 Tánaiste Leo Varadkar told a meeting of Fine Gael TDs, Senators and MEPs that he is concerned about any potential international vaccine export ban
Leo Varadkar said such a move "could leave everybody worse off" and he will be discussing it with the EU Commission President, Ursula Von der Leyen at an online summit of the EPP tomorrow.
Earlier, the Commission said it would tighten the criteria for the export of vaccines in order to ensure the security of supply for European citizens.
It said that shipments of vaccine doses outside the EU would now depend on the percentage of the population that had already been vaccinated and what the rate of Covid-19 cases was in the recipient country.
Shipments would also depend on the degree to which the receiving country had permitted exports of vaccine doses and component parts to the EU.
The EU introduced a transparency mechanism at the end of January following concerns that AstraZeneca was shipping millions of doses to the UK that should have been used to fulfill EU contracts.
This, officials say, has given a more accurate picture of what vaccines being produced in Europe are going where.
Now they say that because there is still no security of supply in Europe, largely because AstraZeneca has only delivered one quarter of what it was contracted to deliver, there are additional requirements before vaccines can be exported.
These revolve around the principles of proportionality and reciprocity.
We need your consent to load this rte-player contentWe use rte-player to manage extra content that can set cookies on your device and collect data about your activity. Please review their details and accept them to load the content.Manage Preferences
In other words, a member state exporting consignments of vaccines will look at how many people in the country ordering the vaccines have themselves already been vaccinated.
It will also examine the extent to which that country has been cooperating with the EU on a reciprocal basis, in providing supplies of vaccines and vaccine components in return.
UK spokes response to EU export restrictions:"We are all fighting the same pandemic – vaccines are an international operation; they are produced by collaboration by great scientists around the world. And we will continue to work with our EU partners to deliver the vaccine rollout

— Tony Connelly (@tconnellyRTE) March 24, 2021
Officials say it is a highly complex field and each shipment would be looked at on a case-by-case basis.
It means there are no set thresholds of the percentage of a population that has already been vaccinated that would determine whether or not it was deemed that that country actually needed vaccines from the EU.
EU officials were at pains to stress this is not an export ban, noting that the EU has authorised 381 export requests since the end of January and only turned down one.
---
Read more:
Latest coronavirus stories
---
The European Commission has been described as "belligerent and noisy" in its handling of proposed export bans for Covid vaccines.
Labour's Brendan Howlin told the Dáil that the procurement and supply of vaccines was the EU's "single most important task" but the results have "quite honestly been unacceptably poor".
There has been strong criticism of the Commission's handling of the vaccine programme during Dáil statements ahead of this week's European Council meeting.
Mr Howlin said the EU has "somehow managed to put itself in the position of being seen as the aggressor, threatening to stop the export of vaccines, when in truth is that since last February more than 40 million vaccines have left the EU for other nations including 10 million exported from the EU to the UK. That was one-way traffic".
There has to be accountability for the "unacceptable state of affairs" he said: "Those of us who strongly remain supporters of the EU must require its institutions to be accountable in the full measure of that phrase."
The Fianna Fáil MEP, Billy Kelleher, has said all pharmaceutical companies must be obligated to honour the contracts that they have entered with the European Union for Covid -19 vaccines.
Speaking on RTÉ's Six One, he said it would be very wrong of the EU or any country to allow a flow of supply out of Europe while they are facing a challenge in vaccinating their most vulnerable groups and cohorts.
Mr Kelleher said there is no doubt that the contract that the EU signed with various companies are not as robust as those signed with other countries however, obligations had been put in place.
Fianna Fáil TD Dara Calleary said proposals by the commission to curb vaccine exports is "an attempt to deflect from proper scrutiny of what is really going on".
The Mayo TD urged the Taoiseach to "stick his ground and stick Ireland's ground" in opposing such a move, when he meets EU leaders virtually this week.
The Minister of State for European Affairs, Thomas Byrne, said a "de-dramatisation" needs to be achieved in relation to vaccine exports.
Speaking on RTÉ's Drivetime, Minister Byrne said there was "huge concern" from member states in relation to the EU's Covid-19 supply chains.
He said the raw materials of the vaccines come from "various places" and we need to ensure we remain open for business and allow things to "move as they do in the global supply chain".
He also said Ireland would "have no difficulty" using the Sputnik vaccine if it is approved by the European Union, but he said there are a number of other vaccines that are at a "much more" advanced stage of development than the Russian jab.
Additional reporting: Mary Regan