For nine out of the past 14 days, the number of new cases of Covid-19 has been "stuck" at between 500 and 650. It has been a little less on other days.
NPHET described the situation at its briefing on Thursday as being "plateaued" or "static". It said there was no one group to whom this plateau could be attributed and, to much criticism on social media, appealed to everyone to do "a little bit more".
The numbers tonight have moved significantly, but unfortunately they have gone in the wrong direction, with 769 new cases notified.
These are of course the figures for just one day. Also, this has not been a typical week with a bank holiday in the middle of it. Some people may have deferred seeking a referral for a test until after St Patrick's Day, leading to higher cases being confirmed this weekend.
However, according to Professor Philip Nolan of NPHET, when the total number of cases this week is compared to last week's total, there is a 9% week-on-week increase.
The fact that the number of people in hospital also increased from 328 yesterday to 360 today is also concerning. The number of those patients in intensive care has remained around the same at just over 80 people.
GPs have been warning for the past week that the number of patients seeking referral for Covid-19 tests has been increasing - an early sign of increased infection in the community.
It is hard to assess exactly what is causing the apparent increase in cases. However, there appears to be a number of factors. Large outbreaks in counties like Offaly, Longford and Kildare are causing the 14-day incidence rate in those counties to be much higher than the national total. Meanwhile, there continue to be outbreaks in workplaces and factories.
The HSE's Chief Clinical Officer Dr Colm Henry also points out that people are increasingly mixing with others in the context of a much more transmissible variant of the virus.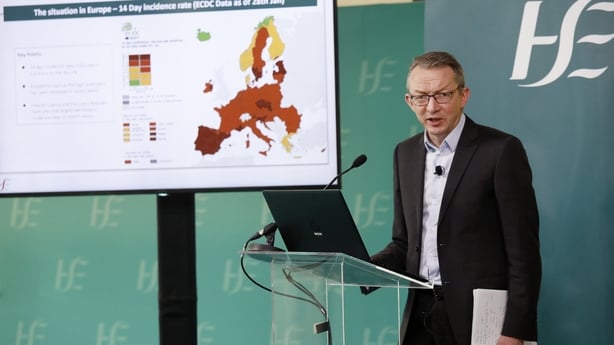 This means that a higher number of close contacts are becoming infected than would have been before this variant took hold.And people - particularly those under 65 - are finding it very difficult to be as compliant with public health restrictions as they may previously have been.
NPHET began warning of "slippage" in adherence to public health restrictions ten days ago on 11 March. At that stage, Prof Nolan said Ireland was "sailing very close to the wind" and he warned that one gust of wind in the wrong direction could lead to real trouble.
'We shouldn't read too much into each day's case count,' Professor Philip Nolan has said, but he added that there is concern about the overall pattern of the disease at present | Follow live updates: https://t.co/X4DTTt30Oj pic.twitter.com/N97auRuQcf

— RTÉ News (@rtenews) March 11, 2021
Today, he said that if people had changed their behaviour in response to that message, case numbers could begin stabilising in the next week. However, given the increased referrals being seen by GPs, it is possible that numbers could instead increase as a result of gatherings around Cheltenham, St Patrick's Day and the Six Nations rugby match.
The anger expressed by many in response to the plea by the Deputy Chief Medical Officer, Dr Ronan Glynn, last Thursday for everyone to do "a little bit more" is a sign of the frustration of large parts of the population following three months of a very strict lockdown.
The numbers as they stand do not provide grounds for much optimism in the short term.
However, vaccination is continuing and over the next few days the number of people who will have received their first dose will reach half a million.
This comes as the authorities remain optimistic that problems with supplies will ease significantly in the next three months.
---
Read more:
Hotel quarantine in effect by next weekend - McGrath
Covid-19 figures remain 'stubbornly high' - Henry
Latest coronavirus stories
---