The Chair of the National Immunisation Advisory Committee has said it will be the end of the coming week before a conclusion is reached on whether to continue administering the AstraZeneca Covid-19 vaccine.
Speaking on RTÉ's Brendan O'Connor programme, Professor Karina Butler said they want to make sure what they are recommending for use is safe.
She said that the temporary suspension was necessary, until such a time they receive additional information that gives them confidence.
Prof Butler said that earlier this week, there were reports from other countries of clotting problems.
However, she said that clotting problems can happen to people irrespective of whether they have the vaccine or not.
She said that the European Medicines Agency looked at this and the incidence of such events, saying that its incidence was "really no greater" than what you would expect in a normal population.
Prof Butler said, last night however, they received notification from Norway's Medicines Agency about a cluster of four "very rare, very serious" clotting events, which she said were unusual and involved people under 50.
She said that overall a number of these "very small and rare and serious events" in people you would not otherwise expect it in raised a safety signal.
Asked were these clotting events different to the "normal" clotting events commonly seen in legs or lungs, Prof Butler said they seemed "rare" and involved certain vessels and the brain.
Asked about the prospect of it being bad batch, she said it was not a batch issue, adding that it was "across batches".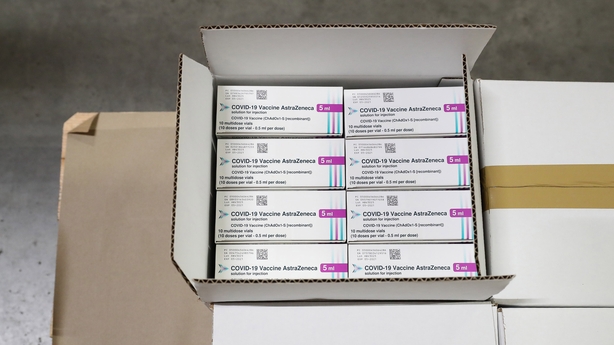 Prof Butler said they do not know if there was a causal relationship between the vaccine and these clots, but that every such safety signal needs to be investigated.
She said the crisis here was that Covid was continuing to spread in communities, and they want to ensure they can counteract it safely.
While these reports are serious, she said, they could be totally coincidental.
Prof Butler said that the suspension should be viewed as a means to increase people's confidence in vaccine programmes, as people want safe vaccines.
She said that public health officials are "taking every measure to ensure that it is safe", adding that confidence would only be lost if they continued rolling it out despite these concerns.
Prof Butler said that hopefully next week she would be in a position where she could inform people that it is safe to use going forward, but that at the moment they had "serious concerns" that they needed reassurance on.
Detailed NIAC statement on AZ vaccine pic.twitter.com/8LUKOvXlIu

— Fergal Bowers (@FergalBowers) March 14, 2021
The EMA has already started a rapid review and other countries will be looking to this too, Prof Butler said, adding that officials here will be looking to see if there are other factors that have contributed to this.
She said they hope to have their investigation complete by the end of the coming week.
Prof Butler said they will be liaising with the experts in clotting to see whether taking aspirin would help in terms of blood clots.
She said they will be putting up information on the NIAC website and developing an FAQ section for anyone with queries, as their goal since day one has been transparency.
Vaccines will continue for over-70s - Henry
HSE Chief Clinical Officer Dr Colm Henry has said the groups affected from the temporary suspension of AstraZeneca include some remaining healthcare workers, as well as those aged 16-69 with high-risk conditions.
Speaking on RTÉ's This Week programme, Dr Henry said the pause was necessary in order to progress the programme, showing people that they are sitting up and taking notice at a safety signal such as that which has arisen in Norway.
Dr Henry assured those over 70 due to receive the Pfizer or Moderna vaccines this week that they will not see any disruption and the programme will continue for them as planned.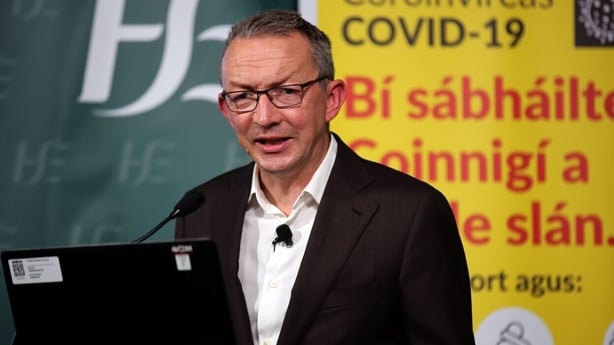 "This is a setback for this programme and will lead to some delay," he said, but reiterated those over 70 will not see any disruption.
Dr Henry said it is a precautionary measure, adding that at this stage of the programme millions of AstraZeneca doses have been administered around the world. 
"What's been reported here is a very rare side effect, but nevertheless one that's a signal and one that makes us sit up and take notice," he said. 
Dr Henry said every vaccination programme is founded on confidence, and that confidence, even if it requires a short-term setback such as this to assess a signal like this, needs to be maintained. 
He said it needs to be established by the EMA whether there is a cause and effect in these cases, or if it is "a coincidental association of relatively rare clotting incidents".  
Dr Henry said every vaccine programme weighs up the benefits and risks involved, and that every vaccine Ireland is using has their own huge benefits in terms of reduced hospitalisation and fewer deaths, including AstraZeneca.
People receiving cancer treatment were among those due to get the vaccine this week and the Irish Cancer Society has said it "hopes that this review is swift and conclusive".
It said: "While the administration of the AZ vaccine is paused, the Irish Cancer Society urges that this time be used to identify and communicate with patients in Cohorts 4, 5 & 7 regarding their upcoming vaccinations.
"This could help accelerate the vaccination of these groups over the upcoming weeks and ensure those who are most at risk from severe disease as a result of COVID-19 are protected."
Govt 'pressing pause button' - Humphreys
Minister for Rural Affairs Heather Humphreys has said that Ireland is "not shooting itself in foot" but simply "pressing the pause button" on AstraZeneca vaccines.
Speaking on RTÉ's The Week in Politics, Ms Humphreys said it was important to note that what was being done was "a precautionary step", adding that she hoped the country would have a return to a normal vaccination schedule by this time next week.
The minister told the programme that the Government has "done everything it possibly can" to procure vaccines.
She said working through the European roll-out has benefited Ireland, as the consequence of not doing so could have left Ireland "at the back of the queue" competing for vaccines.
Speaking on #rtetwip today, Minister @HHumphreysFG says the #AstraZenecavaccine deferral is a precautionary measure and the Gov plans to have 1.1 million vaccinated by the end of march. #rtepolitics pic.twitter.com/fTQxES9PDE

— The Week in Politics (@rtetwip) March 14, 2021
Speaking on the same programme, Sinn Féin public expenditure spokesperson Mairead Farrell said nobody wanted to wake up to this situation, but she said that the decision was made by experts.
She said people's concerns now need to be eased and they need to be informed as to what the situation is now for those who have already had one dose of the vaccine.
Ms Farrell said that everyone wants the vaccine roll-out to work, but what was needed now was for the experts to outline facts and ease people's concerns.
Independent TD Micheal Healy Rae told the programme that nobody could be blamed for the decision this morning as it was of paramount importance to be cautious.
The Kerry TD said the one thing that cannot be allowed to happen now in Ireland was a loss of confidence in vaccines.
He said his concern was that if people begin to worry whether the vaccine is safe or not, it could lead to people potentially not getting it, which was detrimental to the public as a whole.