Minister for Health Stephen Donnelly has said he remains "concerned" about AstraZeneca's ability to deliver vaccine supplies on schedule and at the agreed volumes.
Yesterday, the Health Service Executive said it had administered 81,843 vaccine doses last week, 18,157 doses short of the 100,000 it had committed to delivering.
However, it said the shortfall was due to the deferral of a delivery of 25,000 AstraZeneca vaccines last week and this week.
It said that it had been assured that the shortfall will be recovered this month.
Speaking in the Dáil, Mr Donnelly said he has asked the High-Level Taskforce on Covid-19 Vaccination to examine the possibility of seeking extra vaccine supplies outside of the EU arrangement.
He said this would be done in parallel with the EU process, if it happens at all.
The minister said Ireland continues to perform well, when compared with the other EU countries, in terms of its vaccine roll-out. 
He said that around 65 small GP practices, which had not linked up with another practices to administer vaccines, should receive deliveries next week.
Mr Donnelly added that the HSE is engaging with 25 other practices, with a very small number of patients aged over 70, regarding their vaccine deliveries and also said that people with underlying health conditions will begin to receive their Covid-19 vaccines next week.
The minister said that from April, one million doses will be administered per month subject to delivery of contracted supplies.
Mr Donnelly said that last week he signed the statutory instrument to allow optometrists and dentists administer vaccines.
Minister for Health Stephen Donnelly says he has concerns about AstraZeneca's ability to deliver vaccines on schedule. | Read more: https://t.co/eXUZoEPC4n pic.twitter.com/HjI4NdGFQz

— RTÉ News (@rtenews) March 4, 2021
---
Read more: Latest coronavirus stories
---
The Department of Health has defended the speed of the vaccine roll-out programme, saying Ireland is "currently above the EU average with approximately 3% of our population fully vaccinated".
In a statement, the department said 6% of the population has received at least one dose of vaccine and 8.8 doses per 100 of the population have been administered.
The vaccination programme is only limited by supply, and roll-out plans "must be flexible to accommodate unforeseen events", it added.
Impact of vaccine on healthcare staff 'phenomenal'
The impact of the vaccination roll-out on healthcare workers has been described as "phenomenal". 
Professor Mary Horgan, President of the Royal College of Physicians of Ireland and Infectious Diseases Consultant at Cork University Hospital, said people should take hope from "the fact that vaccines are working".
Speaking on RTÉ's Today with Claire Byrne, Prof Horgan said she understands that people are frustrated with the pace of the roll-out, but the programme in the community will speed up, as was the case after the initial roll-out in hospitals. 
She said the numbers of healthcare workers becoming infected with Covid-19 "just turned off" last month.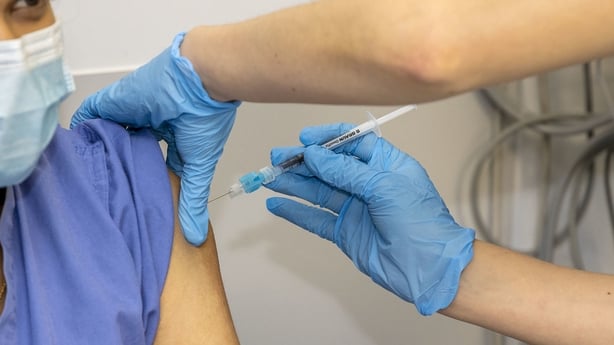 "It's been phenomenal. We were tracking the number of healthcare workers infected from January into February and essentially it just turned off in February, and likewise the number of hospital admissions," Prof Horgan sais. 
Prof Horgan, who is a member of the National Public Health Emergency Team, said the decline in cases is not linked solely to the decrease of infection in the community, but due to the effectiveness of the vaccine.
She said the pressure on healthcare workers and the HSE has been "incessant for over a year", but she said positive messaging must be maintained so that "people do have confidence in the health service and those who have spent a year trying to control this".
Prof Horgan is also among a group that will provide a report to the Minister for Health on the implementation of rapid testing and said it is "likely" to get under way here subject to approval from the minister. 
Problems with roll-out not just rural - Calleary
Speaking on the same programme, Fianna Fáil TD for Mayo Dara Calleary said problems with the vaccine roll-out are not just rural ones and issues have been reported in Cavan, Longford and the northside of Dublin. 
Mr Calleary said he understood that the supply is outside the HSE's control, but said it should know at the beginning of each week how much supply is available and be able to tell GPs of their allocation. 
He said he has confidence that the HSE can deliver the roll-out successfully, but does not believe there was a need for a Vaccines Minister, adding that a little bit of planning and communication would resolve the issues.
Mr Calleary was among a number of Fianna Fáil TDs who last night criticised the pace of the vaccine roll-out, particularly for those aged over 85.
The Taoiseach told a meeting of his parliamentary party that the Government will engage with the HSE to ensure there is proper communication.
Micheál Martin said supply is the only constraint and conceded there had been some bumps in the schedule with AstraZeneca.
No non-approved vaccines being sourced
Ireland will not be sourcing vaccines that are not approved by the European Medicines Agency, the Minister for Foreign Affairs has said.
Simon Coveney said a small number of countries have looked to source vaccines from Russia and China and "that isn't an approach we can stand over or should follow".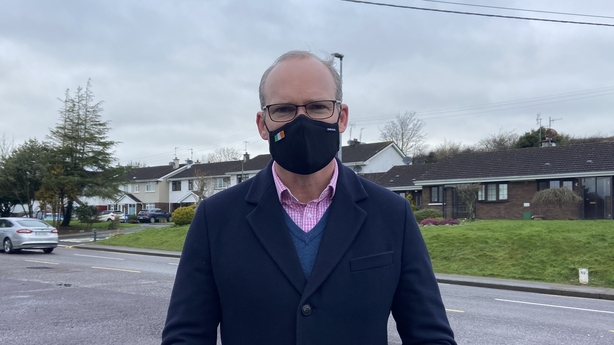 Speaking on RTÉ's Morning Ireland, he said that Ireland is working with the European Commission to maximise the availability of vaccines so it can quickly move to 100,000 vaccines a week and upwards from there.
Mr Coveney said that some supply problems were linked to AstraZeneca and the only delay or restrictions on delivering vaccines are linked to international supplies "and nothing else".
Sinn Féin TD Pearse Doherty said the Government is dropping the ball on international travel and the vaccine roll-out. 
Speaking during Leaders' Questions in the Dáil, he said GPs have been contacting TDs to tell them the communication about the vaccine programme is shambolic. 
He added that the situation is causing anxiety and GPs are having to cancel hundreds of vaccination appointments at short notice.
Tánaiste Leo Varadkar admitted there have been issues and difficulties around the vaccine programme. 
He said there will be some weeks when there are problems with supply and 25,000 fewer doses of the AstraZeneca vaccine arrived last week.