The Deputy Chief Medical Officer has said that NPHET has been made aware of four preliminary reports of stillbirths in Ireland, that could potentially be associated with a condition called Covid Placentitis.
Dr Ronan Glynn said that these reports should be interpreted with caution as the coroners have not concluded their findings.
"The HSEs National Women and Infants Programme is aware of and is monitoring the situation and has issued a related notice to obstetric departments," he said.
Dr Glynn said the condition is a "concern", but also stressed that is "very rare".
"We have not seen a high incidence of it internationally, and we wouldn't expect to see a high incidence of it here," he said.
He said there was no further detail in relation to the cases, including the stages of pregnancy.
Dr Glynn said the condition is effectively an infection of the placenta leading to stillbirth.
He said Covid Placentitis is noted when a woman has had a positive result for Covid-19 from a PCR test preceding a stillbirth.
Four preliminary reports of stillbirths potentially associated with a condition called Covid Placentitis have emerged in Ireland, says Dr Ronan Glynn. He urged caution over the reports as the coroners have not yet concluded their findings. | Read more: https://t.co/2pelIO6aR6 pic.twitter.com/M07PNClfcb

— RTÉ News (@rtenews) March 4, 2021
Two of the cases have been reported as part of figures today, but health officials are aware of four cases in total.
Dr Glynn said he believed at least two of the cases were in 2021.
"I would ask that the privacy of all of those affected by this disease continue to be respected at all times," he said.
Dr Glynn said in broad terms there has been a very positive experience of maternity under Covid-19 in Ireland compared to any other country internationally.
He said the advice to women remains the same, which is to continue to do what they can to protect themselves and their baby.
"It is not that individual women have to do anything different over and above what they have been doing," he said.
However, he said if any woman has concerns they should talk to their doctor or local obstetrics department.
Dr Glynn said the condition was not discussed at today's NPHET meeting as the data came through afterwards.
In a statement this evening, the Chair of the Institute of Obstetricians and Gynaecologists said a small number of cases "are being scientifically investigated".
Dr Cliona Murphy said: "It is important that pregnant women who have Covid positive results attend for appointments with their healthcare providers in the weeks after infection.
"The vast majority of pregnant women who had Covid have had mild symptoms and have not had adverse outcomes. Large scale surveillance data in UK have not shown higher incidence of stillbirth.
"Pregnant women within the priority groups can get vaccinated. Data from the US regarding Covid vaccines in pregnancy is reassuring.
"We are beginning to see the impact of COVID vaccines which, together with the restrictions, are reducing the incidence of COVID-19 infections in the community which will be protective for pregnant women."
Institute of Obstetricians and Gynaecologists said while cases of stillbirths linked to Covid 19 are still being investigated its important that pregnant women with Covid attend for appointments in the weeks after infection and that pregnant women can get vaccinated @rtenews

— Samantha Libreri (@SamanthaLibreri) March 4, 2021
Meanwhile, the Director of the HSE's National Women and Infants Health Programme said the four cases were preliminary reports, were unexpected and were not in keeping with international experience. 
However, Dr Peter McKenna said pregnant women should take all steps possible to avoid putting themselves in situations where the spread of Covid is likely. 
Dr McKenna told RTÉ News that the health system has been notified to assess and closely monitor any pregnant women with Covid-19 who have any concerns about fetal well-being
He said he understood that pregnant women would be very concerned about the development but he said that so far the experience of dealing with Covid in pregnancy has been very reassuring.
It was also announced this evening that the Department of Health has been notified of 39 further coronavirus-related deaths and 462 new cases.
In a statement, the National Public Health Emergency Team said that ten of the deaths occurred this month, 12 in February, 13 in January and three earlier than this.
There have now been a total of 4,396 Covid-related deaths in Ireland, while the number of confirmed cases now stands at 221,649.
NPHET has said that the average age of the 39 deaths was 81 years old, and the age range was 0 to 97.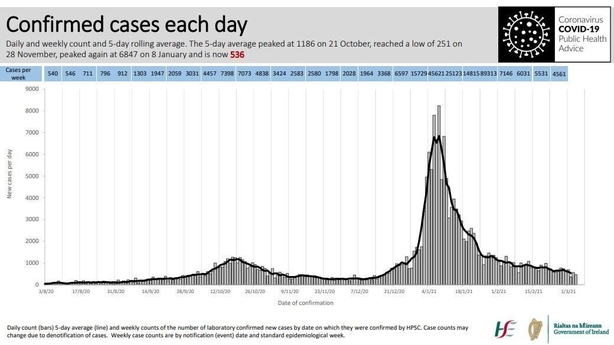 Of the new cases, 224 are males and 236 are females, with 69% under the age of 45, while the median age is 31.
NPHET has said that 207 of the cases are in Dublin, 29 in Cork, 26 in Meath, 20 in Kildare, 18 in Galway and the remaining 162 cases are spread across all other counties.
The number of patients with the virus being treated in intensive is down seven at 107.
The 14-day incidence rate of the virus per 100,000 population now stands at 190.2, with the highest incidence rates in counties Offaly (400.2), Longford (376.8) and Westmeath (281.6).
The counties with the lowest incidence rate of the virus are Cork (60.6), Kerry (60.9) and Wexford (69.5).
The HSE also detailed how a single outbreak of Covid-19 among students in the west of the country led to more than 442 further cases in over 200 separate household outbreaks.
Speaking at the briefing on Covid-19, the HSE's West Public Health Director said the initial outbreak was "quite large".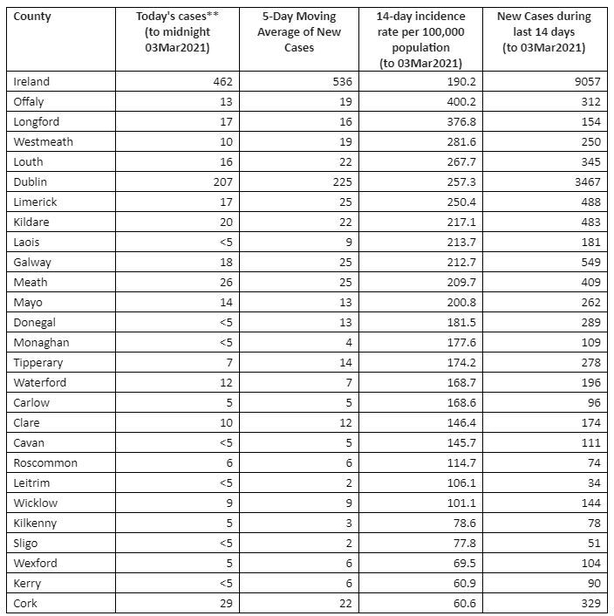 Dr Breda Smyth said it involved young adults aged between 16 and 24. Up to the end of yesterday, a total of 442 cases could be linked back to that single outbreak.
Meanwhile, the Chair of the NPHET Irish Epidemiological Modelling Advisory Group said that the reproductive rate (R) number of the virus has remained stable.
Prof Philip Nolan said: "The R number has at least remained stable and may even have decreased slightly, this is reflected in the week-on-week decline in cases that has been reported recently.
"This represents an extraordinary effort over a very challenging nine week period that has brought us from 6,500 cases to under 600."
'Sharp reduction' in cases of older people - Nolan
Prof Nolan said they have seen a "very sharp reduction" in the number of cases in older people.
Speaking at the briefing, he said there has been a significant decrease in the number of deaths per day, although it is still high.
He said the number of deaths per week in nursing homes has "decreased enormously", which is "likely to be an early sign of the impact of vaccination".
Prof Nolan said the fact that the 14-day incidence rate is now under 200 is "something of a milestone".
He said that the number of people in hospital is "declining very rapidly indeed" and the number in intensive care also falling rapidly.
He said the test positivity rate had plateaued for a number of weeks at a higher level than they would have liked, but that seems to have started to decline.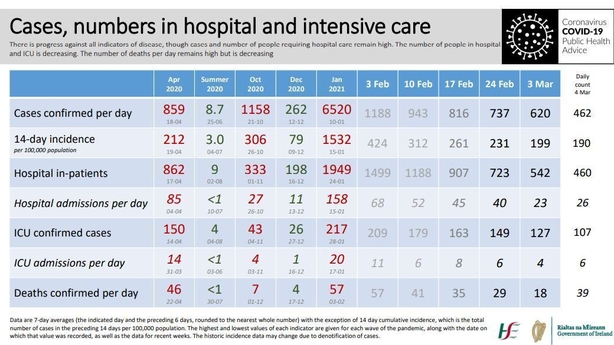 Prof Nolan said that the demand for testing is moderate, and that the incidence is decreasing among all age groups, particularly those over 65.
He said that children of second level age follow almost precisely the population average in terms of incidence, so they are indistinguishable from adults.
Prof Nolan said those under the age of 12 tend to have a lower incidence.
The pattern of incidence changes across any surge of disease, he said, so early in any given surge the incidence in those age under 12 tends to be "significantly lower" than the wider population.
Incidence is falling among all age categories. Children of second-level age follow almost precisely the population average in terms of incidence, says Prof Philip Nolan. Those aged under 12 tend to have a lower incidence. | Read more: https://t.co/2pelIO6aR6 pic.twitter.com/rvhuJDzEjl

— RTÉ News (@rtenews) March 4, 2021
Dr Maureen Ryan, Chair of the Expert Advisory Group, said they have advised NPHET that it is unknown if variants of concern which are associated with increased transmissibility will alter the present context of the successful mitigation of the spread of the virus in schools.
She said that overall, the totality of the evidence base points towards a reduction in transmission associated with mask use, but the evidence base with respect to children is limited.
Mask use effectiveness appears to be reduced in younger age groups, she said, which may be due to a reduced ability to comply with mask wearing.
She said there is concern about the potential harms or disadvantages associated with face masks, such as the potential for anxiety or negative impacts on communication and language skills, particularly in very young children.
"Given consideration of the evidence and concerns raised, we are not advising a change at the present time in the minimum age for requirements and recommendations with respect to mask use in the community," Dr Ryan said.
Secondary school first years who are still 12 are considered to be developmentally equivalent to their 13-year-old peers, so should comply with mask-wearing in school. | Read more: https://t.co/2pelIO6aR6 pic.twitter.com/XrBGcJBhH9

— RTÉ News (@rtenews) March 4, 2021
The CEO of the Health Service Executive said there has been issues with administering Covid-19 jabs this week.
Speaking on RTÉ's Prime Time programme, Paul Reid said smaller GP practices are not being discriminated against and no one will be left behind. He also said that a smaller number of practices have faced logistical issues.
Earlier, the CEO of the Restaurants Association of Ireland said a collaborative approach between the private sector and the State will be needed in order to accommodate a "summer of outdoors".
Speaking on RTÉ's Today with Claire Byrne, Adrian Cummins said a universal approach is needed so that all businesses are treated equally and local authorities are "singing off the same hymn sheet".
He said the RAI would like to see all fees and licenses waived this year, adding that there would need to be a "cutting of the red tape bureaucracy that we have to go through" in order to get outdoor licenses and outdoor facilities approved.
Local authorities should also facilitate the provision of carpark spaces or parts of the footpath, he said, so that spaces can be provided for outdoor dining without impeding pedestrians and those that need to use the footpaths.
---
---