The Department of Health has been notified of 25 further coronavirus-related deaths and 566 new cases.
The number of Covid-19 patients being treated in intensive care is down two to 114.
In a statement, the National Public Health Emergency Team said five of the deaths took place this month, 13 were in February and six occurred in January.
The number of deaths now stands at 4,357, while the total number of confirmed cases is now 221,189.
Of the new cases, 280 are males and 284 are females. 68% are under the age of 45, while the median age is 34 years old.
The majority of the new cases are in Dublin with 233, while there were 37 in Kildare, 30 in Meath, 25 in Donegal, 24 in Westmeath and the remaining 217 cases are spread across all other counties.
As of 8am, there were 489 Covid-19 patients in hospital, including an additional 29 hospitalisations in the past 24 hours.
The 14-day incidence of the virus per 100,000 is currently 199.4, with the highest incidence rates in counties Offaly (402.8), Longford (379.2) and Westmeath (289.5).
The counties with the lowest incidence rate of the virus are Kerry (59.6), Cork (61.2) and Kilkenny (76.6).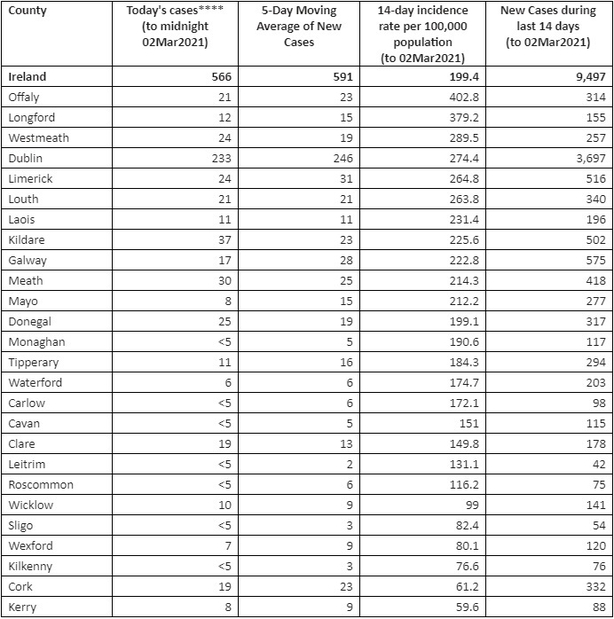 The Deputy Chief Medical Officer has said that despite a positive trajectory in key disease indicators, there are still outbreaks in the community which are linked to extended families, workplaces and funerals.
Dr Ronan Glynn said: "We need to keep up our guard against the B117 variant of Covid-19, which we know is dominant in Ireland at present and highly transmissible.
"Our willingness to stick with the public health advice in our daily routine has brought us the progress that we can see today. Together, through staying at home as much as possible, social distancing, hand washing and wearing face coverings, we can continue to drive down the spread of Covid-19."
As of 28 February, 297,899 people have received their first Covid-19 vaccine dose. Meanwhile 141,883 people have received their second dose.
NPHET has told the Government that Ireland continues to experience a very concerning and fragile epidemiological situation with Covid-19.
Despite a small number of high profile incidents, our data shows that the case numbers in those aged 19-24 years continue on a downward trend.

(1/2) pic.twitter.com/HSXsfrMT82

— Dr Ronan Glynn (@ronan_glynn) March 3, 2021
In its latest letter as of 25 February to the Minister for Health, published today, Dr Glynn said that the country is seeing continued, albeit slower, progress against all disease indicators.
NPHET said it endorsed recommendations that medical grade face masks be worn by those with a confirmed Covid-19 diagnosis, symptoms suggestive of Covid-19 and household contacts of confirmed cases.
It said this does not apply to residential care facilities, which are people's homes.
It also endorsed recommendations that medical grade face masks be worn by vulnerable, high-risk people and older people in crowded outdoor spaces, or confined indoor spaces.
Dr Glynn said that based on available evidence, NPHET also supported the period of "presumptive immunity" - the period of lower risk of infection - from three months to six months post natural infection with Covid-19.
There was an increase in outbreaks of Covid-19 last week, according to a report from the Health Protection Surveillance Centre.
Overall, outbreaks in the week to last Saturday increased to 372, compared with 191 the previous week.
The biggest increase was seen in private house/family outbreaks, up from 56 the previous week to 135.
Private house/general outbreaks rose from seven to 53 last week, while workplace outbreaks also increased from 29 to 37 last week.
---
Read more:
Who is most at risk from 'long Covid'?
Latest coronavirus stories
---
HSE Chief Executive Paul Reid said this morning there are "reasons to be very hopeful".
In a Twitter post, he said infections among the most vulnerable and healthcare workers are decreasing "hugely".
Reasons to be very hopeful. Hospital (475) & ICU (112) nbrs down again. Vaccines showing very positive early signs of effectiveness. Infections amongst the most vulnerable & healthcare workers hugely decreasing. More to go, so let's see this through now. #COVID19 @HSELive

— Paul Reid (@paulreiddublin) March 3, 2021
NPHET considered proposals that all inbound travellers would have to give samples for whole-genome sequencing and be subject to enhanced contact tracing.
Minutes of a NPHET meeting on 28 January said members "drew attention to the possible need for a broader approach to whole genome sequencing of inbound travellers".
The minutes said there may be "merit" in the strategy.
At the meeting, NPHET noted the increasing concern at European level regarding the importation of new variants of coronavirus.