The Irish Human Rights and Equality Commission has found that the Government has persistently blurred the boundary between legal requirements and public health guidance in its response to Covid-19.
New research on Ireland's use of pandemic-related emergency powers has been published by the IHREC. It was authored by the Covid-19 Law and Human Rights Observatory in Trinity College Dublin.
It sets out significant concerns that human rights and equality scrutiny have been sidelined when emergency powers have been put in place.
The study has been published by the commission as part of its mandate to keep under review the adequacy and effectiveness of law and practice in the State relating to human rights and equality.
'Ireland's Emergency Powers During the Covid-19 Pandemic' looks at the four statutes and more than 65 sets of regulations enacted between March and December 2020 in response to the Covid-19 pandemic.
The report finds that shifting relationships between the Government and the National Public Health Emergency Team and limited opportunities for Oireachtas oversight have made it difficult to ascertain where, if at all, human rights and equality concerns are being addressed.
The report suggests that garda enforcement of emergency Covid-19 powers has disproportionately affected young people, ethnic and racial minorities, and Traveller and Roma communities.
However, the IHREC says effective human rights and equality analysis of these powers is hampered because An Garda Síochána has resisted repeated calls, including from the IHREC and the Policing Authority, to publish its data on how enforcement powers are exercised against particular groups.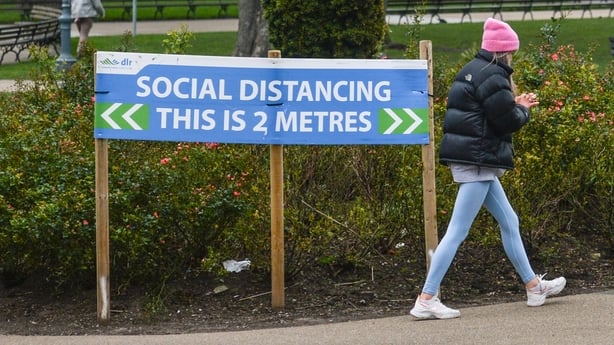 Speaking on RTÉ's Morning Ireland, IHREC Chief Commissioner Sinead Gibney said it is important people know when and how the force of the State can be brought against them. 
"Criminal prosecutions have far reaching implications into peoples' everyday lives so it is critical we know when we are subject to that law." 
She said the Commission also believes it goes against the "efficiency and impact" of the Covid-19 public health measures if people are unclear.
Among the recommendations put forward in the report is publication by the Minister for Health of a human rights and equality analysis of each emergency regulation within 48 hours of their being made.
It states that "it is difficult to avoid the conclusion that the delegation of legislative power to the Minister for Health has resulted in a black hole for the consideration of human rights and equality concerns".
It also suggests that a specialist Oireachtas committee on equality, human rights and diversity is needed to scrutinise emergency legislation and ministerial regulations.
It has said that all Covid-related emergency powers should have sunset clauses, allowing for three-month extensions, if approved by the Dáil and Seanad and emergency regulations should lapse within ten sitting days if not approved by the Oireachtas.
It has also said the National Public Health Emergency Team should have an expert sub-group on human rights, equality and ethical concerns, and this expertise should be reflected on NPHET itself.
Ms Gibney said: "There is no human rights and equality expertise on NPHET. We believe there needs to be a new subgroup established to deal with human rights and equality and ethics.
"There is also no regulatory assessment being carried out at the moment. What that would normally allow for in normal times is some high level analysis of equality and rights impacts on any regulations that are being brought into effect." 
The report also said that the Department of Children, Equality, Disability, Integration and Youth should have a voice on the Government's NPHET oversight committee, and the Garda Commissioner should take action to ensure that disaggregated data is made available on the exercise of all enforcement powers.
The IHREC has pointed out that separate to this research, it warned Oireachtas members last September that emergency legislation related to Covid-19 needed to be used exceptionally, and subjected to strict human rights standards and oversight.