The Department of Health has been notified of 574 new cases of Covid-19 and a further 56 deaths.
Of the deaths notified today, 31 occurred in February, 13 in January, 3 in December or earlier, and a further 9 are under investigation.
The age range of those who died was 16 - 97 years old and the median age was 82.
There has been a total of 4,237 Covid-19 related deaths and 216,870 confirmed cases.
As of 8am today, 652 people were in hospital with Covid-19, with 35 additional hospitalisations in the past 24 hours.
The number of patients with the virus in intensive care units is 137, down 13 on yesterday.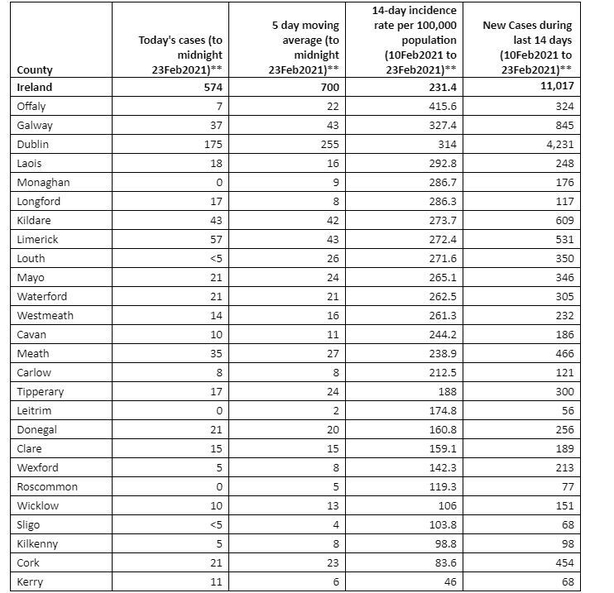 It comes as the National Public Health Emergency Team has told the Government that it is "too early to advise on how and when" most restrictions should be eased.
In the latest letter from the deputy Chief Medical Officer, Dr Ronan Glynn to the Minister for Health, sent on 18 February, NPHET advises that when the three key conditions are met, any easing should be "slow and gradual" with sufficient time between phases to assess impact and should be subject to rapid response if the epidemiological situation were to deteriorate.
The three tests that need to be met, before any significant easing of measures that can be considered are; that the disease prevalence must reduce to much lower levels that can be managed by public health, that hospital and critical care occupancy must reduce to low levels and allow the safe resumption of non-Covid care, and that the most vulnerable are protected through vaccination.
The letter describes the current situation as precarious and that the approach over the coming months needs to be extremely cautious.
NPHET says that it is critical that non-Covid health and social care services are resumed as quickly as possible and that there is an unacceptably high level of disease in the community.
The letter says that even if the population work to keep the R number below 1, there could still be 400-500 cases a day by the end of this month and 200-350 a day by mid-March.
It also says that a return to in-school education and childcare must be associated with a minimum level of linked mobility and the avoidance of inter-household mixing.
We need your consent to load this rte-player contentWe use rte-player to manage extra content that can set cookies on your device and collect data about your activity. Please review their details and accept them to load the content.Manage Preferences
---
---
Meanwhile, changes have been made to the vaccination roll-out strategy, with higher priority for those with underlying medical conditions, that put them at risk if they catch Covid-19.
After the over-70s are vaccinated, those aged 16 to 69 years at very high risk of disease or death will be given the vaccine.
They will be followed by those aged 65 to 69 who are at high risk.
Currently, the only vaccine licensed for use in those aged between 16 and 18 is the Pfizer-BionTech dose.
Both AstraZeneca and Moderna are licensed for those aged 18 years and older.
The strategy, which had originally been met with criticism by patient advocate groups, has now been updated by Minister for Health Stephen Donnelly after the National Public Health Emergency Team endorsed recommendations by the National Immunisation Advisory Council.
Latest figures from the HSE show that by last Sunday, 14,537 of people aged 85 years and older have received the first dose of a Covid-19 vaccine.
There are around 72,000 people in this age group to be fully vaccinated.
The number of doses administered on Sunday was 910 first doses and 1,001 second doses.
Overall, the number of vaccine doses administered up to last Sunday was 353,971.
Of this number, 222,073 were first doses and 131,898 second doses.
In Northern Ireland the Department of Health has recorded two further coronavirus deaths, taking the official death toll to 2,043.
That is the lowest number of deaths recorded on a single day since mid-October last year.
There has been 260 new cases of the disease also been confirmed from tests on 1,787 individuals.
There are 356 confirmed coronavirus patients in hospital, with 44 in ICU, 35 of whom are on ventilators.
The average seven-day infection rate per 100,000 for Northern Ireland is 100.1.
The area with the highest rate remains Mid Ulster on 150.5, while the lowest remains Fermanagh and Omagh on 46.2.
It comes as more than half-a-million Covid vaccines have now been administered in Northern Ireland.
In total, 509,580 vaccines have now been given. 478,235 people have received their first dose.
Of those, 31,345 have also been given a second dose.
Meanwhile, the Government has published its 'Resilience and Recovery' plan, which sees Level 5 restrictions continuing until 5 April, although a phased return to schools will begin from 1 March.
The Government also said that measures to support business, jobs and employment are to remain in place until the end of June.
Earlier, a professor of genetics at Trinity College Dublin and member of the Independent Scientific Advocacy Group (ISAG) said regional restrictions need to be considered by the Government.
Speaking on RTÉ's Today with Claire Byrne, Prof McLysaght said the people of Kerry should not have to wait until the rate of transmission decreases sufficiently in Dublin.
"I would have liked to have seen something in the plan about local relaxation. For example, Kerry is doing the best in the country. Dublin is the worst.
"Are we going to make the people of Kerry wait until we have the situation under control in Dublin. We should have a regional approach."
Prof McLysaght said more needs to be done to protect the gains made during this period of Level 5 restrictions.
She said mandatory hotel quarantine is one aspect to try to keep the level of the virus down.
"The way I see that there's more that we could be doing at the moment to get the numbers right down, and then protect those gains. Mandatory hotel quarantine is one of those things."