The Department of Health has said three cases of the Covid-19 variant first identified in Brazil have been confirmed in Ireland for the first time.
In a statement this evening, the department said all of the cases of the P1 variant are directly associated with recent travel from Brazil.
All cases are being followed up by public health teams, and enhanced public health measures have been put in place, in line with guidance.
Deputy Chief Medical Officer Dr Ronan Glynn said that anyone who has recently travelled from Brazil, or any of the other 19 countries recently designated by the Minister for Health as 'Category 2', is required by law to quarantine at home for 14 days.
He said: "This P1 variant has previously been identified in a small number of European countries, including France, Germany, Italy, the Netherlands and Spain. While there is currently no microbiological or epidemiological evidence of any change in transmissibility of P1, this is plausible.
"Further studies are required to determine whether this variant is likely to have an impact on vaccine effectiveness or infection severity."
Dr Glynn said that detection of the variant in Ireland "does not change the fact that our best defence against all forms of Covid-19 is to stick with the public health measures that have proved to be effective in reducing incidence of disease in our communities".
Meanwhile, the Department of Health has been notified of 28 further deaths associated with Covid-19.
It also reported 763 additional cases of the virus. The number of people in ICU is unchanged at 151.
The department said 27 of the deaths reported today occurred in February, while one of them happened in January.
The median age of those who died was 79 years, and the age range was 32 to 97 years.
As of 8am today, 754 Covid-19 patients are hospitalised, of which 151 are in ICU. There were 46 additional hospitalisations in the past 24 hours.
As of 16 February, 293,752 vaccine doses have been administered in Ireland. 187,893 people have received their first dose, and 105,859 people have received their second dose.
Dr Glynn said: "The past year has been very difficult for people and we still have a way to go. Incidence remains very high and we cannot drop our guard.
"But better days are in sight. People continue to respond to public health advice and act in solidarity with one another.
"We have a dedicated and committed health workforce and we are learning more about this disease all the time. We now have three very safe and effective vaccines being rolled out and supply should increase very substantially over the coming weeks.
"Please continue in your efforts as we seek to ensure that as many people as possible can benefit from vaccination."
Of the cases notified today, 370 are men and 388 are women, with 72% under 45 years of age, and the median age is 30 years old.
There were 251 new cases in Dublin, 84 in Galway, 57 in Kildare, 47 in Limerick, 42 in Waterford and the remaining 282 cases are spread across all other counties.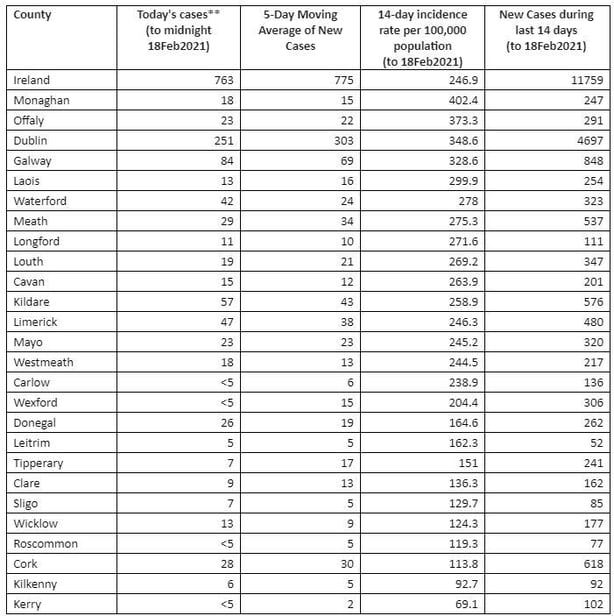 Taoiseach Micheál Martin has said that "nothing is set in stone" following reports that the country is facing nine more weeks of severe restrictions.
Speaking to reporters in Dublin, Mr Martin said the Government will meet NPHET again on Monday and the emphasis right now is on schools, in particular the early years classes.
Meanwhile, close to 8,000 fines have been issued by gardaí to people in breach of Covid-19 restrictions, with more than 6,500 of these issued for non-essential travel.
Up to close of business yesterday, 7,950 fines had been issued for breaches of public health regulations.
A total of 6,297 €100 fines had been issued for non-essential travel, with a further 263 €500 fines for non-essential journeys to ports and airports.
Nearly 200 fines for €500 have been issued to people for organising a house party, with another 747 €150 fines issued to people attending such parties.
More than 155 €80 fines have been issued to people for not wearing face coverings.
Gardaí have said that 620 court prosecutions have been initiated to date for those in breach of the regulations, following consultation with the DPP.
Fines for non-essential cross-border travel came into place 11 days ago, and latest traffic data shows a 23% decrease in cross-border travel last weekend compared to previous weekends.
Gardaí have said they are continuing to find groups of people gathering in large groups, and that while the majority of people believe that they are doing the right thing, the reality is that the level of casual contacts remains high.
Gardaí will be maintaining nationwide checkpoints and patrols at public amenities across the country this weekend.