While most of us have been getting our dose of romance from period piece Netflix productions, real life loves and dramas have been playing out in ordinary lives across the country despite the pandemic.
People have been still searching, finding and holding on to love despite all the obstacles the past year has thrown up.
Here are some of their stories...
The impossible, improbable pandemic love story
Paula Byrne is a teacher from Co Laois and one dull, dreary day last October she decided to enter a caption competition for a painting by local artist Kieran Hyland.
"Luckily for me that was Kieran's favourite caption for that competition so I won the painting which I was absolutely thrilled about and we just started messaging. Just having a bit of craic and a bit of banter back and forward and I said 'we should probably meet up for a coffee what do you think?'"
"Now I got no hop of him that evening so I kind of said look - I've nothing to lose here and I've taken a chance so that's ok. But the next day he messaged me and said "Well should we risk it and go for the coffee?' And we did that then and sure as soon as I got out of the car and saw his lovely smiley face that was it!"
The couple have been going out ever since and moved in together just before Christmas.
Kieran now admits when Paula first suggested meeting, he didn't know quite what to think.
"Honest to god, I didn't know what to think. I didn't know what she looked like or anything! And then I just thought - well there's no dating game going on and she's in Laois so why not? I knew the minute she got out of the car then.
"Like I'm always a bit funny with that... the one... and all that wishy washy stuff, but this definitely is it."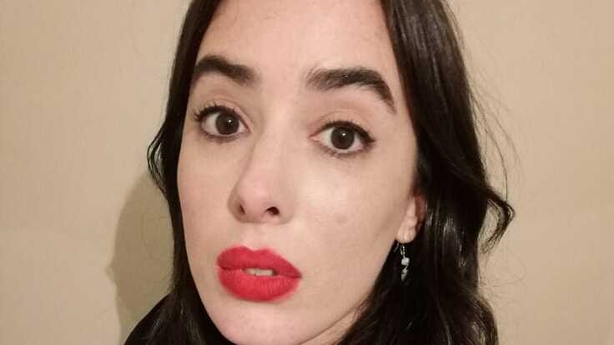 The singles
For those who are still looking for love the pandemic has proved somewhat challenging.
Camelia Lefebvre-Rafik is from Montreal, Canada and living in Dublin. She says dating during a pandemic is seriously hard.
"I go to the supermarket so often and I put on a full face of make up even if he can only see my eyes! You can go to parks where you hope to see attractive people walking their dogs but how are you going to walk up to them and say 'cute dog?' It'd be weird. The only option is the dating apps really."
And Camelia says socially distanced dating during Level 5 restrictions is beyond difficult.
"Like I met someone a couple of weeks ago and he tried to hold my hand and as a reflex I said 'Eeewww! No- Covid!... and I never heard from him again."
"It's possible to go on a walking date but it's so cold outside you walk and sometimes it's not worth it. You walk and you keep on walking and your frozen, blue and you say 'Alright see you later' and you never see each other again."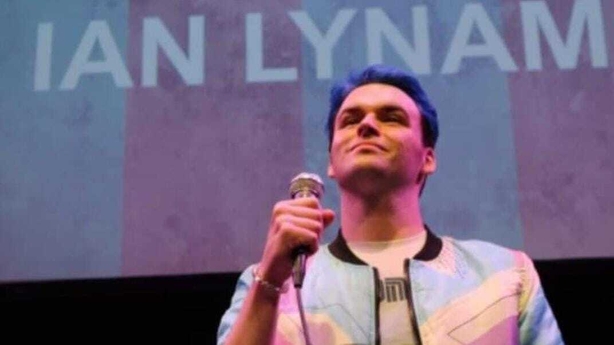 Ian Lynam is from Dublin and was in a long-distance relationship at the start of the pandemic.
"She lived in Canada, next to the Arctic circle actually. We were due to meet in New York on the 16 March. We were ready to take the flight when the announcement came from our then Taoiseach came about lockdown.
"We kept things going to quite a good degree until May when it fell apart."
The break up may have been hastened by Ian's well-intentioned plans to send his girlfriend a pizza for her birthday from a local pizzeria in Canada. After overcoming many technological obstacles, and giving up on the pizza idea and sending a gift card instead, the gift did finally arrive five minutes before midnight on her birthday... bearing the message 'Happy Birthday Dad'."
Yes. Indeed.
We need your consent to load this rte-player contentWe use rte-player to manage extra content that can set cookies on your device and collect data about your activity. Please review their details and accept them to load the content.Manage Preferences
Ian is now looking for love a bit closer to home but says interpreting those long, lingering looks that typically signal attraction is much harder during the pandemic.
"I think the use of face masks has meant that eye contact has become that bit more intimate than it used to be, it makes it difficult to interpret a long, lingering glance with that bit of cloth covering your mouth.
"Like I'll be out walking the dog and I'll see someone else walking their dog and I'm like...is that a look? Or is that a look?"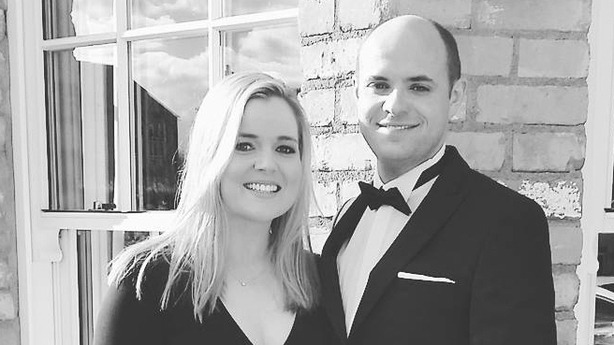 Once, twice...four times a fiancé
The pandemic has led to the cancellation of hundreds if not thousands of weddings across the country.
Lauren Fields is a GP working in Monaghan and living in Co Meath. Her wedding to fiancé, Nick Gammon, who is a pilot with Aer Lingus, has been cancelled four times.
"It's been difficult. We're worn down really, there's only so much you can do with re-scheduling and now I suppose the uncertainty with Nick's job in aviation going forward. It's hard to know when we'll get to go ahead and have the wedding in future and will it be the one we wanted."
Nick typically flies transatlantic flights but last year found himself flying to China to pick up PPE for the HSE. At the time it directly benefitted Lauren, who was working in a hospital emergency department.
And when he was flying home, he always took the time to send a message.
"We had Wi-Fi on the airplane so I was able to send Lauren a message and say 'Look up in around five minutes time' and we were able to fly directly over her in the garden."
Hope may float...but love flies.