Vivid red hearts line the hallway along the entrance to the chapel at Tallaght University Hospital in Dublin.
Each one represents a life lost to Covid-19.
The pastoral team, headed up by Chaplain John Kelly, sends the family of the deceased their own special heart which was placed in the hands of their loved one before they passed away.
Family members are not always present when a relative dies, so Fr John and his colleagues often step in to make sure there is someone present at the end.
"We don't bring an agenda to the patient's bedside. We offer a supportive listening ear," he explains about his role.
"We work with people of all faiths and traditions, religious beliefs and those who have none, because holistic health must include spiritual health," he said.
Last year and the start of this year has been traumatic for both staff and patients at the hospital. The chaplains attempt to bring some peace and comfort, to console and listen to both patients and healthcare staff.
"People are afraid, anxious about themselves," Fr John said. "Most people don't know where this virus will take them. Will they end up on a ventilator? They worry very much about their next breath so we are there by their side listening to them and helping them express what they are feeling."
One of the most challenging aspects of the chaplain's job is losing long-term patients who have become almost like family.
"To be with them in their final moments and when they are dying is very, very special and a privilege." Fr John explains. "But they [patients] have changed my life, I'm certainly not the person I was this time last year."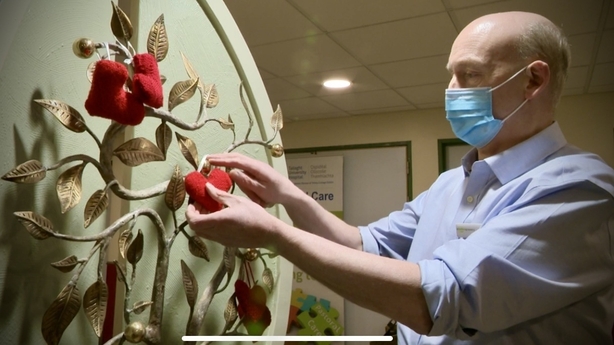 We need your consent to load this rte-player contentWe use rte-player to manage extra content that can set cookies on your device and collect data about your activity. Please review their details and accept them to load the content.Manage Preferences
The pastoral care team also support for healthcare staff who are left exhausted and emotionally drained from caring for very sick patients during the pandemic.
"There's a great team spirit here at Tallaght and I get inspiration from the staff and all my colleagues," Fr John. "But there's no doubt it does impact the nurse's lives because the level of care they provide."
The staff at Tallaght University Hospital have been struck by the numbers of young people being admitted for Covid-19 during the third wave. "Covid has been an eye opener because it knows no age. It just lands on your doorstep regardless of your age, it's frightening," Fr John said.
In the chapel, a small ornamental tree hangs on the wall decorated with messages of hope on bright yellow cards. "Be not afraid" is printed at the top of each one.
Families across Ireland who have lost their loved ones to coronavirus write their own personal, heartfelt messages.
"To my beautiful brother Jonathan," starts one message. "Fly high. You going free, no pain. Look down on me. Help heal," writes his devastated sister.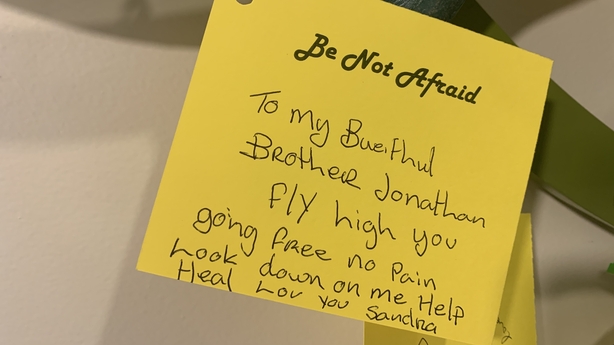 Fr John and his team offer support day in and day out to these families left bereft.
With the restrictions set to continue in the short term, the chaplain is hopeful the numbers will fall. "If we hold firm, together we can move forward," he said.