A year after the pandemic began in China, it is largely under control. But the government is deploying aggressive containment measures to keep it that way, writes Yvonne Murray in Beijing.
The man, masked and behind a face shield, told me to scan the track-and-trace code with my mobile phone. Up popped my "health kit" - a mini program inside the WeChat app - which showed "no abnormal conditions." 
The electronic health monitor, required for all Beijing residents, also displayed a photograph of my passport, a fair few of my personal details, and the results of my most recent Covid-19 test. 
I had not inputted the test results - they were automatically uploaded via a central data bank connected to my WeChat profile.
The man behind the shield then asked me to fill in a form with my mobile phone number, address and passport number. Finally, he measured my temperature and once I'd jotted that down on the form, I was allowed to go in.
This was at the entrance to my own building.
It was a day after a small flare-up of Covid-19 more than 60km away, on the other side of the city, and Beijing was back on high alert.
With Chinese New Year coming up next month and plans under way for the national parliamentary meetings to be held here in March, the authorities are not taking any chances.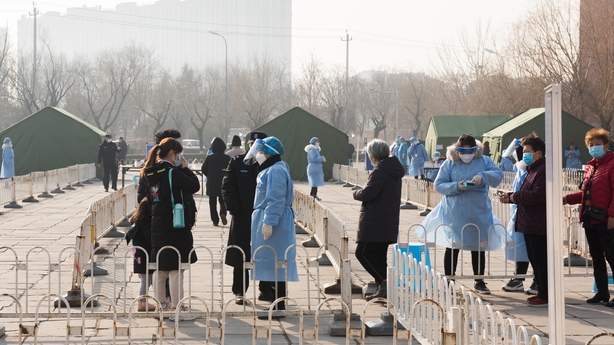 As with all Covid resurgences in China, a handful of cases in the southern Beijing suburb of Daxing drew an aggressive response.
When pupils tested positive, a school's entire student population and teaching staff were moved into 17 different hotels for quarantine - their families and close contacts placed under medical observation. 
1.7 million people were given stay-at-home orders and all public places shut down in Daxing.
Schools across Beijing closed until further notice.
In the wake of the outbreak, in what might be called a belt-and-braces approach, Beijing authorities added an anal swab test to their armoury of Covid control measures.
This news "startled netizens" according to the government-run newspaper, Global Times, which assured readers that the new procedure would only be used on high-risk groups, such as "overseas arrivals".
Wartime mode
China has deployed a battery of draconian measures to contain Covid. The potentially destabilising effect of the pandemic is terrifying to China's leaders.
The Communist Party derives legitimacy from a strong economy and social calm.
Once the pandemic began to spread overseas, China quickly drew up the drawbridge.
Inbound travel has been heavily restricted since March and there is compulsory centralised 14-day quarantine for all arrivals - recently extended to 28 days in Beijing.
In the event of an outbreak, city districts enter what they call a "wartime mode" including total lockdown, quarantine of positive cases and their close contacts, and mandatory mass testing for all residents in the surrounding areas. 
The stringent measures have been largely successful, in that life has returned to normal across most of the country.
Shops, restaurants, factories and offices are open, as are schools and universities beyond the outbreak areas.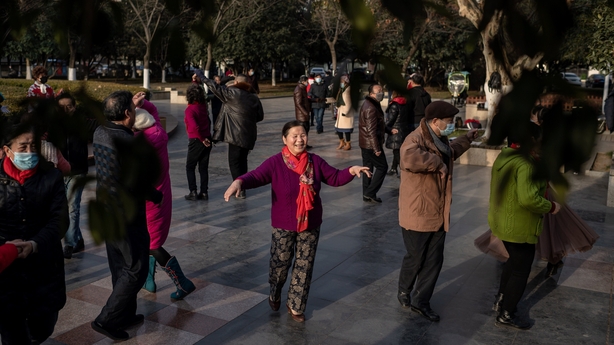 Wuhan, where the virus first exploded through the population while the authorities covered up news of the contagion, now declares itself, "the safest place in the world". 
The city's 11 million people were locked down for three months from January to April last year, breaking the chain of human transmission.
Restrictions were only lifted after the whole population had been tested. The Wuhan model has been used to quickly crush each subsequent outbreak. 
Zero tolerance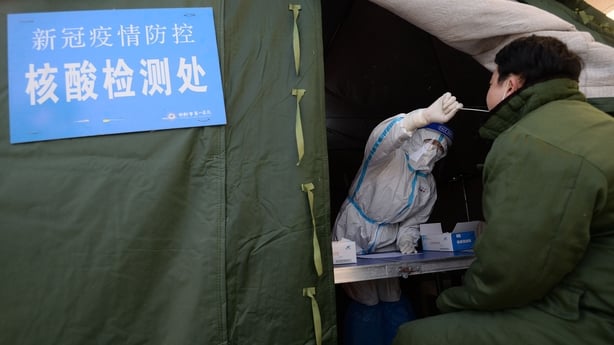 But it's a zero-tolerance approach. 
Lockdown means people cannot leave their homes. In several cases, doors have been welded shut, sealing residents inside.
During the recent outbreak in Hebei, which saw 22 million people confined to their homes, a pensioner who broke the rules to go out to buy a pack of cigarettes was tied to a tree and berated by village officials.
Residents who test positive aren't permitted to recover at home but instead removed by medics in hazmat suits to isolation facilities.
Even young children with Covid are routinely separated from their parents, as in the case of an eight-month-old breastfed baby in Beijing.
In the recent rounds of compulsory mass testing for schoolchildren in Beijing, many expat families spent a few anxious hours, fearing a knock on the door in the event of a positive result.
In rural Hebei, 20,000 people were bussed to centralised observation.
One group of evacuees was reportedly left on a bus overnight waiting for quarantine accommodation - the doors kept open in sub-zero temperatures to allow circulation of fresh air.
And residents of Tonghua – a cordoned off city in Jilin province - took to the internet this week to complain that they risked starvation as food and medicine ran out, forcing a promise from the local mayor to speed up deliveries of essential supplies.
I just walked into Ireland as if there wasn't anything going on
As a one-party authoritarian state, China has an advantage when it comes to coercive social control in the face of a viral pandemic.
Neighbourhood committee representatives, wearing red armbands, can be mobilised quickly to enforce government policy at the local level. 
And the rate of public compliance is high – partly because noncompliance risks police detention. Heavy censorship, meanwhile, keeps dissenters quiet.
But also, refusing mandatory testing, for example, is not an option if citizens want to go back to school or workplaces, where a negative result is required. 
From Wuhan to Ireland 
We need your consent to load this YouTube contentWe use YouTube to manage extra content that can set cookies on your device and collect data about your activity. Please review their details and accept them to load the content.Manage Preferences
Ben Kavanagh, a teacher from Kildare, was among a group of foreign nationals evacuated on a flight from Wuhan on 30 January last year, and quarantined for two weeks in the UK. 
Having watched the virus devastate Wuhan, he believes European countries missed their chance to keep Covid out. 
"When I left quarantine in England, no one did anything" he said, after the first few cases had been reported in Europe.
"I just walked into Ireland as if there wasn't anything going on," he said.
"I really thought other countries would look at Wuhan and copy what they did," he said, "but everybody thought it wouldn't affect them here.
"I've been thinking about my decision to leave Wuhan a lot and it was the right idea at the time," he added from lockdown in Ireland. 
"But with hindsight knowing that Wuhan was only in lockdown for three months and then everything was essentially back to normal, it may have been a mistake," he said.
To date, China has relied on drastic containment measures to keep Covid at bay. But now with other countries moving ahead with their vaccination programmes, it doesn't want to be left behind.
"China's vaccine production must speed up as soon as possible," a Global Times editorial read.
"We don't have time to celebrate our past achievements," it said, "We need to move forward and focus on the future."
In the meantime, China will continue with its "wartime mode" to extinguish any flare-ups.