The Cabinet is set to introduce a limited form of mandatory quarantine, as part of a series of new travel restrictions aimed at reducing Covid-19 transmission. 
A Cabinet sub-committee agreed tonight on a 14-day mandatory quarantine for any incoming passenger who arrives into Ireland without a negative PCR test result. 
People from South Africa and Brazil also face a similar quarantine due to the rise of Covid-19 variants in their countries. 
Additionally, gardaí will increase their checks both at ports and airports - fining people engaging in non-essential travel like holidays. 
They will be asking outgoing passengers if their trip is absolutely necessary, and also assessing if returning passengers had an essential reason to travel.
Speaking on RTÉ's Claire Byrne Live this evening, Tánaiste Leo Varadkar said: "We are making a change to travel policy because of the new variants.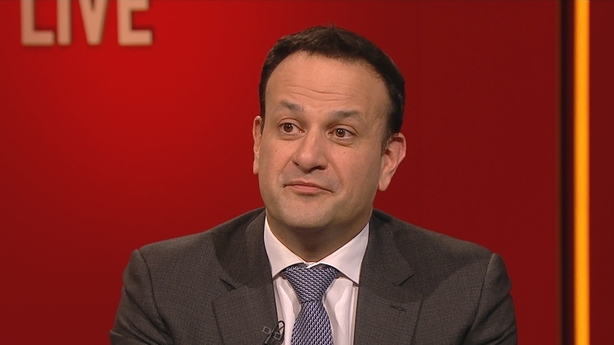 "We have already reduced travel by about 95% and brought in the PCR requirement. Now, being put to Cabinet tomorrow, is a travel ban on arrivals from Brazil and South Africa with a mandatory hotel quarantine for them and for anyone who does not have a negative PCR test.
"This will take a few weeks to become operational."
Mr Varadkar said there would also be another travel change put to Cabinet: "For people who come in from other countries, we are going to make quarantining at home mandatory - at the moment it is not, it is advisory."
When Claire Byrne told him a poll of 1,000 viewers by her programme suggested 91% of people were in favour of mandatory quarantine, he said this was "not surprising".
Mr Varadkar added: "We are not ruling mandatory quarantine for everyone who comes into the country - but three things people need to know and understand about that.
"It would not be fully effective for us to do it because of the border.
"Also, if we did it, it would probably be for a year as a dramatic public health measure like that would be hard to reverse and we probably would not reverse it until everyone is vaccinated.
"So people who would like to go abroad this summer or see relatives next Christmas, that would probably be off the agenda.
"Thirdly, they are detention centres, really. You can only let 500 or 600 people in a day, so some travel that we now deem essential - such as going to London for an interview, or seeing a dying relative - might not be possible."
He said: "International travel is not a silver bullet, 40,000 people have got Covid here in the past two weeks and very few of that was travel-related."
Mr Varadkar also said the Government "will - and want to - reopen schools on a phased basis in February and March".
Asked about Northern Ireland, he said: "I am against closing the Border completely. What I would like to see is an all-island approach, if that is not possible then a two-island approach."
Speaking about the Covid-19 restrictions, Mr Varadkar said: "Hospitals are in a very difficult position so the advice to Cabinet is that we should extend lockdown until 5 March, this will align us with Northern Ireland.
"Any easing of restrictions will have to very, very slow - it might start off maybe just with some retail, maybe being allowed to meet two people outdoors.
"But if we get the figures down very low, that becomes a possibility and if we get a critical mass of people vaccinated we may be able to ease some restrictions around the Easter period," said Mr Varadkar.
He said: "The advice from Chief Medical Officer and Professor Philip Nolan to us is that 'Zero Covid' is not realistic for Ireland.
"'Zero Covid' means getting 14 days in a row without a single case and this could mean Ireland being in a permanent lockdown."
On the vaccination programme, he said: "We are having quite a battle in the EU with AstraZeneca over supplies, but we will still have 1.1 million doses by the end of March so we can begin community vaccinations in the middle of February.
"If we can suppress the virus to very low levels by early March, and get a critical mass of people vaccinated, we can ease restrictions into the kind of Easter/Summer period but it will be very slow."
Earlier, Labour Party leader Alan Kelly described the measures on mandatory quarantine as "half-hearted".
He said former Fianna Fáil Taoiseach Bertie Ahern placed 1,000 soldiers and gardaí on the border during the foot-and-mouth debacle. 
Mr Kelly asked: "Why is animal disease being taken more seriously than Covid-19?"
The Social Democrats co-leader Róisín Shortall said this was more "half-baked proposals" from the Government which "would not work". 
She said: "NPHET was clear in its letter published last Thursday that discretion about a second PCR test and restricting movements must be removed i.e. need two tests and supervised quarantine." 
The Sinn Féin health spokesman David Cullinane said mandatory quarantine on all travellers was now required. 
In a tweet he said: "Extending lockdown until March is only part of the solution. It needs to be part of a maximum suppression strategy. Test, trace, isolate & vaccinate - mandatory testing & quarantine on all travel & all-island action. We never got test & trace right or travel checks. Time we did!"
Earlier today, the Minister for Transport Eamon Ryan said the Government will take a "tougher, stricter and more wary" approach to travel due to the emergence of new variants of Covid-19.
Asked about mandatory quarantine for people entering the country, Minister for Transport @EamonRyan tells @TodayWithClaire said it is proposed quarantine measures be introduced for people without a negative test and for those coming from certain countries. pic.twitter.com/cbF0BisHUj

— RTÉ News (@rtenews) January 25, 2021
However, Mr Ryan warned that there is no silver bullet to solve the problem and a multi-layered approach is needed, while still enabling emergency and essential travel.
Among the measures being considered, he said, is stopping the issue of short-term visas, tougher sanctions on the 5km travel limit (to stop people travelling to airports for unnecessary flights), and strengthening the follow-up on passenger location forms.
Mr Ryan said he is working on an approach with his UK colleague to close gaps in the defence and if agreement could be reached on an all-island basis, then "the door will be closed that way".
He said the Government will have to work closely with the UK government and its European colleagues, adding that it is not just that a "a simple ban will solve this, and it all goes away".
---
'This is a critical time for all of us to hold firm' - CMO
Fortunes of Ireland's billionaires rise more than €3bn - report
Latest coronovirus stories
---
On #Covid19 travel checks near the border, @EamonRyan tells @TodayWithClaire "If on a road south of the border, 5km from the border, someone's one that road and doesn't have a valid explanation as to why they're travelling, they will be subject to prosecution and fine" pic.twitter.com/BgTD4hneQj

— RTÉ News (@rtenews) January 25, 2021
Meanwhile, the World Health Organization's Special Envoy on Covid-19 said all countries must make decisions on how best to minimise risks as the virus surges globally. 
Dr David Nabarro said Ireland has had an 18% reduction in the incidence rates of Covid-19 over the last two weeks, but this will be made more difficult if "a lot of people with Covid come into the country." 
Speaking on the same programme, he said new information on risk will always mean there is some "shifting" [of measures] from time to time, but the WHO prefers that countries "work it out for themselves." 
Borders are part of it, he said, but ensuring best practice to deal with new cases when they emerge is also part of the preventative measures. 
Midleton Gardaí spoke to a driver at Garryvoe beach who had travelled over 20km without a reasonable excuse. After we engaged with the man he agreed to leave & go straight home.

Shortly after we spoke to the same driver at Ardnahinch beach. Fined for breaching Covid regs pic.twitter.com/me9JT835Fg

— An Garda Síochána (@GardaTraffic) January 25, 2021
Also today, Sinn Féin leader Mary Lou McDonald said mandatory quarantine for all travellers onto the island of Ireland needs to be introduced in order to ensure nobody is travelling here except for essential reasons.
Speaking on RTÉ's Morning Ireland, Ms McDonald said the Government needs to use its influence to ensure the same "stringent" measures are put in place on both sides of the border, and that anything short of that would be insufficient.
She said the Republic and Northern Ireland needed to be regarded as a single unit when it comes to containing the virus.
"Any idea that you can corral the virus into a corner of the island and keep the rest of us safe is sadly misinformed. A reservoir of the virus in any place on the island places us all in danger," she said.
She said the measures are "absolutely proportionate" and did not believe they would be regarded as draconian.
The leader of the Democratic Unionist Party at Westminster said the Stormont Executive is simply not in a position to ban essential travel from the UK, although non-essential travel (even within Northern Ireland) is not encouraged.
Jeffrey Donaldson said it is "not tenable" to completely stop flights or ferries from Britain to Northern Ireland.
Meanwhile, according to new data from the Central Statistics Office, more than 66% of the population stayed local, within 10km of their home, in the week to 15 January.
Its 'Staying Local Indicator' increased each day from an annual low on Christmas Eve (51.7%) to 68.6% to 7 January, before appearing to stabilise at or around 15 January at 66.2%.
Dublin continues to be the county with the highest percentage of the population staying local (78.8%) on the week ending 15 January.
The CSO says this reflects its urbanised nature with respect to other counties.
With the exception of Mayo, which showed no week-on-week change, all counties saw modest 'Staying Local Indicator' decreases from the week ending 8 January to the week ending 15 January, indicating some relaxation of mobility behaviour.
Additional reporting David Murphy, Fergal Bowers