There have been 23 more coronavirus-related deaths reported by the Department of Health.
All of the deaths occurred this month. The youngest of those who died was 61 years old, while the oldest was 99. The median age of those who died is 84.
It brings the total number of deaths since the pandemic began to 2,970.
The Department has also reported 1,378 new cases of Covid-19. It is the second day in a row that the number of new cases has been below 2,000 - the first time this has happened in 2021.
There are 1,931 people with the virus being treated in hospital, with 218 of those receiving treatment in intensive care units.
58% of cases reported today are in people under the age of 45, while the median age is 39.
379 of the cases reported are in Dublin, with 145 in Cork, 86 in Wexford, 85 in Galway and 71 in Limerick. The remaining 612 cases are spread across all other counties.
The 14-day incidence rate per 100,000 people has fallen to 840.7, down from 955.5 yesterday.
Monaghan is the county with the highest rate, at 1661.56, while the lowest rate is 280.9 in Co Leitrim.
The Chief Medical Officer has said that while we are "starting to make progress in reducing the level of the virus in the community, this is a critical time for all of us to hold firm to the public health advice".
Dr Tony Holohan said we "must not let down our guard against this highly infectious disease".
He said "there is a huge volume of disease in the country and the recent surge in cases continues to place an unprecedented strain on ICUs, hospitals and other frontline healthcare services."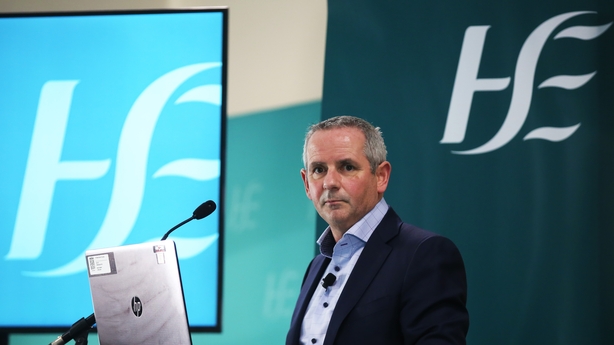 ---
---
---
The Chief Executive Officer of the HSE has said he expects the number of ICU admissions to "hold if not grow" in the coming days, adding that the health service is seeing increased mortality.
Speaking on RTÉ's This Week, Paul Reid said the HSE is seeing a huge difference in delayed discharges of patients from intensive care units.
He said something has changed in terms of the level of transmission and the impact of the virus, describing ICU admissions as a "real challenge".
Mr Reid said there needs to be a reassessment of the current measures in place.
He said 24 beds remain available in intensive care and that eight hospitals have reached their surge capacity.
"Talking to the ICU consultants, I think there's been huge learning the past three weeks about what we're seeing. And firstly it is that we are seeing huge difference in terms of delayed exits from our ICU, and indeed, sadly, increased mortality.
"If you look at the pipeline of patients potentially coming into ICU, there are still 430 patients who are receiving critical care outside of the ICU. They would be retrieving various levels of advanced respiratory support. Two-thirds of those would generally be discharged at some point in time, but one-third would possibly go through ICU or indeed sadly in some cases mortality," he said.
"There's a very significant, unfortunately, pipeline we would see continuing into ICU. And I would expect that we will see ICU numbers probably holding if not growing in the coming days, and that's a real challenge for us."
Responding to concern over a lack of face masks for nurses expressed by the INMO, he said there is enough supply for all healthcare staff who require them.
Mr Reid said there is a "good supply" of up to 1.3 million masks per week and that the HSE did not dispute that staff "should have the right protection".
He also said they have deployed antigen testing to assess where there are outbreaks in hospitals and have secured a supply for a further 500,000 antigen tests. This will be brought into the hospital system from 27 January, he said.
Mr Reid also said they are anxious to get back to testing close contacts. However, he said they need the cases to be sustained below 2000 for a few days for that to happen.
He said the impact of AstraZeneca shortfalls will be a "feature of the supply issue" where various setbacks happen.
He said the HSE has been reassured of the February vaccine supply being delivered as planned and will commence with the over 70s in mid-February.
He added that there is uncertainty of impacts beyond that.
He said there are a range of other suppliers that will give greater contingency planning but admitted to unpredictability at the moment.
Meanwhile, the majority of residents of long-term care homes and half of all frontline healthcare workers are due to have receive their first doses of the Covid-19 vaccine by the end of today.
Dr Jack Lambert, an Infectious Diseases Consultant at the Mater Hospital in Dublin, has said the number of Covid-19 cases in the community is "flattening", as are new hospital admissions.
However, he warned that intensive care units are going to continue to be "stressed" over the next couple of weeks as he noted that once you are admitted you stay at least a few weeks in there, and any additional numbers admitted to ICU add to that pressure.
Speaking with Brendan O'Connor on RTÉ Radio One he said they have been challenged in the Mater because of Covid-19 infections but that it is "not Armageddon".
"Some other hospitals have been more challenged than us this time around," Dr Lambert said.
He said every hospital in the country has been affected in this wave of Covid-19, describing it as a "sobering" experience.