The Department of Health has been notified of 51 new deaths and 2,608 further cases of Covid-19.
The number of patients in intensive care units is 214, up four from yesterday.
There have been a total of 54,318 coronavirus cases confirmed in the last two weeks.
The 14-day incidence rate is 1,141, while more than 500 people have died so far this year.
Of the cases reported today, 1,346 are women and 1,230 are men; 55% are under 45 years of age and the median age is 42-years-old.
There were 1,019 cases reported in Dublin, 204 in Cork, 135 in Donegal, 132 in Galway, 131 in Kildare, and the remaining 987 cases are spread across all other counties.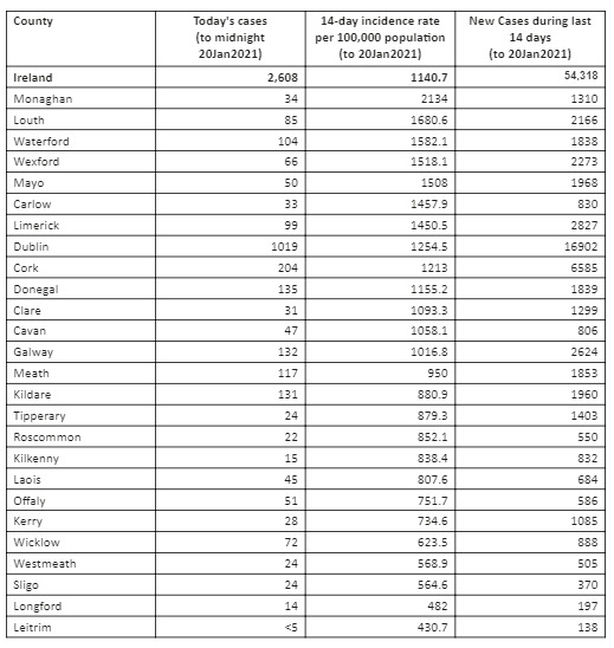 Speaking at the NPHET Press Briefing this evening, Deputy Chief Medical Officer Dr Ronan Glynn said: "There have been 532 deaths so far in January and we can, unfortunately, expect this trend to continue over the coming days."
Chair of the Epidemiological Modelling Advisory Group Professor Philip Nolan said the growth rate of the epidemic is negative, with the number of cases per day declining at around -7 to -8%.
He said the R number is estimated to be between 0.5 and 0.8. However, he said that this is going to be difficult to sustain.
Prof Nolan said the data also suggests that the number of patients in ICU would also "plateau", but he said it would take a long time.
Prof Philip Nolan says hospital admissions seem to have plateaued, expects the numbers of patients in hospital to decrease "very slowly" | https://t.co/xcEXiIZcoQ pic.twitter.com/NUEZF7j2xV

— RTÉ News (@rtenews) January 21, 2021
Prof Nolan said the number of deaths confirmed per day over the last seven days was 44, the highest at any point in the pandemic.
He said the number of hospital admissions has peaked and he expects the numbers to decrease.
Prof Nolan said he is concerned about the incidence rate in long-term residential care.
Also speaking at the briefing, Chief Medical Officer Dr Tony Holohan said the level of infection is still too high and further progress needs to be made.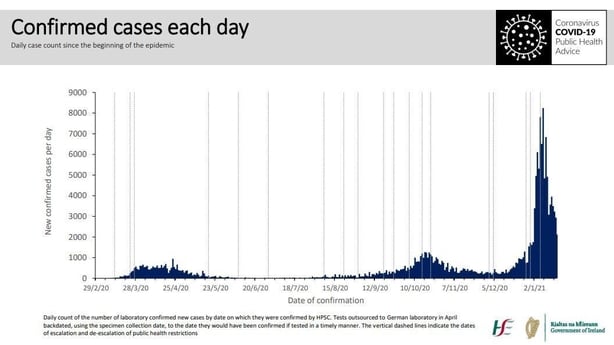 Discussing the new variants of the virus, Dr Holohan said they still have not detected the variant of the virus that was discovered in Brazil.
However, they have identified three cases of the strain that originated from South Africa.
Dr Holohan said the variant first discovered in UK will become the dominant strain of the virus over the next few weeks.
That variant accounts for over 60% of the most recent cases analysed, he said.
Dr Holohan added the majority of people are adhering to non-essential travel and that containment measures are still appropriate.
We need your consent to load this rte-player contentWe use rte-player to manage extra content that can set cookies on your device and collect data about your activity. Please review their details and accept them to load the content.Manage Preferences
Dr Tony Holohan says the level of Covid-19 infection is still too high and further progress must be made | https://t.co/xcEXiIZcoQ pic.twitter.com/Tky9nvyh2Z

— RTÉ News (@rtenews) January 21, 2021
He said he has no reason to disagree with Taoiseach Micheál Martin's assessment that restrictions are likely to continue well into February.
Dr Holohan said infection levels are still ten times what we had in early December, which he said still represents a risk to public health and a significant risk to any activity in society.
He said that while significant progress has been made, it needs to be maintained for a substantially longer period of time to get transmission levels down to allow essential public services to be restored.
He said education and health services were high up the priority list of services to be restored and that NPHET has given further advice to the Minister for Health.
Dr Holohan said: "While we know we've made substantial progress relative to where we are the late days of December and early January, we are nowhere near close to where we need to be yet."
Asked specifically about the prospect of schools reopening in ten days, he said: "We want to see us being able to restore that as soon as possible, but we have more progress to make."
Dr Holohan said that he had no reason to change his view he outlined in his letter to Government last week that there could be 1,000 deaths related to Covid-19 in January.
---
---
This evening at the #NPHET #COVID19 briefing in the Department, @President_MU showed some slides.

You can view them in full here: https://t.co/Et5gOZwNle

— Department of Health (@roinnslainte) January 21, 2021
Meanwhile, a study of antibodies to Covid-19 in healthcare workers in two hospitals has been published by the HSE.
It found that 15% of workers in St James's Hospital in Dublin had antibodies, while 4% of staff in University Hospital Galway had antibodies.
At the briefing, National Clinical Director for Health Protection HSE, Dr Lorraine Doherty, said the PRECISE study reflects the different rates of community transmission in Dublin and Galway and is not due to a lack of preventive measures.
Dr Doherty also said that it showed that all healthcare workers are at risk, not just those who worked with patients.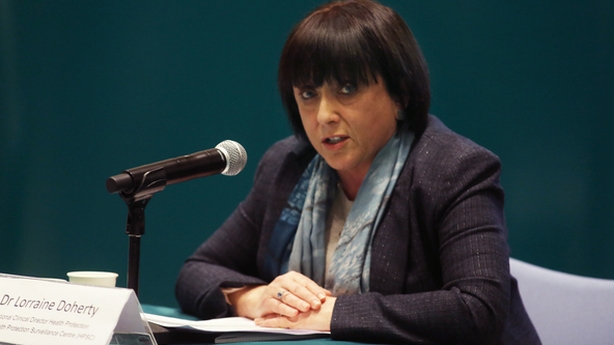 She said the number of asymptomatic and undiagnosed cases also reinforced the need for both patients and staff in hospitals to wear face masks.
Dr Doherty said antibody positivity cannot be taken to mean a person is immune, and all infection prevention measures still need to be followed.
She said the study would be repeated again in the spring and will also look at vaccine response.
Taoiseach cautious on return of retail
Earlier, Taoiseach Micheál Martin said he could not explicitly rule out the idea of restaurants being shut until May or even longer.
Speaking on Virgin Media's Ireland AM, he said schools will be looked at separately, but retail sectors are likely to remain shut until the end of February.
"It will be well into next month before the majority of Covid restrictions are relaxed," he said.
Mr Martin also said that over-70s will be in line to receive vaccines by March.
In relation to travel bans, the Taoiseach said "we say to people do not travel in or out".
He added: "There's now an obligation of a PCR test. The evidence to date is people adhering to that.
"It is under constant review. The difficulty is people flying into Belfast. It's not as simple as banning travel."
Additional reporting Paul Cunningham