Minister for Health Stephen Donnelly has said that up to last night 121,900 vaccines have been administered to frontline healthcare workers and residents and staff in nursing homes.
Figures show that 73,100 vaccinations have been given to frontline health care workers and 48,800 administered to staff and residents of long-term care facilities.
Up to last night 121,900 vaccines given to our frontline healthcare workers and residents and staff in nursing homes. Well done to all involved, especially @paulreiddublin @CcoHse @HSELive @roinnslainte @AmbulanceNAS @defenceforces pic.twitter.com/Zssb5hGXzB

— Stephen Donnelly (@DonnellyStephen) January 21, 2021
Speaking in the Dáil earlier, the minister said the Government "must be open" to reviewing the prioritisation list for Covid-19 vaccines.
He said he was "sympathetic" to the concerns raised by people with cystic fibrosis and other underlying conditions.
He was responding to questions from Fine Gael's Colm Burke, who said consideration should be given to around 2,000 people receiving dialysis who are down the priority list.
Mr Donnelly said a similar question is being raised about people with other conditions that make them very vulnerable to the virus.
He said the National Immunisation Advisory Committee (NIAC) has laid out the principles on which they are providing advice, which have been endorsed by National Public Health Emergency Team (NPHET) and agreed by Government.
"However, it is a living document," he said.
"As new evidence emerges, and as we learn more, and we get new vaccines and we find out more, we must be open to reviewing the prioritisation.
"The position before any review is that the NIAC prioritisation is what we are going with, but of course we must be open to reviewing this."
Mr Donnelly also said it is hoped that all citizens will be offered a vaccine by the end of September.
We need your consent to load this rte-player contentWe use rte-player to manage extra content that can set cookies on your device and collect data about your activity. Please review their details and accept them to load the content.Manage Preferences
---
---
Minister Donnelly said that the plan is dependent on vaccine supply and a more accurate timeline for the vaccine roll-out will be given when the Oxford/AstraZeneca vaccine is approved, which is due to happen on 29 January.
He expressed his disappointment after a number of stories emerged whereby the vaccination prioritisation strategy was not followed.
Mr Donnelly welcomed the appointment of a senior clinician at the Coombe Hospital in Dublin to lead the vaccine roll-out.
An independent review is to be carried out into how 16 people, who were related to hospital employees, received a vaccine.
Mr Donnelly has asked the Health Service Executive for a report on the other incidents at the Rotunda Hospital in Dublin and at University Hospital Kerry.
Elsewhere, HSE Chief Executive Paul Reid said: "I want to be very clear, this shouldn't have happened.
"And nobody could have been confused or needed for clarity in terms of the agreed sequencing for the vaccines."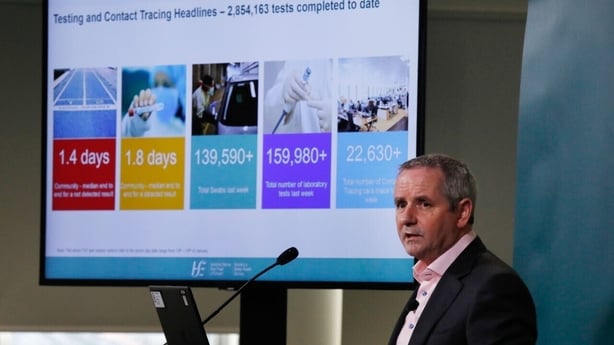 Speaking at a briefing this afternoon, Mr Reid said that he fully accepted that wasting doses was something that "we always have to avoid" and he said documents now set out how such situations can be planned for and mitigated against.
Mr Reid also said that there was much to be extremely positive about vaccinations, with 47,000 people due to receive their second vaccine this week.
He said that 180 long-term care facilities are receiving vaccinations this week.
That means that by the end of this week, 589 long-term care facilities, primarily nursing homes, will have received their first vaccination.
Mr Reid confirmed that the delivery of the Pfizer BioNTech vaccine would be smaller next week, as had previously been advised, but that this would be temporary.
Call for vaccination campaigns to be ramped up as variants spread
The EU disease agency ECDC has urged countries to prepare more stringent measures and speed up vaccine campaigns in the coming weeks because of the risks of more infectious variants of the novel coronavirus.
The European Centre Disease Prevention and Control (ECDC) said in a new report that countries in the EU and European Economic Area "should expect increased numbers of Covid-19 cases due to the gradual spread and possible dominance of the variants with increased transmissibility".
According to the agency the "rate and scale" of the spread would depend on the level of prevention measures and adherence to those measures.
The ECDC said that some 16,800 cases of a new more infectious variant of the novel coronavirus had been identified in the UK, where it was first discovered and some 2,000 cases in 60 countries around the world as of Tuesday, of which 1,300 cases were in 23 countries in the EU and EEA area.
Around 570 cases of another variant, also more infectious, first discovered in South Africa have been detected in 23 countries, with 27 cases in 10 EU/EEA countries, in addition to the 349 cases confirmed in South Africa as of January 13.
The ECDC also urged members to monitor changes in transmission rates or infection severity to identify and assess the circulation and impact of variants, and also to prepare laboratories for increased testing.
It also said countries should increase the number of vaccination centres and vaccination staff to speed up the rollout of the Covid-19 jabs.
Even though many countries have already begun vaccinations and have strict measures in place the ECDC cautioned against relaxing measures, "since the population groups driving transmission will not be targeted with vaccination for some months".
It said because of the evidence of higher transmissibility of the new variants, authorities should be ready to enforce even stricter measures, "communicating and engaging with the population to encourage compliance".