Minister for Health Stephen Donnelly has said "there are no moves at present" to revisit the priority vaccination groups to move teachers further up the list.
Speaking on RTÉ's News at One, Minister Donnelly said they are sticking very clearly to the protocol that has been agreed, which came from the National Immunisation Advisory Committee (NIAC), endorsed by the National Public Health Emergency Team (NPHET) and signed up by Government.
He said this does not mean it would never happen, but for now the prioritisation would be staying with the first three cohorts, those in long-term residential care, the over 70s and healthcare workers.
The minister said that "ultimately we have to be led on schools by public health advice" and that advice remains the same that the transmission rate in schools are low.
But he added that teachers and their representatives have every right to ask questions about health and safety.
The minister also said the administering of leftover vaccines to those who are not frontline workers should not have happened, describing it as a "profound error of judgement". 
"I am not happy about it," he added. 
"There are very clear protocols in place and we need to make sure that they are being followed," he said.
We need your consent to load this rte-player contentWe use rte-player to manage extra content that can set cookies on your device and collect data about your activity. Please review their details and accept them to load the content.Manage Preferences
---
---
Mr Donnelly said: "It is not just in the Coombe that we are seeing this.
"There was a clear protocol in place for weeks. It is the one that was proposed by NIAC and signed off by Cabinet. It deals clearly and simply with all the situations in the Coombe and in the Rotunda.
"There was a second, more detailed, protocol issued by the HSE last week to do with sub-groups of healthcare workers. Any questions as to whether family members should be vaccinated is fully covered by the original protocol, which has been up online for weeks."
Speaking on RTÉ's Prime Time, he said the Board of the Coombe met last night and again today and that he will speak to the Chair of the Board tomorrow.
Minister insists vaccine programme on track
Minister Donnelly said the vaccination programme was on track despite the 50% reduction in the Pfizer allocation for this week.
"We've achieved that by using the buffer of a few days," Mr Donnelly told RTÉ News.
"We are fully on track to have 140,000 people vaccinated by Sunday."
The minister said Ireland has "advanced purchased" six vaccines and the plan is for GPs and pharmacies to potentially use a range of vaccines down the line.
The Minister said he believes the GPs and the pharmacies will start vaccinating "pretty soon".
"We're looking for authorisation of the AstraZeneca vaccine by the EMA by January 29," he said.
The target by the end of March is to have 700,000 people vaccinated with their first or second dose.
Mr Donnelly said the GPs and pharmacies will "play a big role" in achieving the target.
Meanwhile, the first person in Ireland to receive a Covid-19 vaccination, Annie Lynch, received her second dose today at St James's Hospital in Dublin.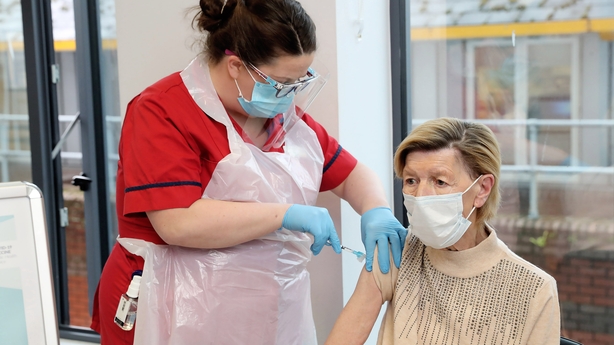 Deal on GP, pharmacists to administer vaccines agreed
The Cabinet signed off on a deal to pay €60 for each patient vaccinated by members of the Irish Medical Organisation and the Irish Pharmacy Union.
The agreement will see the Government allocate €91m for the vaccines to be administered to approximately 1.5 million people.
The Irish Medical Organisation welcomed the finalisation of arrangements under which GPs will play what it said was "a critical role" in the Covid vaccination programme.
Dr Denis McCauley, Chair of the GP Committee of the IMO, said: "GPs are uniquely suited to support this mass vaccination effort.
"We have huge experience of similar campaigns including the annual flu vaccination programme which saw GPs administer the flu vaccine to over one million in a matter of weeks late last year."
According to the IMO, GPs will be paid €50 (€25 per dose) along with a €10 administration fee for a two dose vaccine.
If a one-dose vaccine becomes available in due course, the fee will be €35 (€25 euro + €10 administration fee). GPs working in mass vaccination centres will be paid €120 per hour.
Vaccinations by GPs and pharmacists are likely to get under way once the AstraZeneca vaccine is approved, as expected, at the end of the month by the European Medicines Agency.
However, there has been strong criticism of the Government's strategy by some in the Opposition.
Labour Leader Alan Kelly said many hospital wards cannot function because what he called "Covid facing staff" were not prioritised for vaccines in recent weeks.
Richard Boyd-Barrett of Solidarity/PBP branded the roll-out of the vaccine as "a fiasco".
Sinn Féin said there was a great deal of anecdotal evidence that non-frontline hospital staff had received the vaccine early.
Party leader Mary Lou McDonald said trust in the vaccination programme has been damaged and it is not acceptable that spare doses could be given to family members of frontline workers.
Leftover vaccine row does us no good - Reid
Earlier, Health Service Executive CEO Paul Reid said what happened with leftover vaccines at the Coombe and Rotunda hospitals "does not do any of us any good, nor does it do the programme any good".
Speaking on RTÉ's Today with Claire Byrne, Mr Reid said that "everyone needs to learn from what happened".
He said he believes that it "would be a shame to waste doses that are left over" and all facilities should "have a standby list" for such instances.
NIAC chair Professor Katrina Butler said she understands why people are distressed to hear that extra vaccines were given to family members in the Coombe and Rotunda hospitals.
She said vaccine centres had lists of people to vaccinate and back up lists to ensure that no vaccine went to waste.
Prof Butler said there is more vaccine in the vials than people had expected and, because of the needles being used, it emerged that there was a seventh dose in the vials.
Speaking on the same programme, she said this left people with a "use it or bin it" option, because the vaccine has a short life once drawn up.