A 79-year-old Dublin woman has become the first person in the country to receive the Covid-19 vaccine.
Annie Lynch, a grandmother of 10 who grew up in The Liberties area of the city, was administered the Pfizer/BioNTech vaccine at St James's Hospital, followed by a clinical nurse manager in a designated Covid ward.
"I feel very privileged to be the first person in Ireland to receive the vaccine," she said.
"Like everyone else I have been waiting for the vaccine and I really feel like there is a bit of hope there now. It's brilliant that it's here. Everything was explained very clearly to me beforehand."
Ms Lynch, whose husband John passed away in September, now lives in Drimnagh in Dublin. She is currently a resident in the Mercer's Institute for Successful Ageing at St James's.
She has three children and 10 grandchildren.
Ms Lynch was given a HSE vaccine information leaflet, along with more detailed manufacturer's patient information leaflet, before getting the vaccine.
After each person is vaccinated, they are given a vaccine record card, showing the name and batch of the vaccine they received. They will each return for their second dose, to be fully protected, in three weeks.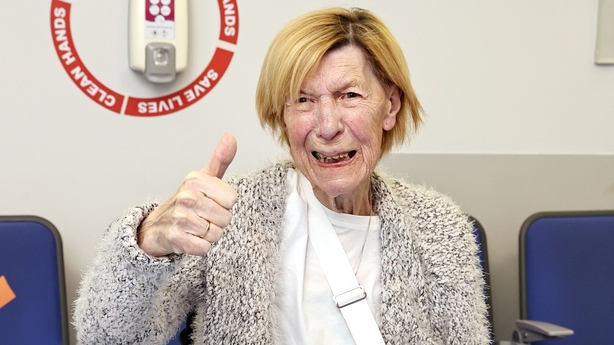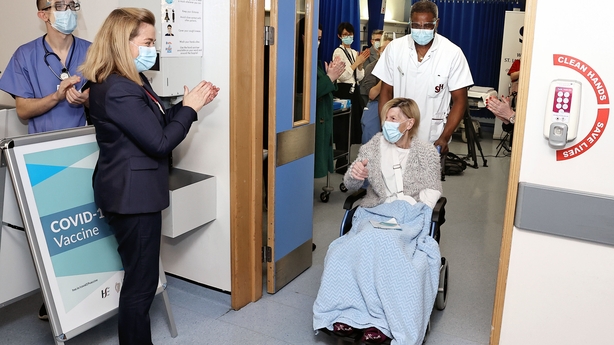 Bernie Waterhouse is a Clinical Nurse Manager working in a designated Covid-19 ward in St James's Hospital, and was the first healthcare worker in Ireland to get the vaccine.
She said as she received the jab: "I wanted to get the vaccine to protect myself, and the people I work with and care for every day, from Covid-19."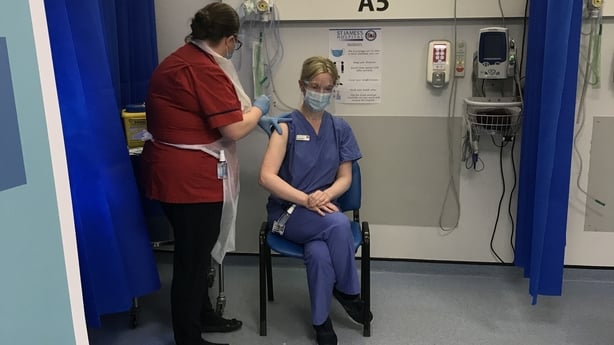 Minister for Health Stephen Donnelly said: "Today is a ray of light after what has been a trying year in our country.
"Our healthcare workers have worked day and night to care for their patients throughout this pandemic. I would like to acknowledge their dedication and commitment, and thank them for the central role they will play as we now move into administering the vaccines."
In Cork, the first person to receive the vaccine was Prof Mary Horgan, a consultant in infectious diseases at Cork University Hospital.
A dozen frontline staff are being vaccinated there today with 500 more scheduled to get the vaccine tomorrow and Friday.
Privileged to get #COVID19 vaccine today ?@CUH_Cork.? 2021 brings us all hope but we opened #COVID ward again today. One last big effort to keep our contacts down- keep our vulnerable safe ?@paulreiddublin? ?@DonnellyStephen? ?@RCPI_news? ??@UCC? pic.twitter.com/9A2gzbRnbc

— Mary Horgan (@profmaryhorgan) December 29, 2020
Lorna Quinn, Assistant Director of Nursing and peer vaccinator at University Hospital Galway was the first person to receive the vaccine in Galway, administered by Clinical Nurse Manager Michelle McNamara Nee.
Meanwhile, coronavirus vaccinations have now been carried out in 80% of all care homes in Northern Ireland, Stormont Health Minister Robin Swann has revealed.
Separately, a grandmother who became the first person in the world to receive the Pfizer vaccine earlier this month following its clinical approval has been given her second dose.
Margaret Keenan, originally from Enniskillen in Co Fermanagh, but living in England for more than 60 years, was given the follow-up injection at Coventry's University Hospital, three weeks after making history with the first jab.
The 90-year-old received an injection on 8 December, and NHS England said at the time that she would have a "booster jab" 21 days later "to ensure she has the best chance of being protected against the virus".
We need your consent to load this rte-player contentWe use rte-player to manage extra content that can set cookies on your device and collect data about your activity. Please review their details and accept them to load the content.Manage Preferences
HSE chief 'very proud' to see vaccinations commence
HSE Chief Executive Paul Reid said he was "very proud to see the vaccinations commence today, safely, with thorough vaccinator training and patient centred communications at its heart".
---
---
10,000 doses of the Pfizer/BioNTech vaccine arrived in Ireland on St Stephen's Day.
Chair of the Covid Vaccine Task Force Professor Brian MacCraith said he believes it is "very possible we will complete all vaccinations of nursing homes by February".
Speaking on RTÉ's Morning Ireland, he said anyone in Ireland who wants the vaccine will, in a best case scenario, receive it by August.
"It'll be down to the manufacturing success of the companies, the delivery schedules ... But certainly if all things come to pass, one would be looking at that [August]."
The Government and the Health Service Executive have said that the vaccination programme is starting in hospital settings to build confidence before the vaccine is rolled out to the country's more than 580 nursing homes from next Monday, 4 January.
In relation to the roll-out, Prof MacCraith said that because these are dual-dose vaccines, 50% will be held back in the initial weeks until there is more certainty about regularity of supply.
"We're expecting that that regularity will happen, and we're getting more and more reassurances from Pfizer in the regard," he said.
"In the coming weeks we will be growing the numbers. We will never hold back vaccines in storage, we will use vaccines as soon as we have availability".
Prof MacCraith said there have been "some difficulties across Europe" in terms of supply.
100 million more vaccine doses for EU
European Commission President Ursula von der Leyen revealed today that the European Union will buy an extra 100 million doses of Pfizer-BioNTech's Covid-19 vaccine, bringing the total from the two firms to 300 million doses.
The plan comes after some of the vaccine candidates ordered by the EU faced unexpected delays in clinical trials, forcing the bloc and other wealthy nations to rely on shots from fewer manufacturers than initially planned.
We decided to take an additional 100 million doses of the #BioNTech /@Pfizer vaccine, which is already being used to vaccinate people across the EU.

We will therefore have 300 million doses of this vaccine, which was assessed as safe and effective.

More vaccines will follow!

— Ursula von der Leyen (@vonderleyen) December 29, 2020
Under the EU contract, Pfizer and BioNTech have committed to rapidly deliver 200 million doses after regulatory approval for €15.50 apiece, EU officials told Reuters in November.
The extra 100 million doses would be supplied at the same price, but with the timetable to be negotiated, EU officials said.
Meanwhile, the HSE Chief Executive Paul Reid has appealed to people to take calls from contact tracers.
He said there was an increasing and concerning trend of some people not answering calls from tracer teams.
Mr Reid said the teams are a valuable resource to protect the public and the spread of the virus and appealed to people to co-operate.
There's an increasing & concerning trend of some people not answering calls from our contact tracers. These teams are a valuable resource to protect you and the spread of the virus. Please take their call. @HSELive #COVID19

— Paul Reid (@paulreiddublin) December 28, 2020
Additional reporting Samantha Libreri