Almost half of all the cases of Covid-19 reported by the Department of Health have been reported in the last two weeks.
Chair of the Irish Epidemiological Modelling Advisory Group Professor Philip Nolan said 44% of all cases were reported in the last fortnight, with one in every 67 people being told they are positive for Covid-19 in that period.
It comes as the Department of Health has reported another 28 Covid-related deaths and 3,955 more cases of the coronavirus.
There are 169 patients with Covid-19 being treated in intensive care units. There were 154 additional hospitalisations in the last 24 hours.
Twenty-six of the deaths reported today occurred in January 2021. The date of death for two of the deaths remains under investigation.
Of the cases notified today, 1,826 are men and 2,115 are women. 54% are under 45 years of age, and the median age is 42 years old.
1,210 of the cases are in Dublin, 456 in Cork, 235 in Louth, 221 in Meath, 218 in Limerick, and the remaining 1,615 cases are spread across all other counties.
More information has been given today on the 208 people who have died so far this month.
"Of these, 23 cases have been linked to outbreaks in hospitals and 38 with outbreaks in nursing homes," said Chief Medical Officer Dr Tony Holohan.
"The ages of those who have died range from 25 to 98 years. Every death associated with Covid-19 is a tragedy. We must cut our social contacts in order to break the chains of transmission and protect those who are most vulnerable to this disease. Stay at home and save lives."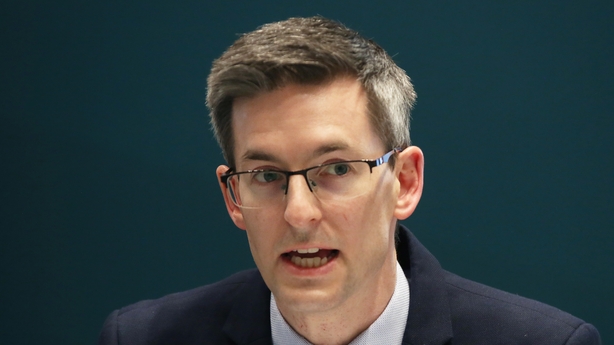 Deputy Chief Medical Officer Dr Ronan Glynn said Covid-19 is "having a very significant impact on our health system".
He urged people to only leave home for essential journeys. "We have the power to change the trajectory of the disease in our communities."
---
---
Prof Nolan, said: "From an epidemiological perspective, what we are seeing in this wave is different to what we have seen since springtime, and perhaps worse.
"The penetration of the virus throughout all ages of the population is a particular cause for serious concern, as is risk of severe disease that all of these people face. Poor health outcomes, risk of serious or long-term illness and hospitalisation remain a risk for us all when it comes to Covid-19.
"That is why we must follow public health advice and protect not only ourselves but our hospital system and healthcare workers by staying at home."
Prof Nolan said there are several outbreaks in long-term residential settings including nursing homes, and this is a cause for concern.
He said the new variant first identified in the UK was almost undetectable until the second week in December. But incidence rose very sharply after - it accounted for less than 10% of all cases in the second last week of December, but it is 46% this week.
Medical Virologist and Director of the National Virus Reference Laboratory Dr Cillian De Gascun said it is "not unusual" for viruses to mutate over time.
"We have identified multiple different SARS-CoV-2 lineages in Ireland since the start of the pandemic, and two of the three recently emerged variants of concern from the UK and South Africa. We also expect that more variants will emerge across the world in the coming months.
"While some of the new variants will increase the risk of becoming infected because they have increased transmissibility - they can stick longer and better to surfaces - this does not mean that our continued adherence to the public health advice is in anyway less effective."
He appealed to the public: "We must continue to wash our hands, wear a face covering where appropriate, maintain our social distance and continue to adhere to the public health advice."
The HSE's director of acute hospitals, Liam Woods, said hospitals and frontline healthcare workers are working under "enormous strain".
---
---
Earlier this afternoon there were 16 Covid-related deaths reported in Northern Ireland, along with 973 new cases.
There are 850 confirmed coronavirus patients in Northern Irish hospitals, with 58 being treated in ICU, 44 of whom are on ventilators.
Meanwhile the Health Service Executive has said a total of 77,303 Covid-19 vaccines have been administered up to yesterday.
At a briefing this afternoon, the HSE's chief executive Paul Reid said 69,378 of them were received by frontline healthcare workers and 7,925 were received by people in long term care facilities. 
He said said Ireland has received 152,100 doses of the Pfizer/BioNTech vaccine to date, along with 3,600 doses of the Moderna vaccine.
Tánaiste Leo Varadkar told the Dáil earlier today that the Oxford/AstraZeneca vaccine is in line to be approved by the European Medicines Agency on 29 January.
Mr Varadkar said that once this happens it would pave the way for the number of vaccines administered here a week to double from 50,000 to 100,000.
Separately, the Minister for Education has said that schools and some classes catering for children with physical and intellectual disabilities could reopen in a week's time.
After talks with trade union representatives this morning, Minister Norma Foley told the Dáil that it is a "shared ambition" of both her's and the Irish National Teachers' Organisation ( and Fórsa trade union that special schools open again for students on 21 January, as well as special classes for children with disabilities in primary schools.
Elsewhere, gardaí have said 29 people have been issued with €100 fines for breaching Covid-19 regulations since Monday.
The fines, for breaching the 5km travel restriction for non-essential reasons, were issued in a number of areas, including to three people who travelled 80km from Co Meath to Ringsend in Dublin for takeaway burgers.