The Department of Health has been notified of 17 further coronavirus-related deaths and 7,836 new cases.
To date, there have been a total of 121,154 confirmed Covid-19 cases and 2,299 coronavirus-related deaths in Ireland.
The number of people being treated for the virus in intensive care units is up 12 at 88.
In a statement, the National Public Health Emergency Team said that of the new cases, 3,740 are men and 4,078 are women. 
It said 63% are under the age of 45, while the median age is 36. 
Of the new cases, 2,263 are in Dublin, 1,373 in Cork, 496 in Louth, 345 are in Limerick, 340 in Meath and the remaining 3,019 cases are spread across all other counties.
NPHET says that as of 2pm today there were 954 Covid-19 patients being treated in hospital, with 105 additional hospitalisations in the last 24 hours.  
The 14-day incidence rate of the disease now stands at 819.1 per 100,000. On 6 December, this figure was 80.7 per 100,000.
The counties with the highest incidence rates are Monaghan (1,638.8), Louth (1,528.5) and Limerick (1,252.4). The counties with the lowest rates of infection are Wicklow (381.3), Tipperary (391.7) and Leitrim (477.5).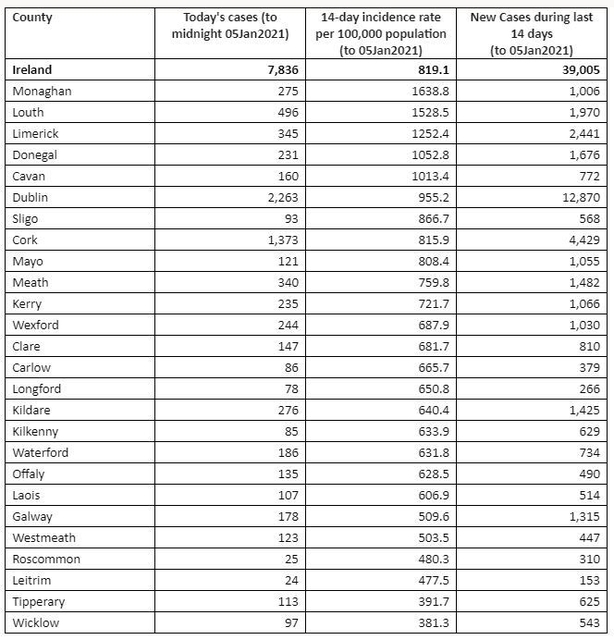 The Chief Medical Officer has said that Ireland is in "serious phase of this surge of Covid-19", and that there is evidence of an increasing presence of a strain of the virus which was first identified in the UK.
"All counties have an upward trajectory of the disease," Dr Tony Holohan said.
"There is concerning escalation of admissions to hospital and ICU. We are very likely to see escalating mortality and ICU admissions in the coming days and weeks.
"It has never been more important, throughout our experience of this pandemic, to stay home and only meet people outside of your household for essential purposes, always adhering to public health advice; physical distance, hand hygiene, cough/sneeze etiquette, wearing a face covering."
Earlier, Health Service Executive Chief Executive Paul Reid said Ireland has exceeded the peak level of the first wave of the Covid-19 pandemic.
"Healthy people are getting very sick. Everyone gets how serious this is now. Let's all do what's needed, turn this around, save lives, whilst the vaccine arrives. We have to," Mr Reid wrote on Twitter.
The last record of 881 hospitalisations was on 15 April last year.
There are 88 people in intensive care units, which is around half the peak ICU figure seen last April.
The system has surge capacity to increase ICU bed numbers from 280, to about 350.
The Chief Clinical Officer with the HSE has said they are seeing a system under pressure, which is currently coping, but he added it is the trends that are causing the figures that they are worried about.
Speaking on RTÉ's News at One, Dr Colm Henry said it is likely, based on their projections, that the numbers will peak in the next two weeks at much higher levels.
The number in ICU is "likely to grow to considerably higher levels than this", he said.
Dr Henry said the next few days will identify the degree of compliance by the public with the measures that have been reintroduced, saying there is a wide variation in how high these figures will peak.
He said: "If there's a slower degree of compliance, a slower turnaround, we could see figures certainly as high as 2,500 or higher in hospitals.
"If there's a slower degree of compliance again in intensive care units, we could see the figures go much higher than our surge capacity in ICU, that's someone none of us wants to see." 
---
---
There is one grain of hope, Dr Henry said, in that the number of close contacts for each case they are seeing is reduced down to 3.8 from a peak of 6 or thereabouts.
He said this is an indicator that things are beginning to move, but it takes a while to feed through to reduce the number of cases in the community and reduce activity in hospitals.
Dr Henry said the more pessimistic projection would see demand in ICU move beyond the current bed capacity of 286, but by using intensive care activities in other settings, they can "still maintain good quality of care up to about 350 beds".
However, he cautioned that "beyond that it would be difficult".
The Chief Clinical Officer also said he is confident that an agreement on accessing resources in private hospitals will be reached in the coming days. 
He said it is envisaged that private hospitals would do essential non-Covid related work.
Dr Henry said they want to continue diagnostic, surgery, endoscopy and to harness the capacity in the private hospitals for that purpose "so we can continue with confidence with non Covid-related work, while dealing with Covid patients and Covid outbreaks as they emerge in acute hospital settings".
With 921people in hospital, we've now exceeded the peak level of the 1st wave (881).75 in ICU. Healthy people are getting very sick. Everyone gets how serious this is now. Let's all do what's needed, turn this around, save lives, whilst the vaccine arrives. We have to. @HSELive

— Paul Reid (@paulreiddublin) January 6, 2021
Meanwhile, a consultant in intensive care said that if hospitals run out of "resources", such as ICU beds, to treat patients with Covid-19 then a different ethical framework would be applied.
Dr Catherine Motherway of University Hospital Limerick said: "In pandemic times, if you do run out of resources you have to apply different ethics.
"Maybe we'll be looking at saving the most lives as opposed to admitting the sickest first.
"If you have too many people for a finite resource, then you will have to make choices." 
Speaking on RTÉ's Morning Ireland, the former president of the Intensive Care Society of Ireland said doctors "devoutly hope that that will not happen", and it would not happen if "we stop this disease now".
She said that the medical community is hopeful that the virus burden in the community would fall because of this latest lockdown.
Dr Motherway said that should it come to pass, the medical community should communicate this clearly with society and HSE guidelines on this had already been published.
However, Dr Motherway said that critical care is currently being offered to people "as we normally do".
She said they know from the first and second waves of the virus that around 10% of people in hospital with Covid-19 will require critical care.
Dr Motherway said that the arrival of vaccinations "gives great hope", but she warned that the roll-out could take a number of months, and until then people had to take every precaution to avoid contracting the disease.