HSE Chief Executive Officer Paul Reid has said transmission levels of Covid-19 are "very serious and dangerous".
Mr Reid said the Health Service Executive has as many concerns now as it did in the first phase and it is concerned about the potential impact on the health services.
HSE Chief Clinical Officer Dr Colm Henry said the situation in Ireland in relation to new cases of Covid-19 was deteriorating more rapidly than in any other country in Europe.
Mr Reid said they were concerned about the worst culmination of the rapid rise in cases, a high positivity rate, and an increased number of contacts all coming together at a time when there is usually peak demand for health services.
He added that the effect of what is being seen now having an impact on hospitals just after Christmas is also worrying.
However, Mr Reid said people should not be unduly stressed and that fear leads to inaction.
The HSE needs everyone to take positive action, he said, which could make a huge difference to turning these "horrendous" trends around.
He urged people to reassess their Christmas plans and keep their contacts low.
While a time will come when people can gather together again and do what they had planned for Christmas, the absolute priority now, he said, was about keeping safe and protecting the vulnerable.
Mr Reid said the hospitals and healthcare system were going into the winter season in a stronger position than they would have been this time last year.
He said the plans and investment made by the HSE will protect people, but the virus is extremely volatile and the situation could turn around extremely quickly.
Health authorities in Northern Ireland were staggered by how quickly cases increased there and the immediate effect that had on hospitals, he said.
HSE CEO Paul Reid says that the transmission levels of Covid-19 are "very serious and dangerous". However, he says that people's reaction should not be fear or distress and encourages people to take "positive actions" | https://t.co/2VhNtzZY5s pic.twitter.com/OnfKDKCZ68

— RTÉ News (@rtenews) December 23, 2020
---
We need your consent to load this rte-player contentWe use rte-player to manage extra content that can set cookies on your device and collect data about your activity. Please review their details and accept them to load the content.Manage Preferences
---
Mr Reid said the vaccine gave everyone a boost, adding that the HSE was in detailed and relentless discussions with the manufacturers of the Pfizer/BioNTech vaccine in relation to delivery of the first batches to Ireland.
They are actively working with the process to co ordinate delivery across all EU member states, he said, and the first delivery of 9,750 doses is scheduled on St Stephen's Day.
They expect to receive around 31,000 more doses in the few days after that, he added.
Mr Reid said they were in discussions in relation to the delivery schedule in January and February, but the expectation is that they will receive just over 40,000 doses in the first week.
The needles and syringes associated with the vaccination programme had been "picked and packed", he said, and would be dispatched to vaccination hubs from 29 December.
---
---
He said they are preparing for receiving around 40,000 doses per week in January and February, but this is all conditional on agreement with the EU and the manufacturers.
Mr Reid said the first module of the IT system is set to be delivered by the end of the year, adding that a process that would normally take four to six months was being done in ten days.
He said the first module will deal with recording who is vaccinated where, and alerting people in relation to the second dose of the vaccine.
HSE's Paul Reid says the first delivery of the Covid-19 Pfizer/BioNtech vaccine is scheduled to arrive on St Stephen's Day. He says it is expected that a few days after the first 10,000 batches of the vaccine arrives, there'll be a further 31,000 | https://t.co/2VhNtzZY5s pic.twitter.com/Cf7kjAZUAB

— RTÉ News (@rtenews) December 23, 2020
The plan is to vaccinate at least some long term residents of care homes on 30 and 31 of December, he said, as well as some health care workers in acute hospitals.
Work is being done to prepare for consent in long-term care facilities, and plans for a "three-week sweep" beginning in early January, followed by another three-week sweep, are being finalised.
Mr Reid said public health teams have been in touch with Minister for Agriculture Charlie McConalogue, the Department of the Taoiseach and with the relevant ministers after Mr McConalogue tested positive for Covid-19.
While not wishing to comment specifically on the case, Dr Henry said "it highlights how transmissible this virus is".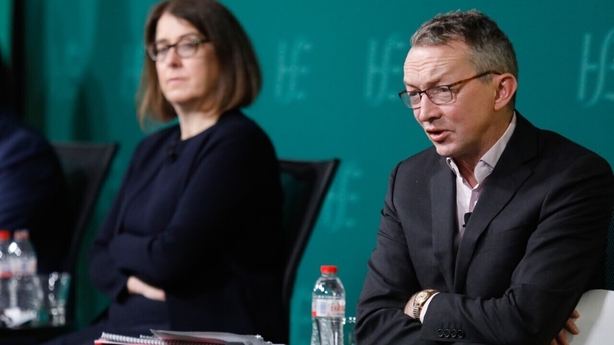 Rapid growth in case numbers
He said the HSE had seen an extraordinary growth of infection in the past week, beyond what even the more extreme versions of modelling would have predicted.
Dr Henry said it had not seen this level of concern since the beginning of the pandemic. The five-day rolling average was now 714, up around 100% since last week.
He said there was a sharp escalation upwards and the curve was heading in a vertical direction.
Dr Henry said the positivity rate was now 5%. Referrals for testing were going up and the incidence in all age groups had gone up.
If the current growth rate continued on its current trajectory, he said there would be 1,000 cases a day by the end of this month and by the end of the first week in January it could be 1,500 cases a day.
He said if this happened, the impact would be felt right across the healthcare system.
Dr Henry said the virus had exposed the fragility of well developed healthcare systems in Europe.
Ireland had had the best 14-day incidence rate in Europe, but the situation was now deteriorating more rapidly here than in any other country in Europe.
HSE's Paul Reid says that the situation with hospitals is "extremely volatile" and can change "extremely quickly". He urges the public to continue adhering to public health guidelines | https://t.co/2VhNtzZY5s pic.twitter.com/xNK7H1TzlK

— RTÉ News (@rtenews) December 23, 2020
In relation to new advice issued for those travelling from Britain, Dr Henry said this strain "represents an additional threat to the way of transmission we already know".
When asked if he thought people would follow advice, he said he could not give the assurance that everyone would, but the HSE would get in touch with as many people as it could to give them the proper public health advice and how to get tested as close as possible to Day 5 following their arrival in Ireland.
Mr Reid urged people to take care when visiting vulnerable people, and to protect healthcare workers.
He said there are a number of issues that concern them, such as a high presentation of people to hospitals, and the risk that a high community transmission can impact a large number of healthcare workers, particularly with the mix of people visiting homes over Christmas.
This would be the worst of both scenarios, he said, where there is a reduction in the number of staff available and an increase in the number of people attending hospital services.
Mr Reid said there is a lag between the increased number of cases and hospital presentations, and they expect to see a rise in numbers by early January.
HSE Chief Operations Officer Anne O'Connor said there has been a continued improvement in relation to the outbreaks of Covid-19 within hospitals.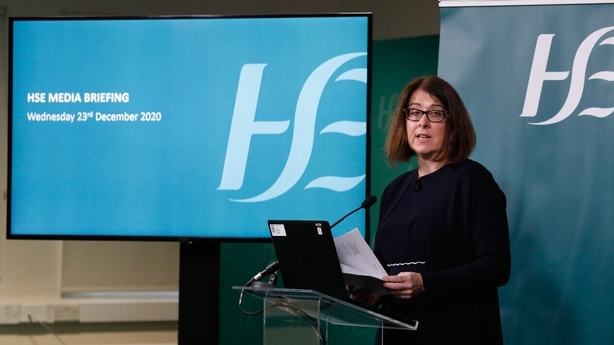 She said there was a high number of hospital staff affected a few weeks ago, but the situation has "improved considerably".
She said 59 staff are affected at St Luke's Hospital in Kilkenny, eight at University Hospital Waterford, 52 at Tallaght University Hospital and 17 at Naas General Hospital.
This figure is "significantly lower" than a few weeks ago, Ms O'Connor said, when more than 500 staff were affected.
In relation to the flu vaccine, Ms O'Connor said over 1.1 million people have been vaccinated - a 47% increase on last year.
"Thankfully, we're not seeing any flu in our system which we were seeing this time last year", she said.
Additional reporting by Mary Calpin