The Department of Health has been notified of 527 new cases of Covid-19, taking the total number of confirmed cases to 78,776.
There have been five further deaths, bringing the overall death toll to 2,154.
The number of patients with Covid-19 in intensive care is 28, which is down six from yesterday.
Of the cases notified today, 271 are men and 255 are women, with 65% under 45 years of age. The median age is 37 years old.
Dublin had the highest number of cases with 191, while there were 54 in Cork, 44 in Donegal, 32 in Wexford, and 27 in Kilkenny.
The remaining 179 cases were spread across 20 other counties. The 14-day incidence rate is 102.4, which remains one of the lowest in Europe.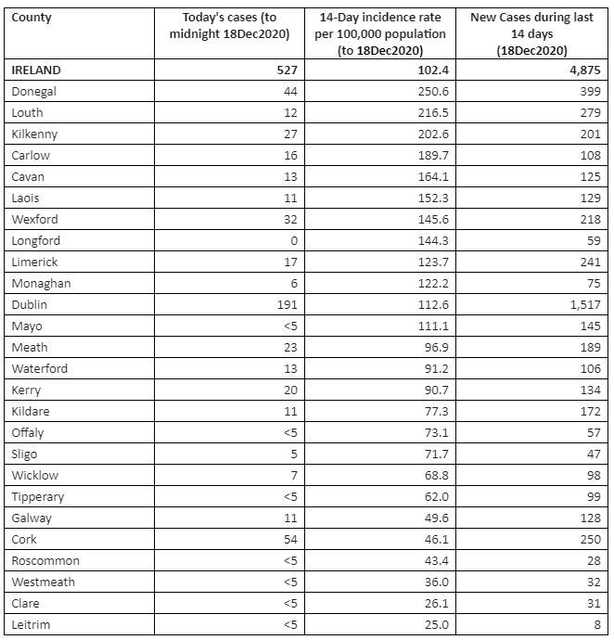 There were 207 patients in hospital as of 2pm today, of which 28 were in ICU, with 12 additional hospitalisations in the past 24 hours.
Chief Medical Officer Dr Tony Holohan said: "The figures we are seeing across all key indicators of disease severity continue to give us strong reason for persistent, ongoing concern.
"As we head into a week with uniquely risky inter-household and inter-generational mixing, please remember to act responsibly.
"Start this weekend. It is never too late to cut down your contacts, cancel plans, or avoid a crowd.
"Bear in mind that you may well be the link in a chain of transmission that ends with a vulnerable loved one catching this dangerous disease.
"Stop that chain of transmission now - limit your movements today."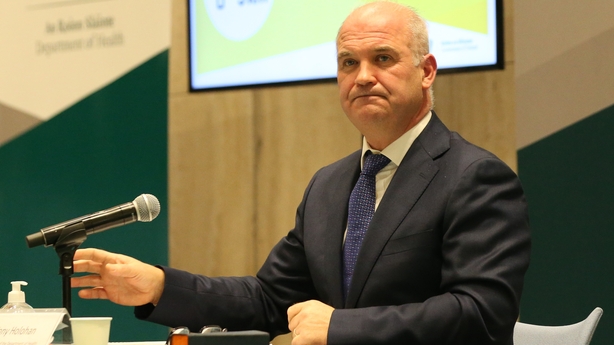 Director of the National Virus Research Laboratory, Dr Cillian de Gascun, has said a new variant of Covid-19 that now makes up 60% of the cases detected in London has not been found here.
British Prime Minister Boris Johnson announced today that London and the south-east of England are to be placed into a new higher tier of Covid-19 restrictions because of the spread of the more infectious variant of the virus.
Dr de Gascun said authorities here will be vigilant for the new strain as a period of Christmas travel approaches.
"We'll continue to do genome surveillance to identify the virus should it arrive in Ireland. Certainly if you look at the figures that were presented this evening, the virus does seem to be spreading quite rapidly.
"Now that said, they're [England] introducing measures to try to prevent it spreading more widely within the country... so hopefully we won't see it imported over the coming weeks.
"But obviously if we do, if we have cases in people who've returned from the UK then we'll work with our public health colleagues to identify those cases and prioritise them for sequencing," said Dr de Gascun.
Cabinet to discuss latest NPHET proposals on Tuesday
Meanwhile, people will still be permitted to travel between counties up until, and including, 6 January under plans being considered by the Government.
RTÉ News understands that restaurants and bars serving food will be allowed to continue trading up until 30 December.
It is also understood that hotels may not be included in any upcoming hospitality restrictions.
The Cabinet is set to meet on Tuesday to discuss the latest proposals from the National Public Health Emergency Team, urging the closure of bars and restaurants from 28 December.
NPHET also advised a halt to inter-county travel and a limit on visitors to one other household. At present, up to three households can gather together until 6 January.
A number of ministers have privately indicated that they favour a less restrictive approach around the Christmas period.
Senior government sources have told RTÉ News that plans are being considered to continue to allow inter-county travel up until 6 January.
The Government is also expected to agree that restaurants and bars serving food will be able to stay open until 30 December.
That is two days later than what NPHET advised, but a week earlier than previously planned.
Visitors will also be limited to one household from 30 December. This means the shutters are coming down on New Year's Eve celebrations.
The Restaurants Association of Ireland has called for an urgent meeting with the Taoiseach and Tánaiste to discuss the plans for the hospitality sector.
It said the sector is being scapegoated as there have been no outbreaks attributed to the sector in the past two weeks.
The RAI said 150,000 workers face an uncertain future heading in to 2021 and called for immediate clarity from Government on when they will close and for how long.
The Minister for Public Expenditure and Reform has defended the decision to wait until Tuesday before the Government makes a decision on new restrictions to curb the spread of Covid-19.
Michael McGrath said Ireland is doing well in an international context but he said "the recent rise in the number of cases is concerning, so we will take action to protect public health".
Mr McGrath said that while protecting public health remains the number one priority, he said, "I think Government is right to take a short number of days to give careful consideration because of the impact that the imposition of restrictions has on people's lives, on jobs and on the economy".
Rise in cases 'deeply troubling'
Fine Gael TD Neale Richmond said there was a reason the decision on whether to take up NPHET's advice was happening on Tuesday, as the Government had to take on other advice such as from the ESRI.
Speaking on RTÉ's Saturday with Katie Hannon, he said it does not help the matter that details were emerging before the decision was taken, and that until it comes out of the Taoiseach's mouth, then it should be taken with a grain of salt.
Mr Richmond said the country could not achieve a zero-Covid approach when all factors were taken into account, adding that Ireland was not like New Zealand.
Also speaking on the programme, Independent Senator Michael McDowell said NPHET has not fully taken into account the economic effect of some of the advice it gives.
He said that every closure NPHET advocates should be "clearly economically justified".
---
This broken year of Covid has fractured all our lives
Read more coronavirus stories
---
Sinn Féin TD Eoin Ó Broin said the rising number of cases north and south was "deeply troubling" and that clarity needs to be given to people.
Mr Ó Broin said given the level of urgency around the issue, it is warranted for Tuesday's Cabinet meeting on the NPHET advice to be brought forward.
He said NPHET's job was not to deal with economics but to prioritise public health, adding that any proposal they give needs to be taken seriously.
Additional reporting Mary Regan and George Lee