The Covid-19 situation in Ireland is getting worse "more rapidly" than expected, the Chief Medical Officer has said.
Dr Tony Holohan was speaking after there were six further deaths and 582 new cases of Covid-19 reported to the Department of Health.
A total of 2,149 people have died with the disease here with the cumulative number of infections now standing at 78,254. This includes the denotification of six previously confirmed cases.
There are 34 patients with coronavirus in intensive care, an increase of three since yesterday. Overall there are 198 people with Covid-19 in Irish hospitals, with 13 additional hospitalisations in the past 24 hours.
Dr Holohan said: "Over the past week, we have expressed significant concern that the level of infection was deteriorating day on day. The data today adds further evidence that the situation is getting worse more rapidly than we expected.
"The country simply cannot cope with this level of infection as we head into Christmas week. With vaccines offering hope in the coming months for our most vulnerable groups, we want to keep them alive and well so that they can receive them.
"Each one of us must do all we can to protect public health - cut your contacts, see only those you need to see. Choose to socialise safely, outdoors if possible. If you see a crowd, avoid it.
"By choosing to act safely right now, together we can limit the impact this disease will have in the weeks and months to come - and in doing so, we can protect the vulnerable and prevent unnecessary deaths."
The Deputy Chief Medical Officer said the National Public Health Emergency Team is extremely concerned about the extent to which the virus has changed over the past week.
In a video posted to Twitter, Dr Ronan Glynn said: "We have had over 2,700 cases in the past week. This is a national issue and we are seeing a rise in cases across the country.
"Seventeen counties have had more cases over the past seven days compared to the previous week. Fourteen counties now have a community positivity rate of 5% or more.
"The five day average has increased from 258 cases a day on 10 December to 417 cases this evening."
Dr Glynn warned: "The situation is all the precarious given the potential level of widespread inter-household and inter-generational mixing that is likely to take place over the Christmas and New Year period which may lead to a wave of infection with a different and higher risk profile.
"There is particular concern about people aged 60 and over, who may be exposed to the unique pattern of socialisation associated with the festive period, as well as those with underlying conditions or who are obese."
Speaking on RTÉ's Six One News earlier, Dr Glynn also urged people to cut their contacts dramatically in the coming days and not to meet up with people unless they have to.
Dr Glynn said this was a difficult time of year to hear this but he was confident that the majority of people will heed the message. "The fewer people you meet, the less chance the virus has to spread."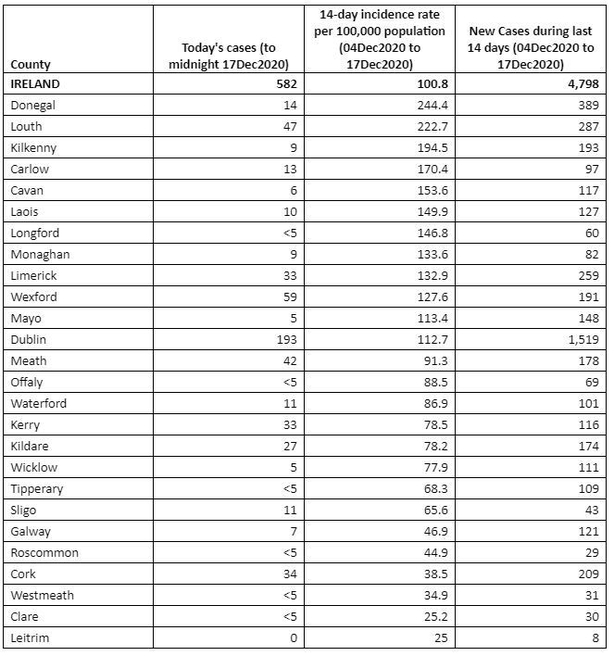 Of the cases notified today 310 are men and 265 are women with 60% being under 45 years of age.
There were 193 cases in Dublin, 59 in Wexford, 47 in Louth, 42 in Meath, 34 in Cork and the remaining 207 cases are spread all other remaining counties.
The 14-day incidence rate per 100,000 population nationally is now at 100.8. Donegal has the highest infection rate in the country at 244.4, followed by Louth (222.7), Kilkenny (194.5) and Carlow (170.4).
The counties with the lowest incidence rate include Leitrim (25), Clare (25.2), Westmeath (34.9), Cork (38.5) and Roscommon (44.9).
---
Read more: Latest coronavirus stories
---
Here is a short video outlining why NPHET is now so concerned about #COVID19 and what we can all do to protect one another in the days ahead pic.twitter.com/SCwswQrS4X

— Dr Ronan Glynn (@ronan_glynn) December 18, 2020
Earlier the Irish Nurses and Midwives Organisation said that nurses are to begin training next week for administering the Covid-19 vaccine. The INMO said it is vital that the health and wellbeing of healthcare workers is protected at this time.
General Secretary Phil Ní Sheaghdha told RTÉ's Today with Claire Byrne that the INMO is engaging twice a week with the Health Service Executive regarding the administration of the vaccine programme, which she said will be nurse-led.
She said that overcrowding remains an issue in hospitals and that this affects social distancing and safe work practices.
Ms Ní Sheaghdha said that there has been a very high incidence of healthcare worker infection with 12,500 infections recorded up to this week.
She said that in the coming weeks "we have to ensure hospitals can cope as when people get sick with Covid-19 they get very sick and very fast".
She said that ICUs and acute services are coping but staff are very tired and 'we have to make sure we do not have a situation that develops similar to Northern Ireland'.
Ms Ní Sheaghdha said there is huge pressure on rosters for nurses and that with Covid figures "going the wrong way this week and have to ensure healthcare workers are not overwhelmed".
She said that trolley figures went up to 316 recently and this would be worrying even without a pandemic.
Ms Ní Sheaghdha said that the INMO is really worried that despite 78 new beds in University Hospital Limerick, overcrowding remains a big issue.
She said the HSE needs to "look under the bonnet" to see why this is continuing.
Also, she said that student nurses have reluctantly accepted the independent review of their allowances.