Taoiseach Micheál Martin has said there will be a "build up" of Covid-19 vaccine availability in January and February next year, followed by higher volumes in March, April and May.
Speaking at the end of an EU summit in Brussels, Mr Martin said there had been a commitment by EU leaders to coordinate the roll-out of the vaccine, which would be led by the European Commission.
He said the Pfizer/BioNTech vaccine would come first, and the Moderna vaccine was due for conditional market authorisation on 12 January.
The Government is due to receive details today from the High-Level Task Force on Covid-19 Vaccination of how to roll out the Covid-19 vaccines.
A logistical plan will detail how various vaccines will be stored and transported.
However, the task force report is unlikely to be published until next week, after consideration by Cabinet on Tuesday.
The Government believes communication with health professionals and the public is going to be key to delivering the vaccination programme.
The task force, chaired by Professor Brian MacCraith, has been considering the deployment and administration of Covid vaccines.
The large-scale logistical operation will kick in early next year once vaccines have been approved by the European Medicines Agency.
GPs and pharmacists are likely to be involved in immunisations but mass vaccination clinics may also be required.
Nine ultra-low temperature freezer lorries have arrived in the country to assist in the roll-out.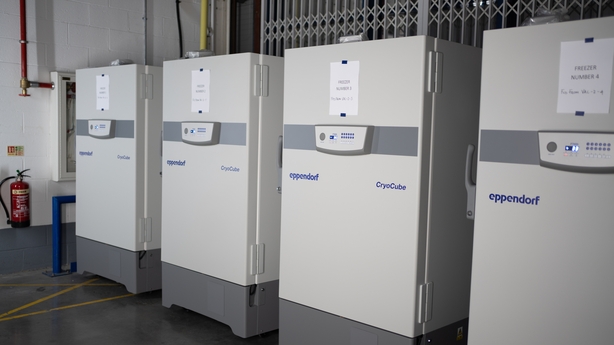 Vaccines will be free to everyone, and the task force is likely to recommend how records will be maintained.
The Government is also working on a communications plan to deal with people's concerns and to combat misinformation.
Details of the sequencing of the vaccine have already been published with priority for those aged over 65 in long-term care followed by frontline healthcare workers and other groups.
Doctors, nurses and pharmacists will administer the Covid-19 vaccines under proposals being drawn up by Government.
---
---
Leading immunologist Professor Luke O'Neill has said good communications are "central" to the roll-out of the Covid-19 vaccine.
Speaking on RTÉ's Today with Claire Byrne, he said that all information about the vaccine needs to be "100% transparent".
On the same programme, the former director general of the Health Service Executive said the Government has a "twin challenge" of trying encourage everyone to want the vaccine but also making people wait in line for it.
Tony O'Brien said a prioritisation list is important for vaccinations, but queried whether it might have been better to hold off on the list until we see the implementation plan.
"It is a little too soon for people to get het up about their place on the list but the list does make sense," he said.
Earlier, the chairman of the Irish Medical Organisation's GP sub-committee said the vaccine roll-out in Ireland will depend on how transportable it is.
Speaking on RTÉ's Morning Ireland, Dr Denis McCauley said that at present he understands a certain amount will arrive into the country in January and, if it is the Pfizer/BioNTech vaccine, it could be "technically difficult" to work with given the specific storage requirements.
The UK has already begun its roll-out of the Pfizer/BioNTech vaccine.
Dr McCauley said GPs are important in the roll-out of the vaccine, adding: "This is what we do ... we are good vaccinators and good at picking out at-risk groups and reassuring them.
"We have to take the fear and mystery out of it."
Regarding any possible side effects, Dr McCauley said doctors have to explain to people it may mean a sore arm or a headache for a few days but that it will ultimately allow them to return to their daily lives.
Additional reporting Sandra Hurley, Micheál Lehane