A survey by the Central Statistics Office on the well-being and lifestyle of people under Level 5 restrictions has found that 11.5% of respondents felt downhearted, or depressed, all or most of the time.
It compares with 5.5% of respondents surveyed in April.
In November, more than one in three respondents rated their overall life satisfaction as 'low' compared with 29.6% in April and 8.7% in 2018.
Just over 39% of respondents believe that, within the next 12 months, their lives will return to something like it was before the onset of the Covid-19 crisis.
Over 45% of people believe it will be between one and two years.
More than two in ten respondents who consume alcohol reported an increase in their alcohol consumption, compared with before the onset of the Covid-19 crisis.
More than four in ten respondents said that their consumption of junk food and sweets had increased.
Almost three in ten people said spending more quality time with the people they live with is an aspect of their lives that has changed for the better.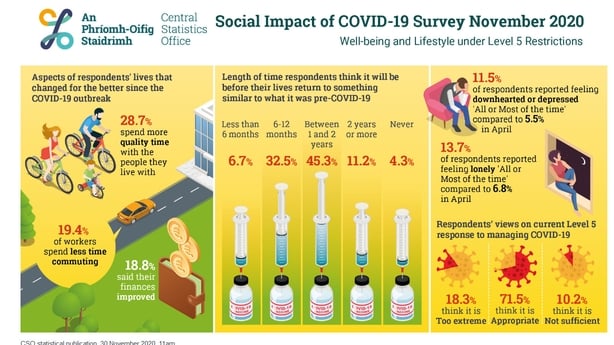 Of those working from home, 27.3% said they were finding it more difficult, 37% said it was getting easier and 35.6% said there was no difference as time passes.
The survey found that more than 71% of respondents believed the Level 5 response was appropriate.
The survey involved an online electronic questionnaire with a sample size of 1,585 individuals.
Meanwhile, the Government has started a new campaign to give young people badly affected by the restrictions an outlet to voice their experiences.
Assistant Secretary at the Department of the Taoiseach Liz Canavan said that the movement, #antiviral, is available now on social media channels such as Facebook, Instagram, YouTube and TikTok.
She said that young people have been particularly badly affected by restrictions this year.
"From school closures, to restrictions on meeting friends, from not being able to attend college in person, not being able to get a job, to missing out on so many rites of passage and formative experiences," she said.
A number of departments and outside groups have been consulted to find out more about the effects of this, Ms Canavan said.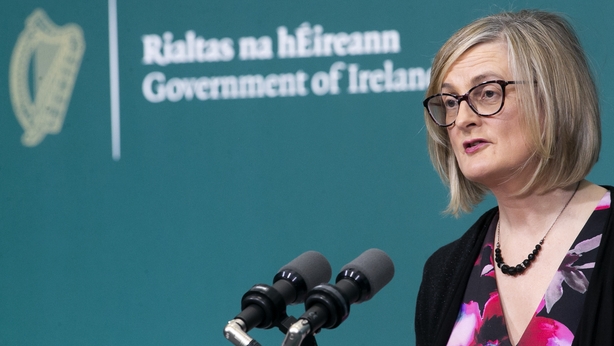 She added: "As a group they have sometimes been unfairly highlighted for images of non-compliance that appear from time to time on social media.
"We don't believe this represents the behaviour of the majority. We have seen incident rates fall among young people. We know the enormous effort and sacrifice this takes.
"We want to emphasise the positive behaviours of the majority and to give this silent majority a forum to make their voices heard."
Ms Canavan also said that Christmas will be different this year, but has urged people to celebrate safely in the coming weeks.
Additional reporting Conor Kane
---