Immunologist Professor Luke O'Neill has been giving advice about how to reduce the risk of transmission of Covid-19 over Christmas.
Speaking on RTÉ's Today with Claire Byrne, Prof O'Neill said that children should "hug their grandparents briefly outdoors, while wearing a mask".
The professor of biochemistry at the School of Biochemistry and Immunology at Trinity College Dublin said "sadly the less time the better" is the best way to reduce the risk of passing on the virus to older people.
"Don't pass the gravy boat," Prof O'Neill advised.
It comes after the National Public Health Emergency Team's meeting regarding Covid-19 restrictions was brought forward from Thursday to tomorrow. Its advice will feed into the Level 5 exit plan.
The Government decision on easing Covid-19 restrictions next week is now most likely to be taken on Friday.
The expectation is that the country will move to 'Level 3 plus' next week from midnight on Tuesday 1 December.
If people are having Christmas dinner with others, Prof O'Neill says:
They should bring their own dinnerware
Have a single person do all the serving to keep numbers down in the kitchen
Stagger people sitting around the table to avoid people sitting opposite each other
Have good ventilation
Do not to spend too long in each other's company
"You can't be having ten hours in a stuffy room together playing family games," Prof O'Neill said.
He said ventilation is one of the key pieces of advice from the Center of Disease Control in the US, which is guiding people on how to celebrate Thanksgiving safely.
"Good ventilation, open the window, have a heater on if you get cold.
"Stick grandpa by the window and have a good breeze blowing through, and this will really decrease the risk, so it is possible to have a Christmas together," Prof O'Neill said.
---
---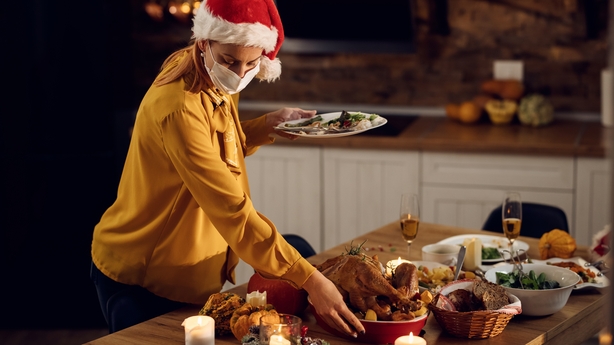 He advised people to get the vaccine for Covid-19 when regulators have deemed them safe.
As a result of the knowledge gained during the quest to find a vaccine for the coronavirus, it could lead to the discovery of vaccines for diseases such as HIV and Malaria, Prof O'Neill said.
Prof O'Neill acknowledged that there "are scare stories out there about vaccines", but said "when all the health agencies in the world are saying to use this vaccine, and provided the regulators are happy, and they get the seal of approval then everyone should line up and get it".
He said there are encouraging signs about the effectiveness of therapies being used to treat Covid-19 in hospitals, the results of which can be seen in the low rate of deaths in Ireland compared to other countries.
Prof O'Neill also said that the "amount of dose is also important. The lower the dose of virus the better you do".
'Inevitable' that mixing and socialising will start spread again
Meanwhile, the Irish College of GPs' lead adviser on Covid-19 has said it is "inevitable" that if more people start to mix and socialise the virus will start to spread again.
Dr Nuala O'Connor urged people to "think very carefully about who are the people we really want to spend time with" and to do so in as safe a manner as possible to reduce the resurgence of the virus and another peak in cases in January.
Speaking on RTÉ's Morning Ireland, she encouraged everyone to avoid crowded, poorly ventilated indoor spaces, crowded places and close-contact settings.
Dr O'Connor also said that a 20% drop in the prescribing and use of antibiotics this year is possibly linked to greater awareness of infections, as well as the social restrictions that have limited personal interactions.
She said that each winter GPs stress the importance of only using antibiotics when needed for a bacterial infection, not for colds or viruses.
She said that the hope is that people have learned from the Covid-19 pandemic and can build on the knowledge about viral infections and "stay out of circulation" when ill to stop the spread of viruses and to continue to use hand hygiene and tissues post-Covid to limit the spread of infections.
Dr O'Connor said that the spread of antibiotic-resistant superbugs has highlighted the overuse of antibiotics, with 37,000 deaths in Europe each year from superbug infection and 700,000 deaths worldwide.
'Not everyone will be vaccinated at the same time'
The World Health Organization's Special Envoy on Covid-19 has warned that "Christmas will be a very risky time for many of us".
Speaking on Today with Claire Byrne, Dr David Nabarro said people who intend to socialise with others over the Christmas period they must do so "with a healthy respect for the virus".
Dr Nabarro said there will be a possible "double effect" of transmission at Christmas if people have been gathering with friends, and then go on to gather with their families.
"We've seen how, when people come together and mingle that after a few weeks this leads to a surge in cases of the virus, people getting sick; people dying.
"These moments when people come together, weddings, parties, rallies, celebrations, karaoke nights in the Far East, that's when the virus spreads.
"If you combine that with a family coming together, then you get the double effect of transmission among family members, I just think Christmas is going to be a very risky time for many of us."
He said: "If we are going to start being social, we need to combine with it, a healthy respect for the virus. So that we don't end up with a big spike in cases in January or early February."
In relation to the possible reopening of restaurants, Dr Nabarro said while it does not happen often, the hospitality sector has played a role "in dramatic spreading events".
"It doesn't happen everywhere. It doesn't happen every time. But you get these dramatic spreading events occurring as a result of a party or as a result of a night out with friends."
There are 291 people with Covid-19 in hospital today, 33 of these patients are in intensive care.
As of 8pm yesterday, Letterkenny University Hospital had the highest number of Covid positive patients in the country at 41.
St James's Hospital and Tallaght University Hospitals both had 32 patients with the virus, while a further 31 patients were being treated at University Hospital Limerick.
There are currently 39 vacant adult critical care beds in the system.