The Department of Health has confirmed that 226 new cases of coronavirus have been identified, with six further deaths.
The death toll from Covid-19 in Ireland is now 2,028, with a total of 70,930 confirmed cases.
The number of patients in ICU stands at 36, up three from yesterday.
The cases identified today include 115 men and 109 women, while 56% under 45 years of age and the median age is 42.
The department said 64 of today's cases were in Dublin, 41 in Donegal, 23 in Tipperary, 13 in Limerick, 12 in Louth, 12 in Wicklow, and the remaining 61 in 16 other counties.
The geographic breakdown of the daily figures show that Sligo, Leitrim, Offaly and Roscommon reported no new cases today.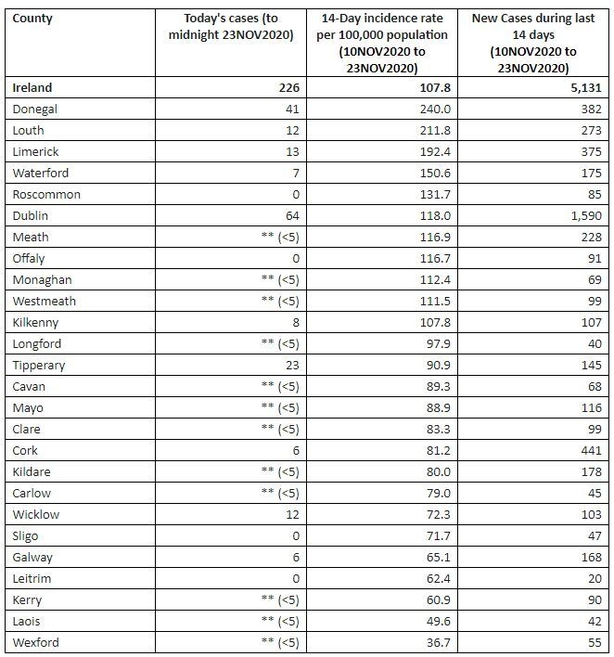 There were 12 other counties that reported fewer than five cases each. This is the first time this month that more than one county had no new cases on any given day.
In Northern Ireland, the Department of Health reported a further 11 Covid-19 deaths today, bringing the death toll there to 947.
There were 79 new cases of infection confirmed in past last 24 hours.
The figures come as it was confirmed that Minister for Health Stephen Donnelly has signed regulations that give gardaí the power to fine people €80 for not wearing masks on public transport or in a retail setting.
The new system of fines has been in place since Sunday.
Organising an event in a private dwelling or elsewhere will carry an on-the-spot fine of €500.
Fines of €150 are now in place for those attending an event in a private dwelling, while breaching travel regulations can lead to an on the spot fine of €100.
Meanwhile, Taoiseach Micheál Martin has told the Dáil that the second wave of the coronavirus pandemic is not over.
He warned that the pending Government decision on easing restrictions would not be palatable to everyone.
Earlier, Tánaiste Leo Varadkar told the Dáil that a short third period of enhanced restrictions may be necessary in January or February.
"A short third period of enhanced restrictions may be necessary in January or February"@LeoVaradkar says the Government should seek to ease restrictions next week, but not so much so that it requires a return to Level 4 or 5 next year | More: https://t.co/6OfSQVVrQA pic.twitter.com/9yOSl7753e

— RTÉ News (@rtenews) November 24, 2020
The Government decision on easing Covid-19 restrictions next week is now most likely to be taken on Friday.
It follows a brief discussion on the restrictions at Cabinet this morning. A further meeting is expected to take place on Friday.
It will be preceded by a meeting of the National Public Health Emergency Team tomorrow and possibly a meeting of the Covid-19 Cabinet sub-committee on Thursday.
The latest data from Thursday will be used when options are being considered by Government.
The key point that must be finalised is when restaurants and gastro pubs reopen and what guidelines might need to be issued to allow for indoor dining.
The prospect of pubs that do not serve food opening this year is said to be diminishing all the time.
There is said to be a determination in Government that once gastro pubs and restaurants reopen they should be able to remain open into January.
Ministers must also decide on when exactly inter-county travel will be permitted in the days leading up to Christmas.
Guidance on household gatherings is also set to be issued, but it is likely to be general in nature.
Also, a decision will have to be taken on what point after Christmas the inter-county travel restriction might be reintroduced.
It is likely that all shops and hairdressers will be able to reopen from Wednesday next week.
Then on Christmas week people will be able to travel beyond their county.
"The data will inform next steps, it is not guesswork"@MichealMartinTD says nobody should question the good faith of those whose goal is to protect lives, and that it needs to be noted Ireland is performing well in suppressing the virus | More: https://t.co/y0zp4tHfC3 pic.twitter.com/wQAkiLMjcd

— RTÉ News (@rtenews) November 24, 2020
The Minister for Public Expenditure and Reform has said that he would like to see the economy reopen as much as possible next month, as long as it is safe to do so.
Michael McGrath said Cabinet is very conscious that it has significant decisions to make this week and will balance a range of considerations.
He said ministers will listen carefully to the advice of NPHET while considering some valid economic considerations as December is a crucial month for large parts of the economy.
Mr McGrath said Christmas is a very important time for families around the country who wish to see each other.
However, he added that consideration must be given to the early part of 2021, so we start the new year on the best possible footing.
A range of competing factors must be weighed up, the minister said, acknowledging that it will not be possible to please everybody.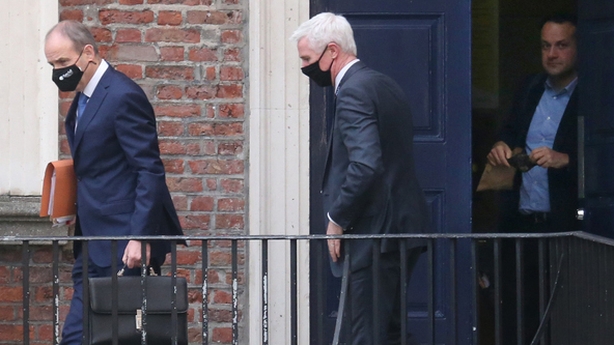 Minister for Transport, Environment, Climate and Communications Eamon Ryan said the reopening must be done in a controlled way and that gyms, churches and galleries should be first in line.
Minister for Social Protection and Rural and Community Development Heather Humphreys also said the Government wants to see the economy reopened in a safe way.
Speaking on RTÉ's News at One, Ms Humphreys said the aim "is to move to Level 3 with certain restrictions and adaptations so there may have to be some nuances, but that's all for discussion towards the end of the week".
Sinn Féin repeated its call for a coordinated approach to Covid-19 on the island of Ireland.
Social Democrats co-leader Róisín Shortall said data should drive decisions and she called for early announcements to give certainty, especially for pubs and restaurants.
Speaking on RTÉ's Prime Time, the minister of state for European Affairs Thomas Byrne said the Government wanted to get as many businesses as possible open in the coming weeks.
He said there are "lives and livelihoods" dependent on the decisions being made by Government this week.
Independent TD and former Minister, Denis Naughten, told the same programme that the Government is not being given the data that is necessary to make the big calls about what restrictions are needed.
He said the Government needed to provide clear advice to the public and that the data required is not being made available to help the Government to make decisions surrounding Christmas.
---