Tánaiste Leo Varadkar has advised people looking to book flights home for Christmas not to do so at the moment.
Speaking in the Dáil, Mr Varadkar said it was "too soon" for people to book flights returning to Ireland.
He said: "I think in terms of people booking flights for Christmas to come home, I'd advise them not to do that at the moment.
"I know that's difficult, I know that's tough, but Christmas is six weeks away and it is too soon now for people to be booking flights to come home."
Mr Varadkar said there are dangers that international travel could reseed the virus here.
He also said that an even greater risk is posed by north-south travel as the virus rate falls here, which is something that concerns the Government.
Social Democrats co-leader Róisín Shortall said she knows the importance of Christmas for families and the business community.
She said it was really important not to engage in short-term thinking and the last thing anyone wants is to go into a third lockdown in January.
---
---
Ms Shortall asked what the level of oversight will be for the testing system for those entering the country this Christmas.
The Tánaiste said he did not know what formal level of oversight would be in place, but there would be sufficient contact tracers.
He said the Government would look to see if a legal framework might be required to ensure people travelling from countries ranked as 'Red' under the EU travel system take a virus test within five days.
Tánaiste Leo Varadkar advising people not to book flights home for Christmas "at the moment" | Read more: https://t.co/t4CGBVnSPi pic.twitter.com/e8MTAhLOZG

— RTÉ News (@rtenews) November 12, 2020
There was a strong reaction from Irish people living abroad to suggestions by the Tánaiste that they should not be booking flights home for Christmas.
Ryanair condemned Mr Varadkar's advice for Irish citizens not to book flights just yet.
In a statement, the airline called on the Tánaiste to confirm his support for the EU traffic light system.
"Aviation is a critical part of national infrastructure and the Tánaiste, who is responsible for job creation, should be supporting the 'traffic light system' instead of undermining it," it said.
Mr Varadkar also said today the Government hopes to be in a position to allow masses and religious services to resume again in early December.
However, he said like any gathering, there was a risk of the virus spreading.
The Tánaiste also ruled out a request by Independent TD Peter Fitzpatrick for the army to police the border to stop the spread of Covid-19.
Meanwhile Independent TD Michael Healy-Rae said people are crying out for a normal Christmas, and was not impressed that the Taoiseach suggested Level 3 with tweaks to it.
Speaking on RTÉ's Prime Time, he said that there is no harm in opening churches up which he thinks can be done in a safe manner. 
Mr Healy-Rae said people need to be cautious this Christmas and that the Government should have rapid testing at airports.
Fine Gael Deputy Jennifer Carroll MacNeill said it is not going to be the same Christmas this year, and that we need to get case numbers down to 100 a day.
Speaking on the same programme, she said that the Government would like to do as much as it can. She also agreed with the Tánaiste that it was too soon to book flights home from Christmas.
We need your consent to load this rte-player contentWe use rte-player to manage extra content that can set cookies on your device and collect data about your activity. Please review their details and accept them to load the content.Manage Preferences
Dr Jack Lambert, a consultant in infectious diseases at the Mater Hospital, said if people have "compelling reasons" to travel home to Ireland for Christmas then they should do so.
But he warned they must also ensure that they take the appropriate precautions after entering Ireland from another country.
Speaking on RTÉ's Drivetime, Dr Lambert said it is safe for people to travel into Ireland if they follow all of the advised isolation procedures. "There is no right or wrong answer here," he said. 
"If there are compelling reasons that people want to travel, then they should do it. They should do it safely and they should follow all the appropriate precautions. If they do that, then it's safe."
Dr Lambert said if he received a negative PCR test within five days of arrival, he would still continue to follow the public health guidelines like social distancing and wearing a face covering, especially if he visiting a vulnerable person.
Professor Sam McConkey told RTÉ's Six One News that when it comes to international travel, it is "more important" that rates in the US, UK and red zone EU countries start to decline to help prevent the virus being brought in here.
"We are not seeing that yet," said the infectious diseases consultant.
Prof McConkey said if countries become a green zone, then people could travel to Ireland from those places very safely.
He said reverting to Level 2 restrictions would be "a possibility" if rates go down to as few as 10 to 20 cases per day. Level 3 would be required if they were around 40 to 50 a day at the end of this month.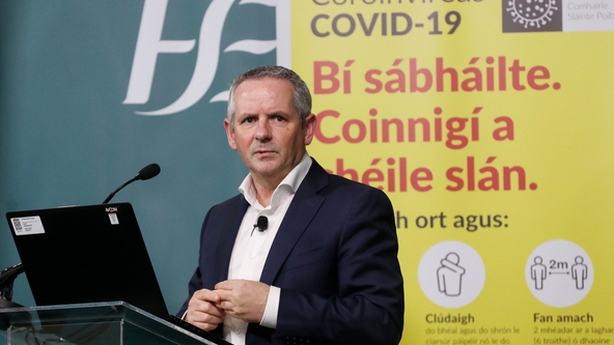 Earlier today, HSE Chief Executive Paul Reid said it was far too early to say if people could travel for Christmas, describing the situation as "very volatile".
Speaking at the HSE's weekly briefing, he said the next three weeks was the health service's "immediate lens for people to hold their resilience and their guard".
He said as long as the presence of the virus exists, it puts the healthcare system at risk.
It's far too early to call either way whether people will be able to travel for Christmas. 'This is all very volatile,' says Paul Reid. | Read more on coronavirus: https://t.co/r9KkvZYnMi pic.twitter.com/hQhwXCWxz2

— RTÉ News (@rtenews) November 12, 2020
Mr Reid said this was seen in particular this week, across three acute hospitals including in Naas General Hospital, University Hospital Limerick and Letterkenny University Hospital, with three outbreaks that have impacted them in terms of staffing.
He said some of the actions they had to take include reductions in elective care and in some cases the closure of medical and surgical wards, and that those hospitals are under significant pressure.
As long as we have the virus in this country, it puts our healthcare system at risk, HSE CEO Paul Reid says. Three acute hospitals - Naas, Limerick and Letterkenny - are impacted by staffing issues and wards being closed. | Read more on coronavirus: https://t.co/r9KkvZYnMi pic.twitter.com/NNH0wii9B3

— RTÉ News (@rtenews) November 12, 2020
Mr Reid said it demonstrated the urgent need for everybody to continue the actions that they have been taking over the last few weeks, adding that we are only at half-time in a very difficult challenge.
Any slippage in compliance from the public, he said, could have an even more significant impact than they have seen across those three hospitals.
Asked about the news regarding a potential vaccine, Mr Reid said it was very positive news for everyone, but added it needed to be acknowledged that very significant steps still have to happen before any roll-out, whether that be validation of data or regulatory approval.