Chief Medical Officer Dr Tony Holohan has said that people who contract Covid-19 and people who are close contacts must act fully in accordance with the public health advice.
In a series of tweets, Dr Holohan said that there are "too many stories" of people having symptoms or who are waiting on test results who are not self-isolating, and people who are contacts but are not restricting their movements.
"We need to have cases and contacts acting fully in accordance with advice", he said.
He urged people to make sure they know what to do in these cases and to "spread the message, not the virus".
Dr Holohan explained that self-isolating means staying indoors completely and avoiding contact with other people, including the people you live with.
We need to have cases and contacts acting fully in accordance with advice.

There are too many stories of people with symptoms/waiting on tests and not self-isolating, also contacts not restricting movements.

— Dr Tony Holohan (@CMOIreland) October 26, 2020
We need your consent to load this YouTube contentWe use YouTube to manage extra content that can set cookies on your device and collect data about your activity. Please review their details and accept them to load the content.Manage Preferences
Outlining what people should do when self-isolating, he said people need to avoid contact with others, stay apart from other people in your household, clean their room every day with disinfectant, do not have visitors over, and do not attend work, school or public areas.
"I know it will be challenging for you to self-isolate for 10 days, but these actions will help to prevent the spread of Covid-19," he said.
Dr Holohan's message came after the Department of Health announced an additional 939 new cases of Covid-19 were notified to it this evening, while three further deaths were also recorded.
It brings the total number of deaths linked to the virus to 1,885, and the overall number of cases to 58,067
Of today's cases, 444 are men while 483 are women, while 66% of the cases are under the age of 45. The median age of the cases is 32.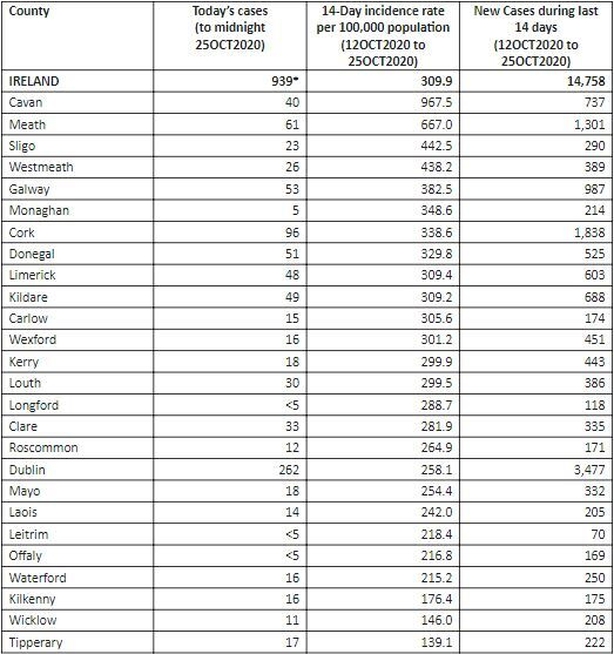 ---
Read more:
Latest coronavirus stories
---
Geographically, 262 cases are in Dublin, 96 are in Cork, 61 are in Meath, 53 in Galway, 51 in Donegal.
The remaining 413 cases are spread across all remaining counties.
As of 2pm, 341 patients were in hospital, of which 38 were in ICU. There were 16 additional people hospitalised over the past day.
Earlier today, the number of hospitalisations reached its highest level since 20 May - 344.
The 14-day incidence rate of the virus nationally now stands at 309.9.
The incidence rate remains highest in counties Cavan (967.5), Meath (667), Sligo (442.5) and Weastmeath (438.2).
The counties with the lowest incidence rates are Tipperary (139.1), Wicklow (146), Kilkenny (176.4) and Waterford (215.2).
HSE Chief Executive Paul Reid said yesterday that the positivity rate in testing for Covid-19 is continuing to decline and that the average number of close contacts per person is now three, down from 4.5.
He said that most close contacts were from households.
He added that while it was too early to be an indicator, it was still a good sign.
Elsewhere, more than half of Irish people would take a Covid-19 vaccine if one became available, according to a new survey carried out on behalf of the Irish Pharmaceutical Healthcare Association.
The survey, carried out by Ipsos-MRBI for the IPHA surveyed 975 people aged over 18 earlier this month and found that 55% of them would take a Covid-19 vaccine if one became available.
One third of respondents said they were unsure, while 12% said they would not take it.
Younger people were less likely to say they would take the vaccine.
Three-fifths of men said they would take the vaccine, while half of women said they would take it.
The age group most likely to take the vaccine were the over-65s, followed by people aged between 35 and 44.
Younger people were the least likely to take the vaccine, with 19% of those aged between 25 and 34 and 18% of those aged between 18 and 24 saying they would not take it.
More than 150 Covid-19 vaccines are in development globally, with about a dozen of them in late-stage clinical trials.
US infectious disease specialist Dr Anthony Fauci said there could be definitive news on a vaccine by the end of this year.