Tánaiste Leo Varadkar has said he was confident that businesses will be able to reopen after six weeks of Level 5 restrictions.
However, the Minister for Enterprise, Trade and Employment said that it was still too early to say what effect the measures were having.
Speaking on RTÉ's This Week programme, Mr Varadkar said the Level 3 measures that were put in place in October were starting to take effect, but that the effect of Level 5 would not be known for a bit longer yet.
"I am confident we will get back to Level 3 and a bit in December, but at the same time we need to not be complacent," he said.
Mr Varadkar said when you tell people that things are improving, there is a danger that can be taken the wrong way and people can let their guard down, which they did not want people to do as the virus was "spreading like wildfire around Europe".
The Tánaiste says he is confident that retailers will be able to reopen after six weeks of Level 5 restrictions; however he said it is early days and people should not be complacent. pic.twitter.com/8LBxtVWIWz

— RTÉ News (@rtenews) October 25, 2020
On non-essential shops staying open to sell PPE, he said they were asking retailers to abide by the regulations and "the spirit of the regulations".
Mr Varadkar said shops should only sell items that are essential, adding that workwear is essential, but other regular fashion is not.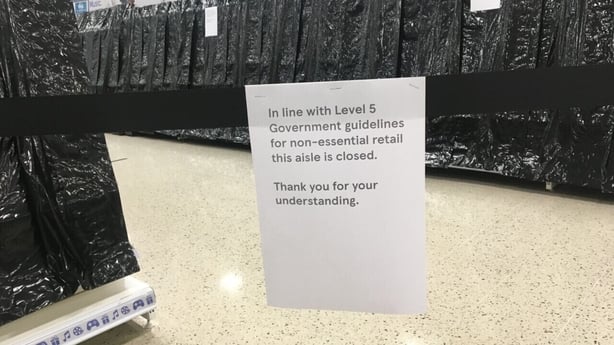 He said it was one thing to sell essential products, but another one entirely to use essential products as a means of opening to sell non-essential products, which he said was "unfair".
The Tánaiste said it was "totally unfair" for retailers staying open in such a way and that gardaí would be enforcing legislation to ensure this would not happen.
Mr Varadkar said for toy shops, it is possible to sell goods online, as well as through using click and collect.
He said bigger shops that were selling toys were in breach of the regulations and they can be stopped from doing so.
Tánaiste Leo Varadkar says mixed retailers should separate stock and only sell items that are essential. He says gardaí have been contacted about this and the restriction will be enforced. pic.twitter.com/XQqTykAdIm

— RTÉ News (@rtenews) October 25, 2020
Mr Varadkar said where a mixed retailer is selling non-essential products, action can be taken against them.
On employers insisting staff come into work, he said the message was for staff to only attend work if there was no way to do the work from home.
The minister said the way the virus spreads is from one person to the other, and what the Government was trying to do was minimise such contacts through such means as working from home.
As part of our National Operation An Garda Síochána is checking compliance with essential retail
Retail services under Level 5 are subject to Penal Regulations, they can and are being enforced
An Garda Síochána continues to use 4Es, Engage, Explain, Encourage and last Enforce pic.twitter.com/dErLC0do2m

— Garda Info (@gardainfo) October 25, 2020
Mr Varadkar's comments come as the Department of Health reported a further 1,025 cases of Covid-19 and no further deaths.
---
---
Opposition criticise Covid-19 fines
Sinn Féin justice spokesperson Martin Kenny has said the Government needs to be able to say to the "tiny minority" of people who are in breach of new Covid-19 restrictions that nobody will go to prison.
Speaking on RTÉ's The Week in Politics, Mr Kenny said that a fine on those exceeding the 5km limit is "too excessive".
He said Sinn Féin was opposed to the legislation on fines as it was "rushed through with no amendments", which he said was "totally inappropriate".
Mr Kenny said the vast majority of people are compliant and want to adhere to the measures and follow the rules.
SF TD @Martin_Kenny says 'The way the Government has handled this has been most unfortunate' #Covid19 #RTEPolitics #RTETWIP pic.twitter.com/eCUC9s5c2d

— The Week in Politics (@rtetwip) October 25, 2020
Speaking on the same programme, Bríd Smith of Solidarity-People Before Profit said the fines were cover for the Government's own failure in dealing with the virus.
She said evidence exists that fines do not work and that it sends the completely wrong message to society that it is about personal behaviour and not the Government's response.
Independent TD Michael Fitzmaurice said he was not an admirer of fines and gardaí will face an enormous challenge.
He said in rural areas, there are people who will go out on walks and aim to walk into towns, which might be over 5km away, given that there is no proper street lighting on the roadside.
Mr Fitzmaurice said we needed to get away from fining people for the restrictions, which he described as "madness".
A statement from Áras an Uachtaráin this afternoon said that the President has signed the Health (Amendment) Bill 2020 into law.
---
We need your consent to load this rte-player contentWe use rte-player to manage extra content that can set cookies on your device and collect data about your activity. Please review their details and accept them to load the content.Manage Preferences