There were 305 confirmed cases of Covid-19 in hospitals as of this morning and 37 of these patients are in intensive care units.
Health Service Executive Paul Reid said hospitals "continue to be challenged" and are making every effort to protect non-Covid services.
Speaking during a briefing this afternoon, Mr Reid said 116,640 Covid-19 tests were carried this week of which 8,146 were positive, giving a positivity rate of 7.3%.
He said that in the week to 17 October, 649 outbreaks were notified to the HSE.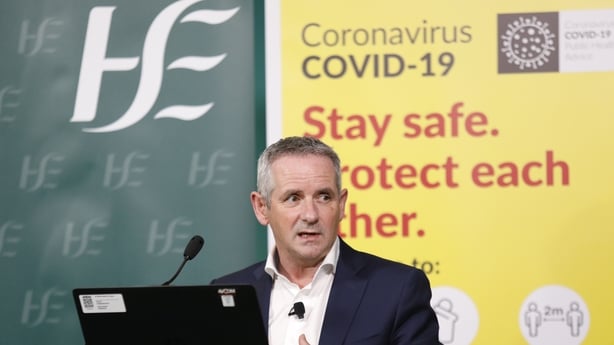 Mr Reid also said that the average number of cases over the past seven days is 1,166 per day, which is up 57% compared to the previous week and the seven-day average is 2.5 times higher than what it was two weeks ago.
He said the 14-day rate is highest among 15-24-year-olds, at 631 per 100,000, up 60% on last week and "more than double the average rate", he said.
Mr Reid said the lowest rate remains in children aged 0-14.
---
---
He said mass Covid-19 testing has taken place in 600 schools based on public health advice, with 15,000 students and teachers tested, and a 2.6% positivity rate reported for last week.
HSE's Chief Clinical Officer Colm Henry said there were 46 outbreaks in schools in the past week.
He said it was more likely that cases identified in schools were as a result of transmission in the community and not in the school setting.
He said child to child transmission is not seen as a major driver of Covid-19 transmission.
Mr Reid also repeated his apology, on behalf of the HSE to the 2,000 people who tested positive for Covid-19 over the weekend and who were asked to identify their own contacts.
He reiterated that the decision was not taken lightly and was taken on the basis clinical, operational and a risk-based assessment.
HSE Chief Paul Reid says the complexity and number of calls are putting added pressure on the HSE | Read more: https://t.co/Ul2iUqUuje pic.twitter.com/m7jmceyi3i

— RTÉ News (@rtenews) October 22, 2020
Mr Reid said there had been 76,000 contact tracing calls from 300,000 Covid tests carried out so far this month and the issues that emerged at the weekend were due to calls taking longer and being more complex.
He said there are now 500 people working in contact tracing with 220 extra staff recruited and between 65 and 75 new staff are being put in place each week.
The Department of Health reported a further 1,066 cases of Covid-19 today, bringing the total to 54,476.