The Department of Health has reported a further 1,066 cases of Covid-19 today, bringing the total to 54,476.
Three people who were diagnosed with the virus have died. The number of coronavirus-related deaths is now 1,871.
As of 2pm today the number of people being treated in intensive care units is 37, up three from yesterday. There are 313 Covid-19 patients in hospitals. Yesterday there were 314 people in hospitals with the virus.
The national 14-day incidence rate has exceeded 300 per 100,000 of the population for the first time. The rate is now 302 per 100,000 of the population.
Cavan still has the highest rate of infection per 100,000 of population at 1055.5.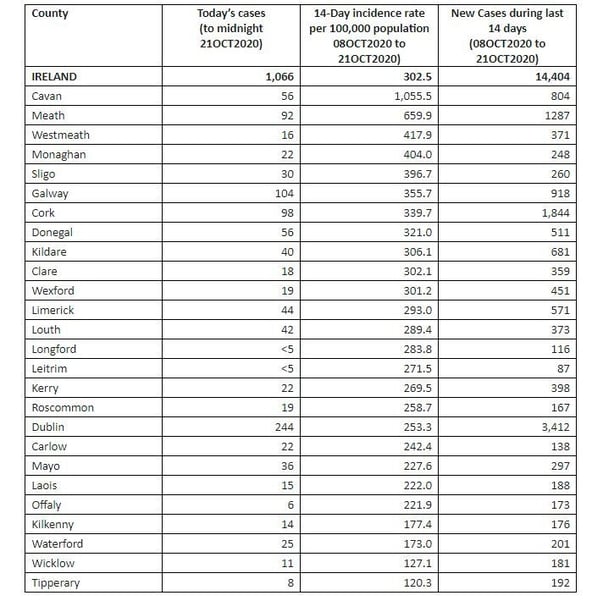 The five-day moving average is 1,160 cases per day.
Dublin accounts for 244 of the cases announced today, 104 of the cases were detected in Galway, 98 in Cork, 92 in Meath, with the remaining 528 cases spread across the remaining counties.
Of the cases notified in the past 14 days the median age was 31, with 69% of those cases aged under 45 years. Over the past seven days 116,640 tests have been carried out with a positivity rate of 6.9%.
There has been an average of over 16,000 Covid-19 tests carried out per day over the last week.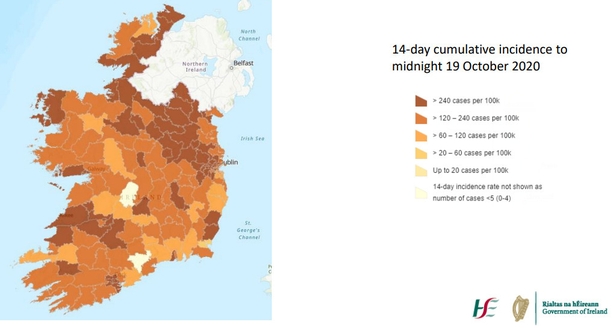 The chair of the National Public Health Emergency Team Irish Epidemiological Modelling Advisory Group, Professor Philip Nolan said a reduction of 100 cases a day over the next month would prevent 120 hospitalisations, 15 admissions to ICU and 20 deaths.
"Every effort we make over the next six weeks saves hospitalisations and saves lives, both in the wider community as well as nursing homes."
Every reduction of 100 daily Covid-19 cases leads to 120 fewer hospitalisations, 15 fewer ICU admissions and 20 fewer deaths over the next month, Professor Philip Nolan has said | Read more: https://t.co/MFR0Dx7IIX pic.twitter.com/1lV2HllPBB

— RTÉ News (@rtenews) October 22, 2020
He said for every 1,000 cases, it was expected that, in the under 45 age group, 12 out of the 1,000 would be admitted to hospital and one to ICU.
Death from Covid-19 in this age group was very rare - possibly one in every 5,000 or 7,000.
Mortality risk rises very steeply with age. Prof Nolan said in the 45 to 65 age group, you would expect 50 to be admitted to hospital, 10 to ICU and three deaths.
In the over 65 group, there would be almost 20% of them admitted to hospital, 30 to ICU with 30 deaths.
Asked if it was a realistic target to get the 'R' number down substantially below 1 after six weeks of Level 5, Prof Nolan said it was an "absolutely realistic and essential" target. He said that that is what we have to do.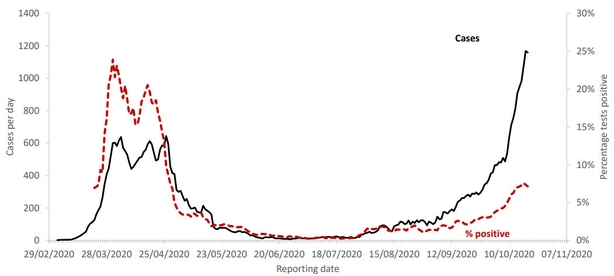 He said we have done it before and asked everyone to cast their minds back to how they were behaving towards the end of April and in to May.
Prof Nolan said it is absolutely doable if we observe those very basic measures. He said if we stay home and are exceptionally careful when we need to leave the home we will meet that target - we will be at a hundred cases a day or fewer by the beginning of December and then we are in a completely different position.
Deputy Chief Medical Officer Dr Heather Burns said there were 14,404 cases notified over the past 14 days.
She said 649 new outbreaks of the virus were notified in the week to the 17 October with 461 or 71% in private households.
Dr Burns said there six additional outbreaks in nursing homes and community hospitals, adding that there were now 33 open outbreaks in these settings with a total of 451 cases.

She said they are continuing to see an increase in mortality. In the first three weeks of October there were 60 deaths in confirmed and probable Covid cases, of which 24 are linked to nursing home outbreaks
There was an average of 23 people admitted to hospital each day.
Prof Nolan said the number of tests carried out each day continues to increase and with that there has been an increase in the numbers testing positive.
Professor Philip Nolan says we are probably detecting the 'vast majority' of Covid-19 cases now, whereas in March and April we were only detecting 1 in 3 cases | Read more: https://t.co/MFR0Dx7IIX pic.twitter.com/k4AtkEh2oZ

— RTÉ News (@rtenews) October 22, 2020
He said positivity rates in July were less than 1% compared to an average positivity of 7.1% this week. However, yesterday's rate was down to 5.8%, which is an indicator that things may be beginning to stabilise.
He said the incidence rate for those aged 19-24 is 400 per 100,000 and the incidence rate for those aged 65 and over has doubled or tripled over the past number of days.
Prof Nolan said the reproductive rate is estimated at around 1.3 and 1.4.
The reproduction number for Covid-19 is 'not significantly different' from last week and is estimated at around 1.3 or 1.4, Professor Philip Nolan has said | Read more: https://t.co/MFR0Dx7IIX pic.twitter.com/Ey5KJrxkS1

— RTÉ News (@rtenews) October 22, 2020
The Chief Medical Officer Dr Tony Holohan reminded people to adhere to the public health guidelines.
He said we have to go back to the way we did things in springtime.
Dr Holohan said it was important to say again that anyone who has been diagnosed with Covid-19 or who are symptomatic or waiting for a test or result that they must self isolate.
He said that did not just mean to stay home but to stay in their room. He added that if you live with someone in that situation you must stay at home too.
Everyone is being asked to behave as if they are close contacts of people with Covid-19, Chief Medical Officer Dr Tony Holohan says, encouraging people to stay at home except where necessary | Read more: https://t.co/MFR0Dx7IIX pic.twitter.com/bCcKXbQ1eJ

— RTÉ News (@rtenews) October 22, 2020
Dr Holohan repeated that people's individual behaviour such washing hands, wearing masks and limiting social contacts by taking measures such as working from home where possible is the best and first line of defence against Covid.
He said the public health system is the next defence mechanism with its ability to pick up disease and stop it getting out of control and becoming more widespread.
He said that system is challenged by the scale of the disease as it is occurring at the moment.
We need your consent to load this rte-player contentWe use rte-player to manage extra content that can set cookies on your device and collect data about your activity. Please review their details and accept them to load the content.Manage Preferences
Dr Holohan said "we cannot just keep to continue to contact trace very large burdens of infection and thinking if we can contact trace all of that we can in some way tolerate a very large burden of infection that's producing that very large amount of preventable of hospitalisation, preventable ill health".
He said that as long as there is high transmission in the community, it will be impossible to protect nursing homes despite all the measures being taken.
He warned that if people went back to a way of behaving like they used to this time last year "we think this virus would spread through the population with a reproductive number of 4 or 5, maybe as much as 6, which is a colossal number".
In relation to schools, the Deputy Chief Medical Officer Heather Burns said the situation here continues to mirror the international experience that schools are safe environment.

She said the positivity rate amongst close contacts in schools is 2.8% compared to 13% in the community.
There have been five further Covid-19 deaths in the last 24-hours in Northern Ireland and 1,042 new cases of the virus. The death toll there now stands at 634.
There have been 31,034 confirmed cases, 6,753 in the last seven days.