Taoiseach Micheál Martin has announced that the country will move to Level 5 Covid-19 restrictions for six weeks from Wednesday night until 1 December.
Mr Martin said the Government cannot fight the virus alone. He said: "I am asking everyone to take this threat seriously."
He said it is the core responsibility of the Government to protect public health while supporting the wider economy and society.
The Cabinet is understood to have heard that six weeks of Level 5 restrictions could pave the way for the country to return to lower level restrictions for the full month of December.
At the end of the six-week period of Level 5 Covid restrictions, the Taoiseach says the Government wants the country to go to Level 3 and bring the R number to below 1 | https://t.co/qQVllFySGa pic.twitter.com/9uaQiv6iJi

— RTÉ News (@rtenews) October 19, 2020
Under the Level 5 restrictions, schools are set to remain open.
"We will not allow our children's futures to be another victim of this disease," Mr Martin said.
Taoiseach outlines Level 5 restrictions which include 25 guests allowed at weddings; restaurants, cafes and bars permitted to provide take away services only; construction work will continue | https://t.co/qQVllFySGa pic.twitter.com/W87C2lv4cl

— RTÉ News (@rtenews) October 19, 2020
Construction will remain open under the plan, however non-essential retail outlets and hairdressers will have to close.
Pubs and restaurants will only be able to serve takeaway. 
People will only be able to exercise within five kilometres of their homes. People will be able to meet up outdoors with one other household away from home for situations such as exercise, within the 5km limit.
Weddings will remain limited to 25 guests until the end of the year.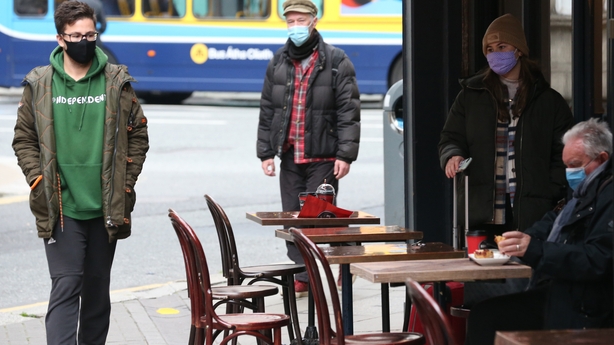 The Pandemic Unemployment Payment is to be restored to €350 a week for people with prior earnings of €400 or above.
Wage subsidy rates are also to be improved in line with PUP rates following discussions at Cabinet.
"I understand that social isolation and anxiety is a very real issue for many people and especially those who live alone. Therefore we are including as part of the own household provisions, the concept of a support bubble.
"This will allow persons living alone, parenting alone or similarly at risk of social isolation to pair with one other household as part of a support bubble.
"I understand the sense of disappointment, loneliness and despair this announcement will bring. Even as the winter comes in there is hope and there is light.
"If we pull together over the next six weeks we will be able to celebrate Christmas in a meaningful way," said Mr Martin. 
In sport, inter-county GAA matches, the conclusion of the SSE Airtricity League, international and Pro14 rugby matches and horse racing are among the events that can continue to take place under the Government's plan.
1,031 new cases of Covid-19 were reported by the Department of Health earlier today, taking the total number of cases since the outbreak began in February over 50,000. No further deaths were reported today.
---
Read more:
Businesses warn of serious damage from restrictions
184 countries sign up to vaccine facility - WHO chief
At a glance: What does Level 5 mean?
---
Sinn Féin's health spokesperson David Cullinane has said he welcomes the Government's decision to take action to control the coronavirus.
Labour Party leader Alan Kelly called for a pathway to Christmas that gives people hope with clear, measurable targets on what is needed to get the country back down to Level 3 or lower.
Speaking at a press conference following the Taoiseach's address, Tánaiste Leo Varadkar said "we need to reduce the number of interactions between adults and households".
He said back in March they feared there would be a second wave.
Mr Varadkar said that during the Spanish Flu pandemic of 1918, the second wave was worse but this time we can ensure this second wave is a ripple. However, he said that rests on all of us playing our part.
Tánaiste Leo Varadkar says there will be a weekly grant for businesses for every week they are closed based on 2019 turnover, he also asks employers to keep their staff on | https://t.co/qQVllFySGa pic.twitter.com/zAhyjdLcnZ

— RTÉ News (@rtenews) October 19, 2020
Speaking at the same press conference, Green Party leader Eamon Ryan said the new restrictions are more akin to the measures in early May, he said people have the ability to meet another person out in the open.
Mr Ryan said that it is critical that we keep our young people's spirits up. He said that Saturday morning sports will still be there for children.
Mr Ryan said they will be looking at the issue of aviation at Cabinet tomorrow.
Mr Martin said that legislation will come before Cabinet tomorrow to bring in fines for breaches of the Covid-19 restrictions and that there will be more penal clauses introduced.
"I think we'll have Covid-19 with us for the entirety of 2021," said Mr Martin.
The number of confirmed cases of Covid-19 in hospitals has risen to 298 in the last 24 hours. There has been an increase in the numbers of patients with the virus in intensive care units to 34, up from 33 yesterday.
Donnelly defends decision to implement Level 5 restrictions
Minister for Health Stephen Donnelly has defended the Government's decision not to implement Level 5 Covid-19 restrictions when the National Public Health Emergency Team made its initial recommendation on 4 October.
Speaking on RTÉ's Claire Byrne Live, Mr Donnelly said: "We had a Level 2 recommendation from NPHET on a Thursday evening and we then had a Level 5 recommendation 72 hours later."
But he said the country would not have been ready" for the change, and the epidemiological evidence at the time was different to what it is now.
He said the restrictions have been announced tonight because a six-week timeframe was proposed by NPHET and "there was modelling to show how we get out of this".
The minister said the introduction of Level 5 now "is the right thing to do" and the plan is to be able to reopen the country for the month of December.
In a letter to the Minister for Health following their last meeting on Thursday, the National Public Health Emergency Team warned the Government that a six-week period was the minimum needed to bring the number of new cases every day to an acceptable level.
Its modelling suggested that a three-week lockdown, reducing the R rate to 0.5, would reduce daily new cases to 250-300. Releasing the lockdown would "very likely lead to rapid re-escalation in disease trajectory, such that, approx 1,000 cases a day expected by mid-December".
However, the letter said that reducing the R rate to 0.5 for six weeks would reduce the daily case numbers to 50-100 a day, meaning that once restrictions were lifted, cases would not be going above 300 a day until early January.
The move to Level 5 restrictions was a difficult decision for Government, and is very hard for people whose lives and livelihoods are most affected, but it was necessary to interrupt uncontrolled exponential growth of the pandemic. 1/5 pic.twitter.com/pGxe6PqFmd

— Professor Philip Nolan (@President_MU) October 19, 2020