The World Health Organization has said that 184 countries have now joined the COVAX facility, which aims to finance Covid-19 vaccines to be distributed fairly to both rich and poor countries.
"Equitably sharing vaccines is the fastest way to safeguard high-risk communities, stabilise health systems and drive a truly global economic recovery," Director-General Tedros Adhanom Ghebreyesus told a news briefing in Geneva.
The number of confirmed coronavirus cases worldwide has passed 40 million, according to an AFP tally based on official sources.
A total of 40,066,650 infections and 1,114,860 deaths have been recorded.
More than half the caseload has come in the three hardest-hit countries: the United States with 8,154,935 infections, India with 7,550,273 and Brazil 5,235,344.
In just the last seven days more than that 2.5m cases have been reported, the highest weekly number since Covid-19 emerged in China late last year.
The increase can only partly be explained by a sharp increase in testing and still likely does not include a large number of less severe or asymptomatic cases.
Spain's regions tighten measures as 1 million case milestone looms
Several Spanish regions have tightened their coronavirus restrictions, seeking to curb a second wave of contagion that looks set to drive the country with Western Europe's highest case load above one million infections this week.
Authorities in the northern region of Castile and Leon announced they would shut the city of Burgos and nearby Aranda de Duero to all but essential travel from tomorrow night after infection rates in the area surpassed 500 cases per 100,000 people.
"We are in circumstances similar to those of March or April," Burgos Mayor Daniel de la Rosa told state broadcaster TVE, recalling the beginning of the pandemic, when many Spaniards were confined to their homes to stop the spread.
Aragon, which was at the centre of several outbreaks linked to migrant agricultural workers over the summer, introduced capacity limits at bars and restaurants and banned the sale of alcohol in shops between 10pm and 8am.
Regional health chief Sira Repolles said she was "very close" to imposing restrictions on movement in the regional capital Zaragoza.
Catalonia, which last week ordered a 15-day shutdown of bars and restaurants, told 24-hour businesses they must shut at 10pm and cannot reopen until 7am.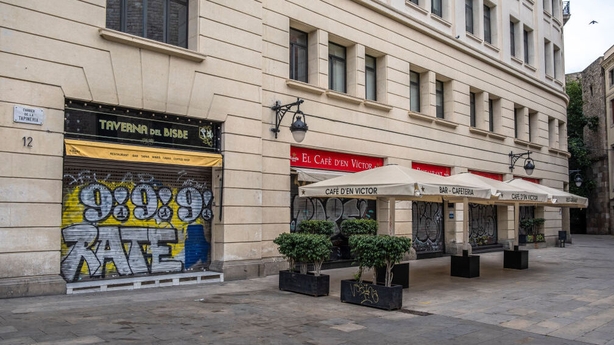 Spain's decentralised political system leaves the handling of the pandemic largely up to the regions, although the central government can intervene, as it did on 9 October by declaring a state of emergency in Madrid to reimpose a partial lockdown on several million people in and around the capital.
Despite the increasingly severe clampdown, Spain has added nearly 38,000 cases since Friday, bringing the nationwide total up to 974,449. The death toll jumped by 217 to 33,992.
Health emergency chief Fernando Simon warned the daily infection rate was increasing after a brief period of stability last week.
"It's likely that in winter if we don't take great care with precautionary measures the infection rate will increase again," he told a news conference.
French Covid-19 ICU cases above 2,000 threshold, at 5-month high
Health authorities in France have said the number of people being treated in intensive care units for Covid-19 has passed the 2,000 threshold - a first since 17 May - with the renewed strain on the hospital system showing no signs of abating despite the partial curfew put in place since Saturday.
The number of people hospitalised with the disease is above the 11,000 for the first time since 12 June.
France has reported soaring Covid-19 infections since the beginning of last month, prompting the government to put nine cities, including Paris, under an initial four-week curfew running from 9pm to 6am.
The country has nearly 900,000 cases and could also surpass one million this week.
New closures, curfew in Belgium
In Belgium, where hospitalisations rose 100% in just the last week, bars and restaurants closed today for a month and a curfew will be reinforced overnight.
The second major lockdown comes after Prime Minister Alexander de Croo warned of an "exponential" virus surge and said the situation was "much worse" than in March when there was an almost complete confinement.
In a country of only 11.5 million, Belgium already has one of the highest per-capita rates of infection in the world.
He called on all Belgians to do the maximum to limit their social and professional contacts to a bare minimum, to keep down new infections and give health workers space to work.
"The health situation in (the French-speaking region of) Wallonia and Brussels is the worst and therefore the most dangerous in the whole of Europe," Health Minister Frank Vandenbroucke told RTL TV.
Belgium has registered 222,253 coronavirus cases - a figure that has doubled in the past month, and 10,413 deaths.
Schools have reopened, but from today university campuses are limited to a fifth of normal student numbers.
In the French-speaking part of the country, the All Saints' Day school holidays that starts on Saturday, 31 October have been prolonged so that they run into the 11 November holiday weekend.
Italy announces stricter measures to counter virus
Italy announced fresh curbs in response to its own soaring second wave of virus contagion, after enduring Europe's first major outbreak earlier this year.
"We cannot waste time," Prime Minister Guiseppe Conte said, flagging bans on amateur team sports and earlier closures for bars and restaurants.
He said the new restrictions were intended to avoid harsher measures that could "seriously endanger" continental Europe's third-largest economy, already reeling from a two-month nationwide lockdown that was lifted in May.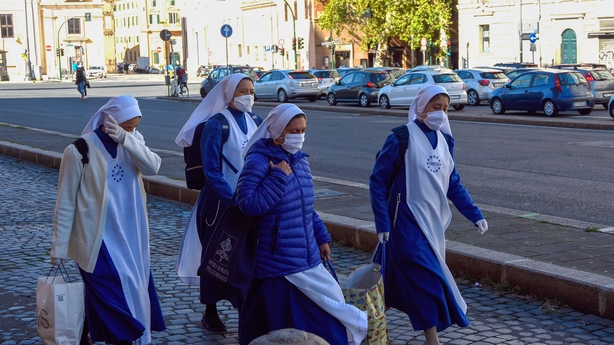 Restaurants will have to display their maximum capacity, close at midnight at the latest, and limit the number of people per table to six.
Bars will have to close at 6pm unless they can offer table service to seated customers. Amateur team sports were also banned.
Arrivals at schools will be staggered to help with social distancing.
Local festivals and fairs - widespread in Italy - will also be banned, affecting a sector that according to the agricultural union Coldiretti represents 34,000 jobs and €900 million annual turnover.
These measures "should enable us to face the new wave of contagion which is severely affecting Italy and Europe. We cannot waste time", said Mr Conte.
Italy was the first European country to be badly hit by the virus and has now registered over 414,000 cases including 36,543 deaths.
Wales imposing 'firebreak' lockdown
Wales is set to impose a so-called 'firebreak' lockdown for two weeks, starting at 6pm on Friday, to try and reduce the soaring number of cases, First Minister Mark Drakeford said.
People will be asked to remain at home except for very limited circumstances - such as exercise - while working from home is encouraged wherever possible.
Households are forbidden from mixing, while non-food retailers, cafes, restaurants, pubs and hotels, as well as services such as hairdressers and beauticians, must all close.
Cases have surged across Wales over recent weeks, despite tightened local restrictions in various locations, with the seven-day rolling incidence rate standing at more than 130 cases per 100,000 people.
Haircuts and golf return as virus curbs ease in Melbourne
Residents of Australia's second-biggest city dashed back to salons and golf courses today, as some of its three-month-old stay-at-home restrictions were further eased on falling infection rates.
Melbourne's five million people had been barred from leaving their homes with a few exceptions, including shopping for essentials, exercising, or going to work, and later to socialise outdoors in small groups.
They still face a litany of travel restrictions and tough-to-remember rules for even the most mundane activities, but will now be able to get a much-needed haircut and do more outdoor socially distanced activities.
"As soon as we got the green light, the phone started going bananas," hair salon owner Joey Scandizzo told public broadcaster ABC.
"Everyone is happy the salon is full," he said. "We're just so excited to be back."
Salon owners still have to contend with restrictions on the number of people allowed on the premises at one time, meaning those eager to correct self-inflicted dye jobs or improvised trims could face a long wait.
"We just want to make Melbourne look beautiful again," said Mr Scandizzo.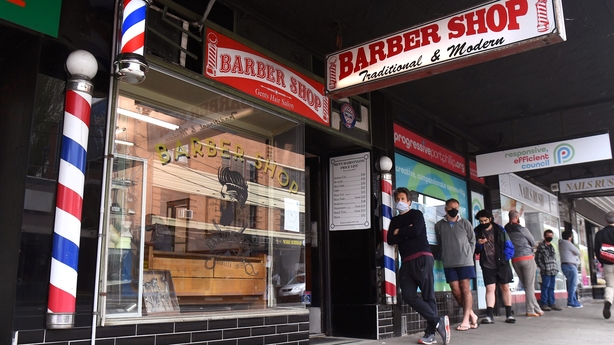 ---
Golfers can also tee it up again, although they will have to go around in groups of two and, according to Golf Australia, "masks must still be worn when playing".
Many restrictions are still in place in the city. Masks are mandatory, restaurants are limited to takeaways and deliveries, non-essential shops have to remain closed and there is a ban on travel outside the greater Melbourne area or more than 25km from home.
Melbourne's second batch of stay-at-home restrictions began in July, when the state of Victoria was seeing around 190 new cases a day, rising to 700 in August.
Today, Victoria recorded just four new cases.
Poland to open temporary hospital at national stadium in Warsaw
Poland plans to open a temporary hospital at the national stadium in Warsaw as it faces a spike in coronavirus cases and a health system overload, the government said.
Poland has recorded new records in daily cases and deaths in the past weeks, with doctors reporting shortages of personnel, hospital beds and equipment.
"On Saturday, the prime minister ordered the preparation of the first temporary hospital, which will be located at the national stadium," Michal Dworczyk, the prime minister's chief of staff, who is responsible for the project, said.
The hospital, set up in the stadium's conference rooms, will have beds for 500 Covid-19 patients, with the option to expand to 1,000 beds. The first beds will likely be available this week.
---
---
Mr Dworczyk said other regions were also working on opening temporary hospitals.
He said the government had no plans to close cemeteries and stop people from travelling around the country on and around 1 November, when millions of Poles visit family graves for All Saints' Day.
The Government has urged citizens to stay at home and ordered gyms and pools to close, restaurants to limit opening hours, and a shift to remote teaching in universities and secondary schools.
It says it is trying to avoid a total lockdown, but experts say this may be inevitable if the situation becomes critical.