Garda Commissioner Drew Harris has said gardaí do not need additional powers to police the new Covid-19 restrictions, but will review that position if consistent breaches become apparent.
Operation Fanacht will come into place from midnight, with 132 large-scale checkpoints per day on main routes around the country in addition to thousands of mobile checkpoints on secondary roads in towns and villages.
However, gardaí will not be given additional powers to restrict people's movements.
Commissioner Harris warned that journeys will be difficult from midnight, traffic jams are inevitable and it would be "a foolish choice" of people to deliberately breach the public health regulations.
Minister for Justice Helen McEntee has also appealed to the public to co-operate with the level 3 restrictions.
From midnight tonight, over 2,500 gardaí will be on duty at checkpoints on major routes to restrict people's movements.
The policing plan is expected to cost at least an additional €15m until the end of the year.
Gardaí say traffic jams are inevitable, non-essential journeys will be disrupted, and movement will be difficult as people are being asked to stay within their own counties.
We need your consent to load this rte-player contentWe use rte-player to manage extra content that can set cookies on your device and collect data about your activity. Please review their details and accept them to load the content.Manage Preferences
The Government is not giving gardaí any additional powers to enforce the new restrictions, so if people do not break other laws, then gardai can only engage, educate and encourage them to comply.
Commissioner Harris said he was confident that people will comply and gardaí did not need new laws to enforce the restrictions.
---
Read more:
Latest coronavirus stories
---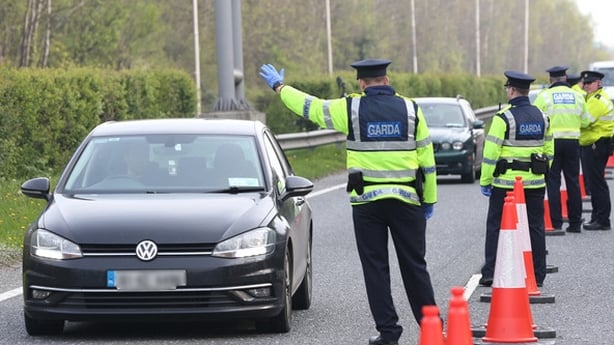 The voluntary compliance method worked before, he said, and out of hundreds of thousands of engagements previously they only had to use previous emergency legislation 342 times.
However he also said they will review the situation, and if they realise that additional powers become necessary they will then inform Government.
He also pointed out that gardaí already have road traffic, public order and other legislation they can use in certain situations and warned that it would be "a foolish choice" of people to breach regulations.
"We find that people who make such poor choices also make poor choices elsewhere and are amenable to other policing powers," he said.
In relation to protests and house parties, he insisted there was "plenty we can do", pointing out that gardaí standing outside your house "dampens the mood" of any party.
He stressed that there should be "a collective effort" to tackle this virus and protect people.
The President of the Association of Garda Sergeants, Antoinette Cunningham, has said the association is concerned that the public will not be as compliant to new restrictions as had been the case in the earlier stages of the pandemic.
Speaking on RTÉ's Drivetime, Ms Cunningham sought to "manage the public's expectations" as she reminded listeners that gardaí do not have the power to break up large gatherings, house parties or peaceful demonstrations.
The Garda Commissioner has confirmed that gardaí do not have the power under the health regulations to break up house parties or large gatherings, and, as the law currently stands, they do not have the power to stop people travelling either if there are no breaches of the criminal law.
Minister for Justice Helen McEntee, meanwhile, has appealed to the public to cooperate with the Level 3 restrictions so that tougher enforcement is not needed by An Garda Síochána to ensure people stay in their county and avoid large gatherings.
Speaking on RTÉ's News at One, Ms McEntee said there are clear differences for the public under Level 3 restrictions but that these do not require gardaí to have new powers as it will be an offense to organise an event and other pre-existing legislation will also support their efforts.
She said that the move to Level 3 nationwide will see more garda checkpoints and members of the force having greater visibility and engagement to police the restrictions.
She said gardaí would continue to use the approach of "engage, educate, encourage and enforce" in asking the public to comply.
Justice Minister @HMcEntee says if level three or four is implemented she would like to see movement outside people's county become a "penal offence" @RTENewsAtOne

— Fran McNulty (@franmcnulty) October 6, 2020
Ms McEntee said that this approach by An Garda Síochána has worked in the past for the vast majority of people and unless it is necessary at a higher level to increase enforcement powers, gardaí will continue to police people's actions in this manner.
She said that moving from Level 2 to 3 will mean no indoor gatherings and she appealed to people not to attend events if it would put them in breach of the guidelines.
Ms McEntee said it will be an offence to organise indoors or outdoors events and gardai can take action against those who organise an event in breach of the restrictions.
She said a decision had been taken not to allow gardaí to go into homes to enforce restrictions as that would be "extreme".
She said they are asking people to engage with gardaí and comply with the Level 3 restrictions and not travel outside their county unless they have a really good reason to do so.
"But we are not enforcing it with penal provisions. If we potentially move to Level 4 then yes that is something that I will be proposing that we do to enforce it with penal measures. But we don't want to have to get to that point."