There has been a huge rise in coronavirus cases in Northern Ireland in the past 24 hours with 934 positive tests confirmed. The cumulative number of cases there is now 12,886.
This is a new daily record and more than double the previous record of 424 new cases set earlier this week. The latest swabs involved 6,038 individuals, so roughly one in six tested positive.
The 24-hour increase in Northern Ireland is just two shy of the highest daily figure reported in the Republic of Ireland (936) during the height of the pandemic on 23 April.
One further death has also been recorded. The death toll now stands at 582.
Deputy First Minister Michelle O'Neill said on Tiwtter: "We are at a dangerous stage of this pandemic. I understand people are tired ad frustrated, but we all need to follow guidelines.
"Complacency will claim lives. We can get through this. We can overcome. We must work together."
Stormont Health Minister Robin Swann and Minister for Health Stephen Donnelly met today at the 22nd North South Ministerial Council Health and Food Safety meeting.
They discussed the importance of cross-border relationships in dealing with the pandemic.
Mr Swann also delivered a statement to the Northern Ireland Assembly. "Unfortunately, the warnings about the resurgent Covid-19 threat are coming true in the starkest of terms," he said.
"Cases are currently doubling every nine days and hospital admissions every 13 days. My Department continues to assess further potential interventions should they be required."
Northern Ireland's seven-day cumulative number of cases per 100,000 population has now risen to 139.4 from 69.5 a week ago as a result, health department data showed.
The infection rate in Derry City and Strabane has soared to 422.8 per 100,000 of the population. The rate has increased by 100 in 24 hours.
The rate in the Newry, Mourne and Down council area is up to 213.7, while Belfast has also risen to 161.5.
The area with the next highest prevalence is Mid Ulster at 155.2.
7 day infection rate per 100,000 for Northern Ireland is 139.4. In Derry and Strabane it's now 422.8. Newry+ Mourne is 213.7 Belfast 161.5 + Mid Ulster 155.2 @rtenews @FergalBowers @Fergal_O_Brien

— Vincent Kearney (@vincekearney) October 2, 2020
Earlier, Northern Ireland's Chief Medical Officer Michael McBride advised the public to prepare for a potential second lockdown.
The Stormont Executive announced local restrictions for the Derry City and Strabane Council area yesterday in an effort to stem the spread of Covid-19.
They include hospitality businesses limited to takeaway, delivery and outdoor dining, and a call to avoid unnecessary travel.
The new rules apply from next week but Foyle SDLP MP Colum Eastwood has urged residents to act now to reduce their contacts.
Dr McBride said further restrictions are likely in the coming weeks if the coronavirus numbers continue to rise, and did not rule out a short intensive lockdown, known as a circuit breaker.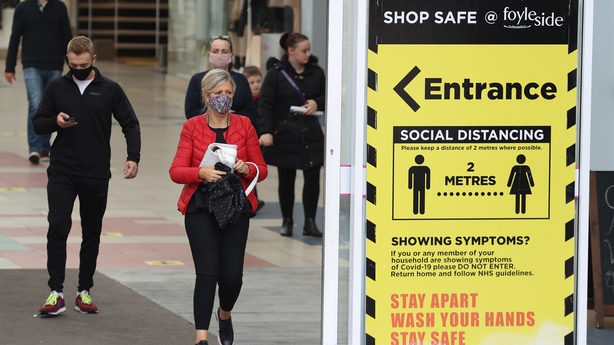 "I do believe that we need to plan and prepare and look at options around a so-called circuit breaker," he told the BBC.
"For us to get through the next number of months we may well need to apply further restrictions, perhaps for a short period of a couple of weeks ... and then if the virus starts to increase again we may need to reapply some of those wider further restrictions.
"It is crucially important that we keep on top of this virus and we deploy all of the tools in our toolbox.
"There is no magic bullet here, no hammer that you can take out that will suppress this virus; it is about the combination of interventions, restrictions that reduce mixing between people.
"There may come a point, if we see very significant transmission at a Northern Ireland level, that we need to move away from local restrictions to wider restrictions at a Northern Ireland level, and that may include a circuit breaker."
"We have a very narrow window now to act, the consequences would be profound if we don't," he added.
Dr McBride said he is "deeply worried" about the increase of case numbers.
"We're seeing a rapidly deteriorating situation in terms of the number of new cases, but also the number of admissions to hospital and the number of admissions to our intensive care units.
"The number of new cases are doubling every nine days. The number of admissions to hospital is doubling every nine days, and we could be back to wave-one numbers of people in our hospitals with Covid-19 as early as three weeks from now.
"We have a very, very short window of opportunity to put in place wider restrictions to actually stop the spread of this virus."
Yesterday, First Minister Arlene Foster said any new period of full lockdown in Northern Ireland should only happen as part of a co-ordinated move across the UK.
Deputy First Minister Michelle O'Neill said a lockdown, if it were to be required, should be undertaken across the island of Ireland.
Concern in north-west over increase in NI cases
The HSE's Director of Public Health in the north-west of the country has said today's increase in cases in Northern Ireland is worrying. 
Dr Anthony Breslin said this spike in transmission is a concern because there is "a lot of cross-border life", with people living, working, going to school and socialising on both sides of the border. 
"So having a large source of infection in the north is difficult for us", he said. 
Dr Breslin said that public health doctors in the Republic are trying to watch cases that are happening on both sides of the border and work with their counterparts in Northern Ireland. 
He said: "They tell us about cases, we tell them. We manage contacts, even though we have slightly different systems, we do manage to get people who are cases and contacts."
He said public health teams in the north-west will now be stepping up their efforts to get the simple message across to follow the basic advice.
"People have to do, and can do the basics. The basics are very simple but the basics work, and that's what happened in the lockdown," he said.