There has been 470 new cases of coronavirus reported to the Department of Health in the past 24 hours and one further death.
There has now been a total of 1,801 Covid-19 related deaths in Ireland and 37,063 cases of the virus.
These figures include the denotification of six deaths and four cases.
The cases notified today - the highest one-day total since 701 new cases were reported on 26 April - include 198 in Dublin, 61 in Cork, 36 in Donegal, 19 in Kildare, 19 in Limerick, 12 in Kerry, 11 in Galway, 11 in Meath, 10 in Roscommon.
Nine are in Cavan, nine in Clare, nine in Kilkenny, nine in Longford, nine in Offaly, nine in Westmeath, eight in Louth, seven in Tipperary, seven in Wexford, with the remaining 17 cases in seven counties.
Acting Chief Medical Officer Dr Ronan Glynn said: "The situation nationally is a matter of serious concern and NPHET is now recommending that no more than two households should meet at any given time.
"It is vital that everyone - families, friends and neighbours - limit the opportunities this virus has to move from person to person and stop the spread of the disease across households.
"Behave as though you have the virus and keep yourself and those around you safe - don't take a risk by organising or attending gatherings with more than one other household."
Of the cases notified today 225 are men, 242 are women and 68% are under 45 years of age.
NPHET said 40% are confirmed to be associated with outbreaks or are close contacts of a confirmed case and 68 cases have been identified as community transmission.
Earlier today, Northern Ireland set a new daily record with 934 positive tests confirmed. The cumulative number of cases there is now 12,886.
The record one-day number of Covid-19 cases reported in the Republic was 936 on 23 April.
We need your consent to load this rte-player contentWe use rte-player to manage extra content that can set cookies on your device and collect data about your activity. Please review their details and accept them to load the content.Manage Preferences
Professor Philip Nolan has warned that if the current path of the virus does not change, then we could see between 1,200 and 1,300 new cases per day and 400 people in hospital by the end of the month. 
Prof Nolan, who is the chair of the National Public Health Emergency Team's epidemiological modelling group, said case numbers have been "growing exponentially at approximately 4% per day since late June". 
He said that while hospitalisations are delayed, they are now also growing at around 4% per day. 
The conclusion, Professor Nolan said in a thread posted to twitter this evening, is that the epidemic, measured in both detected cases and hospitalisations, has been growing exponentially and at the same rate since July. 
"We have, collectively, had too many social contacts. The virus is transmitting and cases and hospitalisations growing," he said. 
Professor Nolan said that if nothing changes and these figures keep growing as they have, then "we could see 1,200-1,300 cases per day and 400 people in hospital by the end of October". 
He added that this projection is not meant to scare people and it is not inevitable. 
"On the contrary, if we redouble our efforts to minimise our social contacts, keep our distance when with others and stay home if feeling unwell, we can beat this."
In a statement tonight, Taoiseach Micheál Martin said his summit in Brussels had included a discussion on Covid-19.
"I believe there will be an intensification of work on issues such as vaccines, quarantine frameworks and travel in the time ahead so that greater coordination on these areas can be achieved across Europe," he said.
Minister for Health Stephen Donnelly said earlier today that Ireland's Covid tracker app has been a "great success" and that "3,206 people have been alerted as close contacts through the app".
"As well as washing your hands, physical distancing, and wearing a face mask, downloading the Covid-19 app is another a simple way to help keep you, your family, and your community safe," he said on Twitter, urging people to download it if they had not done so already.
He also tweeted out a letter he had been sent by Dr Ronan Glynn and asked people to be cautious this weekend.
Here is the letter I received yesterday from @ronan_glynn. It explains why NPHET recommends that no more than 2 households should meet at any given time. There is concern about the numbers right across the country, so please be cautious this weekend https://t.co/Fn7u3RINJs

— Stephen Donnelly (@DonnellyStephen) October 2, 2020
This morning, Mr Donnelly said the National Public Health Emergency Team (NPHET) recommended that household gatherings be limited as the pattern of coronavirus transmission has "very much" moved towards households.
Tighter restrictions on household visits are being introduced nationwide as part of efforts to curtail the increase in Covid-19 cases.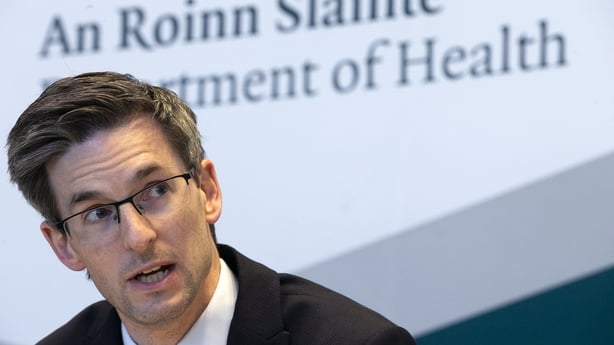 Mr Donnelly said he received a "very stark" letter from Acting Chief Medical Officer Dr Ronan Glynn yesterday and that "in spite of superb effort by people across the country which is slowing the acceleration of the virus, it is still moving fast".
He told RTÉ's Morning Ireland that there has been a 30% increase in hospitalisations due to Covid-19 in the past week.
Minister Donnelly said the rate of infection is now 94 cases per 100,000 and the five-day average is over 400 new cases per day, which he said is "very concerning".
He said the evidence in Ireland and worldwide shows that as these numbers rise, the number of fatalities also goes up.
Mr Donnelly said the R number, the average number of people one infected person will transmit the virus to, is now around 1.3, meaning the virus is doubling around every two weeks.
He said, overall, the positivity rate is up to 3%, but as high as 11% in some counties.
The minister said that without further restrictions the virus would move through the country, through vulnerable people and nursing homes and "there would be no way to avoid that".
Over the last two weeks there have been over 4,500 new cases of Covid-19, with 442 new infections confirmed yesterday.
It was the third time the number exceeded 400 in recent days as cases occurred across every county.
---
Read: Latest coronavirus stories
---
Mr Donnelly said that compassion and solidarity has marked Ireland's response to Covid-19 and he has no doubt the "vast, vast majority" of people do not think it is right to "lock away" the weak, old and vulnerable and allow others to live without restrictions.
He said: "We are a strong and united people and our solidarity is one of our great strengths as a nation."
The minister added that there is some "cautious optimism" that the restrictions in place in Dublin are slowly having an impact on the rate of transmission of the coronavirus.
He said that data shows the rate of increase is slowing, which is what the measures were intended to do, but it will take time for a fuller picture to emerge.
114 people in hospital with Covid-19, 103 new cases among healthcare workers
The latest overnight figures from the Health Service Executive show there are 114 patients in hospitals with confirmed Covid-19, with 20 of them being treated in intensive care units.
It compares with 122 confirmed cases in hospitals reported at this time yesterday.
There are also 118 suspected cases in hospitals, of which seven are in ICU.
The Healthcare Protection Surveillance Centre has released its latest Covid-19 healthcare workers' report, covering the week up to midnight on Monday, 28 September. It includes employees in both the public and private system.
There were 103 new cases of the virus, bringing the total number of infections among healthcare workers to 9,225 - this is one quarter of all cases so far in Ireland.
The proportion of females is disproportionately high (74.2%) compared to 48.5% among non-healthcare workers "most likely due to some specialities eg nursing, being female dominated". The median age of those infected is 41 years.