Health Service Executive CEO Paul Reid has said the coming winter "will be more difficult than ever before" as it manages Covid-19 and scales up services that had been stalled due to the virus.
Mr Reid said he has "confidence and hope" about the coming months, but also "apprehension" and urged people not to "drop their guard" in their adherence to public health measures, as they still remain 80% of the defence against the spread of Covid-19.
Speaking on RTÉ's Today with Claire Byrne, he said: "There is apprehension because we are normally operating at 95% bed capacity, and at over 100% in winter. So we will need to do things very differently."
Mr Reid explained that the "worst day for Covid-19" was at the end of April, when there were 936 cases, with 879 people in hospital, and 160 in ICU.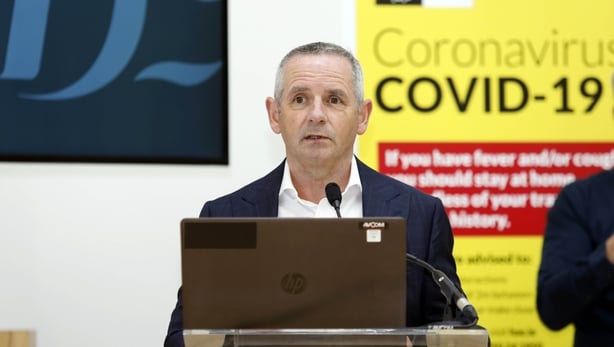 He said the current seven-day average of 115 cases "shows that we are in a much better, much stronger place, and we can't drop our guard".
Mr Reid said the free flu vaccine will be available for almost two million people from mid-September, when older people and vulnerable groups will be prioritised for vaccination.
He said he expects that the nasal spray vaccination for children, from ages 2-12 years, will be available free-of-charge from October.
Community assessment hubs will be used during the coming months, Mr Reid said, to try and "filter out" the number of people visiting their GP, in order to relieve pressure on practices during the vaccination season.
"We envisage using those hubs being used to assess people for respiratory illnesses and to filter out what is Covid and what is not," he said.
Mr Reid said he hoped to see greater uptake of the flu vaccine in healthcare workers, as the national average is 60%. 
We need your consent to load this rte-player contentWe use rte-player to manage extra content that can set cookies on your device and collect data about your activity. Please review their details and accept them to load the content.Manage Preferences
---
---
While he does not envisage mandatory vaccination in healthcare workers, he said risk-based assessments will be carried out to determine settings in which it is required.
Mr Reid said vaccination hubs are "not on the agenda", but reiterated that part of the HSE's winter plan that has been submitted to the Government will see community assessment hubs relieving pressure on GP surgeries by identifying other respiratory illnesses.
The relatively low number of people currently needing hospital treatment for Covid-19 can be explained by 75% of the cases being in people under the age of 45.
But he warned that this cohort can easily transmit the virus to an older or more vulnerable person.
"Young people can get very sick with this virus. It does not distinguish, and all are vulnerable. The risk of transmission from younger people to older people is still the same risk as it was at the start of this," Mr Reid said.
He said he believes the vast majority of people are "very conscious of older and vulnerable people" and are adhering to the public health measures, which he said has made "our protection more resilient".
Small rise in Irish 14-day incidence - ECDC
Latest figures show that the 14-day cumulative number of cases of Covid-19 in Ireland for every 100,000 people has increased slightly to 31.1, according to the European Centre for Disease Control.
Yesterday it was at 30.6 cases. The rate in the UK is 25.3, Italy is on 25.8 and Germany at 21.6.
The highest rate is in Spain, which has 227.5 cases for every 100,000 people.
Meanwhile, there has been a small rise in the number of confirmed cases of Covid-19 in Irish hospitals reported overnight.
Figures from the Health Service Executive show there are 40 confirmed cases in hospitals, up five on yesterday.
Of the 40 patients, six are in intensive care units.
The number of suspected cases has reduced significantly from 188 to 95, with 15 of these patients in intensive care.
There were 217 new cases of the virus reported last night, the highest daily number since May.
In Northern Ireland, another 71 people have tested positive for Covid-19, the Department of Health said today.
There have been 463 new cases of the virus detected in the last seven days, taking the total to 7,365.
Two further deaths have been reported, bringing the total to 562.
Highest number in emergency departments since March - INMO
The Irish Nurses and Midwives Organisation has said there are 221 patients in emergency departments, or on wards today, waiting for admission to a bed.
At Cork University Hospital, 50 patients are reported to be in the emergency department.
The INMO said this is the highest number since Covid-19 restrictions began in March and described overcrowding and the virus as a "toxic combination".
The HSE puts the national overcrowding figure lower at 172 patients.
Additional reporting Fergal Bowers