A further 21 potential breaches of Covid-19 regulations in licensed premises have been uncovered, the latest Operation Navigation report has revealed.
This brings to 185 the cumulative total number of pubs suspected of non-compliance.
The latest inspections were carried out between Monday, 24 August and Sunday, 30 August, according to a statement from gardaí.
Files will now be prepared for the DPP in each of these cases.
Gardaí said the "vast majority" of licensed premises continue to comply with regulations. These include that alcohol is only served alongside a substantial meal costing at least €9 within a 105 minute time frame.
In the 21 latest cases of suspected non-compliance, gardaí found customers consuming alcohol, but no evidence of food also being consumed and no evidence of receipts to show that food had been sold.
Earlier today, Minister for Justice Helen McEntee said that new legislation to give gardaí additional powers of enforcement will allow them to close down pubs for up to a month if they are in breach of public health guidelines.
She said they will do so when a publican refuses to comply with the rules.
Minister McEntee said that the new legislation comes as breaches of guidelines in some pubs increased and will allow gardaí to deal with "repeat offenders" who have consistently breached the guidelines.
The legislation will be debated in the Dáil today.
---
---
Speaking on RTÉ's Today with Claire Byrne, the minister said that gardaí will always seek to engage with publicans to ensure guidelines are not being breached.
However, the new powers will allow gardaí to close a premises for the remainder of the day if they refuse to comply.
If a pub is asked on a second occasion to comply with the guidelines and refuses, a garda superintendent can ask the district court for an emergency closure for up to three days.
If a third breach occurs, after engaging with gardaí, a district court order can again close the pub for between seven to 30 days.
She said gardaí will always engage first and explain the compliance measures ahead of seeking any closure order.
Those pubs that are opening and selling alcohol without food, so-called 'wet pubs', will be asked by gardaí to close.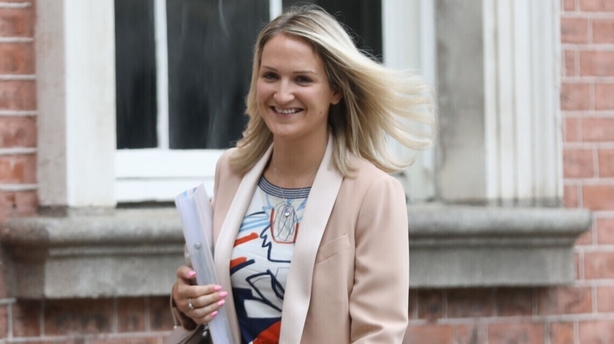 Minister McEntee said these new powers for gardaí will provide a road map for the future opening of all pubs, by ensuring compliance across a range of measures, including the wearing of visors, table service, ensuring there is a lead person in a group for contact tracing, and social distancing.
She said with gardaí ensuring all pubs follow these guidelines it will allow pubs to prepare and plan for a future reopening.
The minister said that the Government is looking at how to reopen all pubs safely and will put in place a new road map on 13 September to guide people through the coming months.
She said people and publicans will find this very useful and it will help them to see a way forward and be absolutely clear about what is expected of them.
Minister McEntee said she would like to see the remainder of pubs reopen and that Ireland is an outlier in this regard.
She said publicans deserve clarity and she praised the vast majority of publicans who she said have been doing "a fantastic job" reopening safely.
In relation to on-the-spot fines, Ms McEntee said that they were being considered by the Minister for Health for those who breach public health guidelines, but if introduced this will not apply to activities in homes.
She said the Government will "do whatever it needs to do" to ensure the virus is not spread in homes. She said personal responsibility needs to be taken by homeowners.
The minister also said that it is not mandatory for gardaí to wear a face coverings at road checks and said this is an operational matter for An Garda Síochána to consider.
She said the use of spit masks by gardaí on the public has been limited and used 85 times to date where someone has spat at a garda.
She said that it is important to keep gardaí safe and the spit masks are only used in extreme circumstances during these unprecedented times.
Publican and Independent TD for Kerry Danny Healy-Rae has said he will abstain from a vote on measures to penalise pubs that flout Covid regulations until he sees a roadmap for the reopening of 'wet' pubs.
Speaking on RTÉ's Drivetime, Mr Healy-Rae said: "It is not clear what we are debating. There are no rules and there are no proper guidelines.
"I don't know what the rules are going to be for the wet pubs because they have not come out with them. I want to know what the rules are before I vote. I am not voting for this."
Voluntary Covid-19 testing for direct provision centres
Ms McEntee said a comprehensive Covid-19 testing system is to be rolled out for all 7,500 residents and staff of direct provision centres from next week.
The testing system will be voluntary and will be repeated after two weeks and kept under review.
She said that it is part of "a huge suite of measures" to try to protect people living in direct provision centres.
Minister McEntree said the Department of Justice, National Public Health Emergency Team and the Health Service Executive has been working to get this right.
She said that the direct provision system has served a purpose but it needs to change.
She said up to 900 additional bed places have been introduced to allow people living in direct provision to cocoon or self-isolate during the pandemic.
Ms McEntee said that the vast majority of residents have now been moved from the Skellig Star Hotel in Kerry after some went on hunger strike to protest against their living conditions.