The Cabinet has agreed legislation that would give gardaí the power to shut pubs that are not adhering to public health guidelines.
It will go before the Dáil next week.
While concerns remain about gatherings in private houses, no legislation on the matter went to Government today.
The Government has also announced a €16 million package of measures to help pubs, bars and nightclubs to reopen, including a 40% top-up of the second restart grant.
The Cabinet met this afternoon to agree on three new enforcement powers to close pubs that do not serve food or maintain social distancing on the premises.
The first will allow gardaí to issue a compliance notice to a pub owner, which will ask them to address any issues there.
If the regulations are breached gardaí have the option to use an Immediate Closure Order that would shut the pub for a day and if this did not occur, the bar's owners would face a fine of up to €2,500 or a six-month prison sentence.
Gardaí will also be able to apply to the District Court for an Emergency Closure Order, which could close a pub for up to 30 days.
The Oireachtas is likely to move promptly to grant gardaí these powers and it will top the legislative agenda when the Dáil resumes on Wednesday.
Under current guidelines, pubs must serve a substantial meal costing not less than €9 to remain open.
We need your consent to load this rte-player contentWe use rte-player to manage extra content that can set cookies on your device and collect data about your activity. Please review their details and accept them to load the content.Manage Preferences
Speaking at Government Buildings following the Cabinet meeting, Minister for Justice Helen McEntee said the "vast majority of premises" have been compliant with guidelines since they were introduced.
However, she said there has been an increase in the number of premises that are not complying.
Minister for Justice @HMcEntee sets out legislation the Cabinet has agreed that would give gardaí the power to shut pubs that are not adhering to public health guidelines. | https://t.co/sl5fKQvmnp pic.twitter.com/8qzsZS5KYw

— RTÉ News (@rtenews) August 28, 2020
The Fine Gael TD said there had been about 165 breaches and that some pubs were repeatedly in breach of regulations.
Ms McEntee added that she expects that the legislation agreed today will be used in very limited circumstances.
Minister McEntee also said Cabinet felt that allowing gardaí to shut down house parties in people's private homes would be an "extreme measure".
She said they looked at a number of options but decided to underpin them on a statutory level on the number of people that could enter a home.
However, she pointed out that it will not be a criminal offence and people's homes will not be entered.
The Tánaiste has said that the reopening of schools remains the priority for the Government.
Leo Varadkar said that in order to reopen schools, Ireland was being stricter than most European countries on pubs, social gatherings and international travel.
The Government continues to worry about the impact of social gatherings in houses on Covid-19, but it did not considering legislation that could give gardaí powers to enter a home where more than six people are visiting.
Such a move, were it to happen, has already been criticised by the Opposition.
Labour's Brendan Howlin said such legislation would be draconian and unenforceable, while Sinn Féin TD Brian Stanley said there cannot be a situation where gardaí are driving around checking to see how many people are gathering in homes.
Speaking to RTÉ's Drivetime, Senator Michael McDowell said proposed action by the gardaí must be "proportional".
He said: "To jail or fine people who have more than six people in their homes, or for gardaí to be able to invade people's homes, you would have to have sound legal basis to show its a proportional interference with their lives."
The former Minister for Justice and Attorney General said there would be "many practical difficulties in making it a criminal offence to have more than six people in your home."
He also believes that people may not cooperate with public health teams if presence at house parties becomes an offence.
He suggested that a voluntary education strategy be implemented to seek compliance from young people.
Mr McDowell added: "Advertising specifically targeted to young people, maybe at a bbq, showing what could happen might be more effective."
---
---
Additional measures were introduced on 18 August and include pubs that have reopened being required to keep contact details to support contact tracing; all customers must be seated at a table, with no seating allowed at the bar and table service only; and that all tables must have hand sanitiser.
Events, parties or gatherings of more than six people indoors or 15 people outdoors are also not allowed in these settings.
The HSE's Chief Clinical Officer has warned that Covid-19 is "just as transmissible" and lethal now as it was back in February.
Speaking on RTÉ's Morning Ireland, Dr Colm Henry said the increase in cases, plus the 14-day incidence now standing at 33 per 100,000, along with the reopening of schools are strong reasons for pubs to stay shut at this time.
He said while controlling the behaviour of people in society is not always possible, the advice remains to avoid crowded indoor settings and minimise social contacts.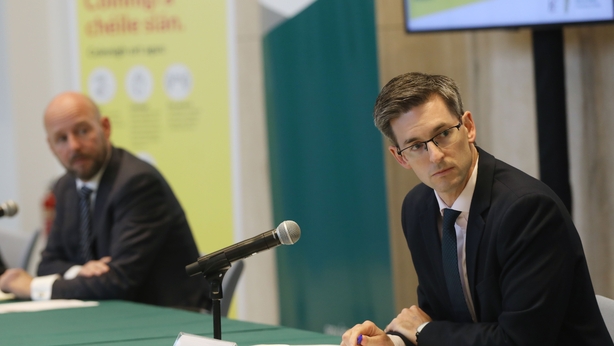 Acting Chief Medical Officer Dr Ronan Glynn said yesterday that the National Public Health Emergency Team considered the issue of pubs that do not serve food at its meeting.
But he said given the current epidemiological situation it did not feel it would be appropriate for them to open next week and the situation is being kept under review.
Professor Philip Nolan, head of the NPHET Epidemiological Modelling Group, said the key to suppressing the virus is to stick to the advice from health officials, particularly in relation to limiting social interactions.
"We're all going to have to ration the number of people we meet" and "we need to starve this virus of the opportunity to transmit," he added.
Fifty-two of the 93 Covid-19 cases reported yesterday are among men and 41 among women.
70% involved people under the age of 45, while 73 were associated with outbreaks or are close contacts of a confirmed case and 12 cases are reported as community transmission.
Uncertainty over pub reopening causing 'mental anguish' - VFI
Earlier the Chief Executive of the Vintners Federation of Ireland said the continuing closure of pubs and uncertainty for pub owners is causing "mental anguish" among his members.
Padraig Cribben said a recent survey of members found that two thirds believe if they were not open by the end of the year they will be out of business.
Speaking on RTÉ's Today with Claire Byrne, Mr Cribben said it is the third time publicans have been told "at the very last moment" that they cannot open.
Mr Cribben said the VFI is calling for an immediate package of supports for pub owners, adding that he would prefer "if Cabinet focused today on a support package for the 3,500 pubs who have been closed for 24 weeks".
Call for clear explanation on health advice
A consultant Rheumatologist at Beaumont Hospital has called for better explanation from public health on "high risk examples" to explain why households are a the source of virus outbreaks.
Dr Laura Durcan said she strongly disagrees with the common use of the words "house parties" as it is distracting from the truth that the sources of outbreaks are "household gatherings like brunches, lunches, BBQs, christenings".
She said: "The Irish people have had huge draconian measures placed upon them, but they will play ball, but they are going to need to be better informed about it."
Dr Durcan also said older people have been in a "horrible bubble" while they experience Covid-19 measures.
She said that while all of us will get back to normal life eventually, older people "are giving up what are likely their last years, and their families are not with them."